Forecasting the Smart Kitchen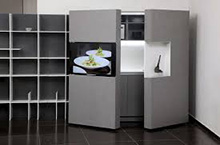 October 15, 2018
This past week KBB attended the Smart Kitchen Summit, a conference on the future of cooking and food. Between seminars on the importance of meal deliveries and evolving appliance connectivity, we got to talk with several smart kitchen startup companies that are working to hit the market soon.
The trends we heard about in the conference we also saw among these startups, which were focused on quality plus convenience, encouraging consumers to eat healthier, teaching home chefs how to cook better and using data to help the environment. Below are a few of our favorites – be sure to keep an eye open for more startups like these.
Suggestic
Suggestic combines artificial intelligence (AI), Augmented Reality (AR) and personalized nutrition to help people eat better. Users can input health goals, and Suggestic's app will create weekly meal plans, suggest restaurants and give fitness tips. The company is currently working on an AR feature that will let users "read" restaurant menus to determine which items are on their diet plan and which aren't.

Dizzconcept
Croatian startup Dizzconcept designs pop-up kitchens designed to fit into our urbanized world. The portable kitchens take up 1.6 square meters of space and function as a cabinet with an integrated TV when closed. However, they open up to reveal a fully operational mini-kitchen, including a sink, fridge and stove.

Mimesis
Mimesis is the maker of Smartcook, a connected all-in-one kitchen appliance that aims to streamline home cooking. Its smart surface acts as a visual interface with interactive recipes, video cooking lessons and online grocery ordering and also functions as a stove, cutting board and kitchen scale.


MyFavorEats
MyFavorEats uses AI to create modular, easily customizable, online recipes. The startup translates online recipes into a machine-readable format so users can easily swap ingredients and personalize meals to particular diets, preferences and kitchen appliances.

Klove Chef
Klove Chef is a voice technology service for the kitchen. The technology can guide users through recipe preparation, sync up with smart home devices to monitor cook temperature and time and order groceries.

Garbi
Garbi is a smart trash can that recognizes items you throw away and reorders them for you from local e-commerce retailers. They're also working on a recycling functionality that would let Garbi's garbage cans indicate to users whether items should go in the trash, recycling or compost.
Look for more in-depth coverage on the Smart Kitchen Summit 2018 in our November/December issue.