From Ordinary Bathroom to Zen Sanctuary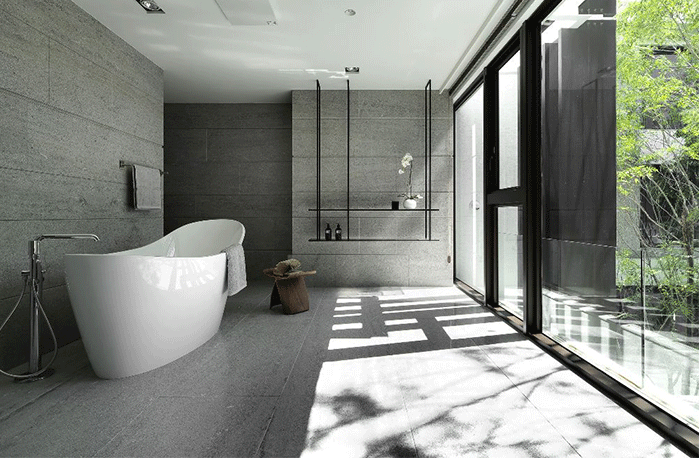 July 23, 2021
Life is more hectic than ever before, however, your clients don't have to book a weekend at a costly resort to have a Zen sanctuary. They can experience the bathroom as the new personal, spa-like retreat. By incorporating serene elements such as lush greenery, expansive windows and the fusion of interior and exterior environments, you can create one for your clients in the comfort of their own home. Taiwanese design firm Chain10 has provided a few design tips that focus on opening up and brightening space.
Infuse Greenery. This private home, known as Delicate Greenery, uses traditional Chinese Feng Shui to form a fluid space, allowing greenery to intertwine with all rooms of the house – including the bathroom. It encourages the essence of simplicity and peace, as home life and the external environment are connected through the large glass windows.

Maximize Natural Lighting. Situated near a harbor, the weatherproof windows in the bathroom of the Si House create a natural source of light. While amplifying natural lighting, inhabitants are able to reduce energy costs, boost mood and maximize scenic views.

Focus on Flow. This Zen sanctuary is located in a Kaohsiung City apartment – the Cornerstone of the City (COCY) – on the 35th floor. The space lends focus to clean lines, with natural flow being maintained as residents head from vanity to the shower to the bathtub. Designed for functionality, the layout creates a space that isn't divided.

Make Space for Space. Essential – and relaxing – elements are present in the Harbor House bathroom without compromising the spatial expanse. With particular design choices lending the opportunity to expand the area, inhabitants are able to open up space with ease.