Going Classic Blue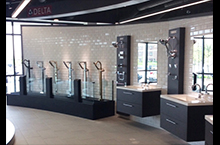 December 27, 2019
Pantone recently announced its 2020 Color of the Year, Classic Blue. This reassuring color is meant to highlight consumer desire for a dependable and stable foundation as they enter the new decade. Manufacturers agreed and released their own kitchen and bath products in the soon-to-be-trending color; these appliances, fixtures and other materials are sure to add a sense of peace and tranquility to many busy households. 
Hastings Tile & Bath features two finishes aligned with Pantone's Color of the Year 2020: Light Blue and Dark Blue, available across the entire VOLA Collection. The collection comes in a single-lever, deck-mounted, wall-mounted or electronic hands-free model.
Beyond Crystal from THG Paris is the second bath series in collaboration with premier crystal house, Baccarat. Designed by Remi Tessier, Beyond Crystal is a contemporary collection of bath fittings and accessories with translucent, rectangular crystal handles in vibrant Baccarat colors and is the first THG Paris series to incorporate an optional LED system. The collection is available in a variety of finishes, with or without the LED option, including Classic Blue, shown here.
Walker Zanger's Magna Recycled Glass Slab in Ocean Blue is a building and interior design material made of 100 percent recycled glass, specifically industrial glass and glass bottles. The slab was developed using a crystallization course, where parts of the production is done by hand; acquiring a unique translucent optic that allows a crystal-like brilliance effect when shone upon by light.
Formica Laminate in Marine Blue is a darker, sophisticated take on the classic blue that evokes deep feelings of relaxation. Marine Blue is a bold, boundless hue that works in just about every commercial and residential space as a neutral or a feature color.
Masterbrand Cabinets has seen blue kitchen accents making waves in the market with finishes like Maritime, Naval (shown here) and Blueberry. Classic Blue represents a new era that cements deep blues to be an important tool for designers and a confident choice for homeowners.
New Ravenna has presented its handcrafted mosaic designs incorporating Classic Blue. One of these designs is Fleet, shown in Lapis Lazuli, Iolite, Absolute White and Moonstone jewel glass, which is part of the Kiddo Collection by Cean Irminger for New Ravenna.
Sherwin Williams' 2020 Color of the Year, Naval SW 6244, is a rich navy that creates a calm and grounding environment. Naval fuses the bold opulence of Art Deco with the awe‑inspiring power of nature. This deep shade evokes a prominent sense of confidence that fuses timeless color with a fresh mix of natural materials.
The Retro Collection from Big Chill offers details like a stamped metal body, chrome trim and a pivoting handle to add charismatic charm reminiscent of the period that inspired its design. The Retro Collection's premium offering includes Black, Lilac, Pastel Turquoise, Cobalt (shown here), Orange and Oyster.