Good Spaces Come in Small Packages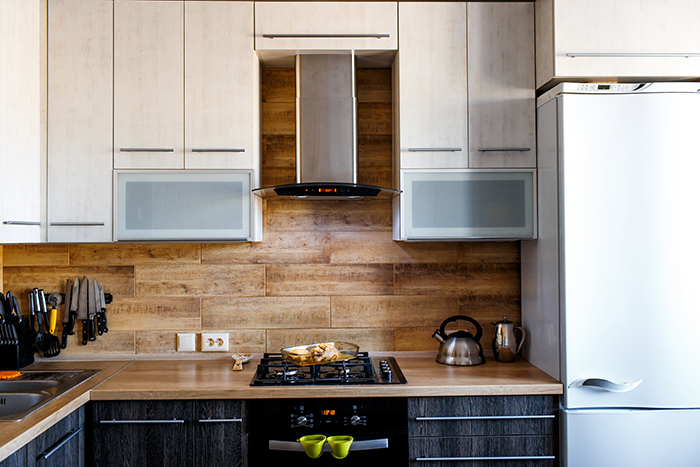 July 2, 2020
By Dianne M. Pogoda
Space might be tight, but it doesn't mean design has to be suffocated.
NKBA's webinar series for July, generously sponsored by Blum, focuses on the intricacies of maximizing style and efficiency in a small space.
Each month, NKBA offers free 60-minute webinars, each of which features a presentation by an expert in the specific subject matter, delivered via a virtual platform. The sessions offer certified participants 0.1 CEU per event — it's an easy way for designers to collect the CEUs needed to maintain NKBA certification. Participants must engage in 80 percent of the live sessions to receive CEU credit; registration closes two hours prior to start times. All webinars begin at 12 noon, EST. Create an account at the NKBA store at www.nkba.org to register.
Starting on July 9, Richard Landon, CMKBD, owner of Richard Landon Design, presents "Small Spaces, Living Large." A big challenge for designers is making a small space visually appealing when clients want to fill every inch for storage. During this webinar, real-world examples will illustrate how to innovate within space-challenged kitchens, bathrooms and bedrooms. The end results are functionally satisfying, as well as visually appealing and welcoming for homeowners and their guests.
Landon will highlight products particularly useful for small-space concepts, demonstrate approaches to small-space storage, and provide real-world, small space solutions to open up floor plans.
To register for this webinar, click here.
On June 16, learn about "Small Space Design: Make the Most of Your Square Footage with Functional Hardware," from Pascal Rock, marketing product manager of this month's sponsor, Blum.
This webinar will teach architects, designers and cabinet makers about clever ways to maximize storage space. The solutions and applications presented can be achieved with standard hardware, like hinges and drawer slides, that might be already part of their program and require little or no changes to the cabinetry.
Rock will share case studies and discuss fitting functional hardware into a small space to get the most out of it, expanding cabinets' storage capacity, eliminating wasted space, implementing space-saving solutions with only minor changes to cabinetry, optimizing workflow in the home, and will share other tips and tricks to use within the cabinetry to make daily tasks easier.
To register for this webinar, click here.
Next up, on July 22, Shannon McKinney, owner of DT Glass Inc., illustrates "Designing Showers with Frameless Glass in Mind." While some might think there's hardly anything that can't be done with cut-to-size and made-to-order glass, like every building material, glass and the hardware that secures it has limitations. Creating a shower with glass means designing around these limitations. McKinney will present extensive examples of design challenges, solutions and creative uses for glass; show how to design showers that take into account code requirements, manufacturing sizes, safety maximums and hardware weight restrictions, and suggest ways to discuss design options with homeowners, helping them make the best choices for their project.
To register for this webinar, click here.
Finally, on July 28, join Paula Kennedy, CMKBD, CLIPP, of Timeless Kitchen Designs, for a conversation addressing "Spatially Challenged — Living Smart in Small, Medium & Large Spaces." Storage solutions are one of the most talked-about topics on social media, and top homeowners' wishes on Houzz and Pinterest.
Talk of downsizing is a dominant topic across the industry, especially as Boomers prepare to enjoy their retirement years in smaller, easy-to-maintain homes, while Millennials and GenZ-ers  purchasing new homes are often attracted to urban living — which tends to mean smaller dwellings. Minimalism, essentialism, living a well-curated life, Marie Kondo, TV shows about hoarding, reading about the horrific money wasted on storage units in this country, and a general sense of needing to simplify our lives has taken over social media. And large, busy families are always asking for more space and more storage solutions, too — it's not just about small homes.
Kennedy will talk about closets, organization strategies, products to use inside cabinets, and all the nooks and crannies in homes that often go untouched by kitchen and bath designers. The session will offer
tips and tricks, and plenty of inspiration. Attendees will learn to identify industry research and consumer habits and needs, and discover how to maximize storage in small spaces and confidently specify products for your projects.
To register for this webinar, click here.