Handcrafted in Mallorca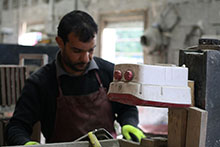 February 4, 2019
After attending the Cevisama tile and surfacing show in Valencia, Spain, last week, I had the privilege to travel to Mallorca, an island off of the country's southeastern coast. Along with being exceptionally beautiful – like Tuscany but with big mountains, palm trees and a shock of bright blue ocean – the island is also the home of Huguet Mallorca, a family-owned tile company.

Founded in 1933, the company carries on the tradition of making cement floor tiles and terrazzo items by hand. In its small workshop, I watched the artisans create individual cement tiles from the countless molds lining the walls. Each part of the mold is filled with a three-layered, paste-like mixture that contains colorants, rock granulate and marble dust.

The artisans put colored dye in the mold first; this liquid color is made up of fine white cement, natural Earth pigment and ground marble dust. The middle layer is grout mixed with cement and fine sand, and the last layer is a porous mixture that gives the product its resistance to impact. The tile is pressed hydraulically to help seal the design and then removed from the mold. Typically, these tiles are submerged in water to absorb the right moisture and establish the concrete's form. Finally, the tiles are removed, stored and stacked to dry and can be used after several weeks when they cure to hardness.

The demand for this type of look has ebbed and flowed over the decades, and the company did evolve its processes to keep up with the times – even pausing its traditional methods of handcrafting for a short time. Instead, they learned to manufacture products like large slabs and washbasins. After working with architecture firms like Herzog & de Meuron and David Chipperfield, Huguet now also boasts a modern repertoire of massive commercial projects like the Szczecin Philharmonic in Szczecin, Poland, and Barcelona's Natural History Museum.

In 1997, Biel Huguet took over his family's enterprise and decided to resume the traditional manual process of making the cement tiles again to appeal to the growing taste for artisan materials. Now, Huguet Mallorca boasts both modern and customizable tiles from the techniques they established, as well as handmade cement tiles that showcase authentic Spanish craftsmanship – suiting today's demand for both the old and the new.