How to Choose a Marble Countertop Alternative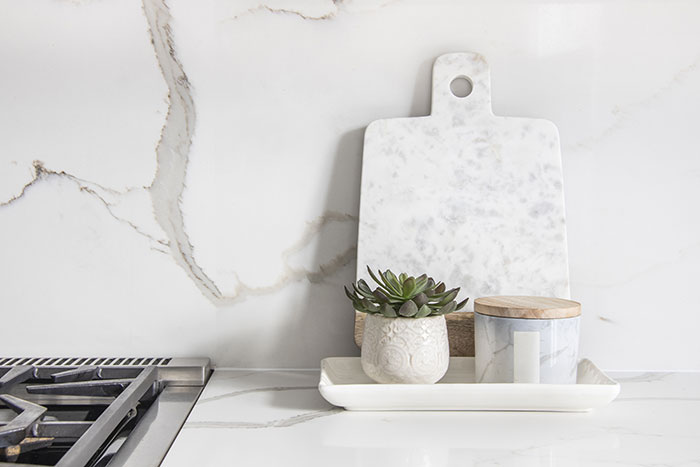 June 18, 2021
Marble is arguably the most beautiful countertop material on the market. However, as someone who spends most of my day in the kitchen, personally I wouldn't want something that requires so much maintenance. If your client spends a lot of time in the kitchen too, has children who are bound to cause a few spills here and there or simply want something more durable that they won't need to care for as much, you might want to look at a marble alternative.
1. Granite is the perfect marble countertop alternative. Not only can you find granite that looks almost exactly like marble, but it's more scratch resistant and extremely resistant to heat. The best part of installing granite kitchen surfaces is the fact that you have a lot of options to choose from, both in color and pattern. With its variation of colors, there are a lot of grayish-white granite alternatives with gorgeous, subtle veining that highly resemble the famous white marble.
2. Quartz is another popular marble countertop alternative when it comes to kitchen surfaces because of its versatility and durability. This stone is engineered, meaning that it is combined with other materials that give it color. You won't have trouble finding quartz in any color. This material is extremely resistant to damage, wear, scratching and chipping and requires little maintenance, making it perfect for young families or if your client simply spends a lot of time in their kitchen.
3. Quartzite. Not to be confused with quartz, quartzite is a natural stone that functions a lot like granite. I think of quartzite as the "upgraded" version of granite, since it looks just as good but has more benefits – like easier maintenance – and less drawbacks. Quartzite is becoming extremely popular because of the beautiful white and gray options that add a stunning touch to a kitchen.
4. Concrete surfaces are becoming more popular as a statement piece – but are they worth the rave? You might think that this mix of cement and sand is one of the most indestructible materials that you can place in a home, but concrete comes with a few pros and cons itself. Concrete is prone to staining because it's very porous, making it the perfect place for bacteria to spread as well. However, when it comes to durability, rarely can any other choice compete with concrete.
5. Solid surface countertops have been popular for quite a while. They are perfect for those looking to not spend too much money on their upcoming kitchen renovation. Solid surfaces are basically made to look like stone but aren't porous or expensive – and I find them to be amazing at their job.
6. Ceramic Tiles. This is where you can get extremely creative. Choosing ceramic tiles for kitchen countertops will provide you with a large selection of different styles and colors to choose from, and you can also purchase them in bulk. Installing them is also simple.
7. Glass is a gorgeous material for a kitchen, as it fits into almost every style, has a large variety of options to choose from and is easily paired with any other material. It provides a home with a clean, crisp look, is great for people who bake often and can give a kitchen a unique touch. Glass is as non-porous as it gets when it comes to marble countertop alternatives, making it easy to clean, and you won't have to worry about damage, staining or bacteria spreading.
9. Butcher Block. If you're looking for an affordable option for any style of home, butcher block countertops are one of the least expensive marble countertop alternatives. However, wood is a softer material, meaning that it will probably be left with marks if you take the name "butcher block" too seriously and cut directly onto your surfaces. Wood is also known to be sensitive to liquid. You will need to seal countertops quite often (at least once a month) to make sure that it won't absorb any liquid.
10. Laminate. One of the most popular affordable options that came around in the 1940s, laminate countertops have seriously come a long way and have received a major glow up. Popular because of how inexpensive they are, laminate countertops now offer a crazy selection of colors and patterns to choose from, making it more than possible to imitate other high-end materials.
Finding the perfect kitchen surface is completely individual; the selection should be based on your client's specific needs and preferences and how much hassle they are willing to put up with. Marble is definitely gorgeous – but not the best option for everyone. Have fun with your choices, and happy renovating!
For more on countertop alternatives, the original article from Happy DIY Home can be found here.