Including Pets in Design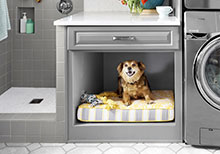 January 13, 2020
Most dog and cat owners consider their animals part of the family, so it makes sense that they want to consider them during a renovation. Having a place for a pet to sleep, eat and play might make a design feel less cluttered and stressful and more customized and thoughtful overall. The first KBTribeChat of 2020 addressed this topic, and manufacturers and designers chimed in with their own ideas and inspirations about bringing pets into the picture.
Best Flooring for Pets
Wood-look, luxury vinyl tile (LVT) is popular for pet owners.
Tile is a good choice because of its durability and easy cleanup.
Flooring must be scrub-able, durable and able to withstand claw marks.
The stain should be light colored to hide hair and stains.
Best Fabrics for Pets
Leather is a good choice for people with pets, because fur and hair won't stick to it. However, it does scratch, so it might not be the best choice for cat owners.
Synthetic microfiber wears well and does not rip or scratch easily, and hair can be quickly removed with a lint brush. Most stains come out with soap and water.
Durable and easy-to-clean denim is a good choice for casual rooms. 
Canvas slipcovers are a good option for messy pets, as they can be removed and washed. 
Stain- and odor-resistant-treated outdoor fabrics already repel moisture, so they can be a good option for pets. 
Go-To Storage Solutions for Pets
Pet-feeding stations work great with small dogs or one household dog. Bigger dogs might do better eating in a larger, tiled area. 
Cabinetry in the laundry room is a great storage place for pet gear. 
Ottomans work well for hiding extra toys and supplies from guests and nosy pets. 
Vertical storage cabinets in a kitchen or pantry are ideal for pet storage. 
Thoughtful Ideas
Dogs and cats age faster than people, so it's good to have a low entry point for beds and washing areas. 
Litter boxes are best in low-traffic, private areas away from food and water.
The goal is to enjoy your pet but not be stressed by the mess of their stuff!
Be sure to tune in to the next KBTribeChat on Wednesday, January 15 at 2 p.m. EST by searching for #KBtribechat on Twitter.