Inclusive Design: Bathrooms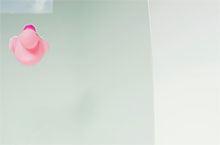 June 26, 2018

We have clients who are preparing their homes for every stage of life. From aging parents moving back in, to families with young children, today's homes are being designed to serve multiple generations, personal lifestyles and physical abilities. So how do we design bathrooms to meet the needs of all people? The answer is inclusive design!
As a Certified Living in Place Professional (CLIPP), I believe inclusive design has the ability to be safe, accessible AND beautiful! Just because its function is to make life more manageable for those who are accessibly challenged doesn't mean it can't be eye-catching, sophisticated and chic. Remember, incorporating inclusive design features into your client's new bathroom guarantees access to everyone and will save you money in the long run.
Some of my favorite ways to apply inclusive design within the context of bathrooms include:
– Towel bars arranged in a series offer a fun design solution that allows users of all heights to access.
– An under-mount tub with a generous deck serves nicely as a transfer surface to get in and out of the unit without sacrificing aesthetics.
– Threshold-free showers are easily installed by an experienced contractor and, once in, provide a beautiful, seamless look that can make a small bathroom appear larger.
– Hand-held showers allow users of all heights, ages and physical abilities to shower at their most comfortable level.
–Vanity nightlights built into the cabinetry create a safer space by increasing nighttime visibility. Lighting can be integrated with mirrors and medicine cabinets too.
– Bold pops of color can be used to make inclusive design more whimsical and fun. It also helps the user better assess depth of field.
– Grab bars and other safety features are becoming more attractive all the time. Consider integrating those near the entryway, toilet and shower.
– Contrasting tiles at horizontal sight line level enhance visual clarity and increase balance.
– Anti-slip floor materials come in all different shapes and sizes. Textured and rough-finished surfaces in tile and stone are naturally slip-resistant and look beautiful.
– Clearance is key. Where space allows, aim for a 36-in. clearance from sink to toilet to shower.