Introducing the Mobile Showroom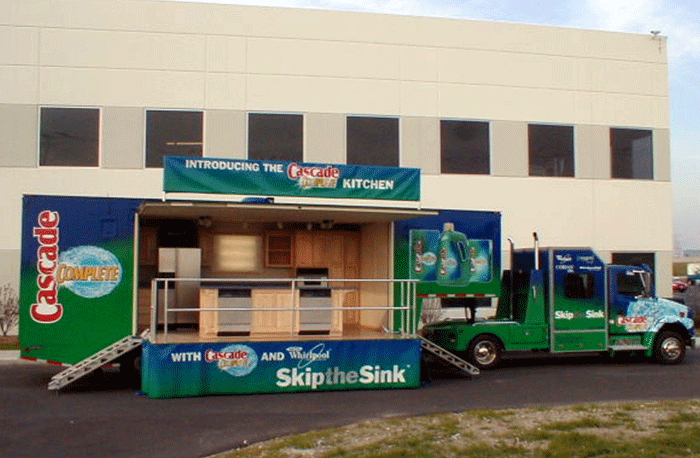 October 18, 2021
Experiential marketing campaigns, also known as activations, deliver an immersive brand experience for a smaller but more targeted audience. When executed on a mobile platform, they bring the experience directly to a customer. Manufacturers can focus on specific companies and have their undivided attention to tell their story and demonstrate their solutions.
The concept is gaining traction because it not only allows manufacturers a chance to connect with their customers on a more personal level but also expands their trade show capabilities.
Launching a Mobile Showroom
Having worked with a number of manufacturing clients like Jeld-Wen, Whirlpool and Cascade, Craftsmen has seen how effective mobile spaces can be when designed well. Central to the design is the ability for kitchen and bath product manufacturers to tell their story in a compelling way. The mobile showroom not only allows visitors to touch and feel the products – so important when selling kitchen- and bath-related goods – but also conveys the excitement and energy of a live demonstration.
Executing a mobile showroom program requires managing the logistics of bringing a trailer to scheduled appointments with customers over an extended period. Some manufacturers plan for a six-month tour across the nation, with some extending it for an additional five months based on the positive customer and sales response.
Some brands are finding it helpful to select a partner that can manage the field logistics of a tour. There are many factors to consider, such as calendar management, customer parking lot space requirements and transporting the trailer and driver between customer locations.
Companies also need to plan for product updates during a mobile showroom tour. As a result, some are putting new parts in their trailers as the tour evolves, which may require last-minute design changes. In one case, Craftsmen developed a solution literally overnight and were able to cut new gussets, put logos on the brackets and have them painted – all within a day or two.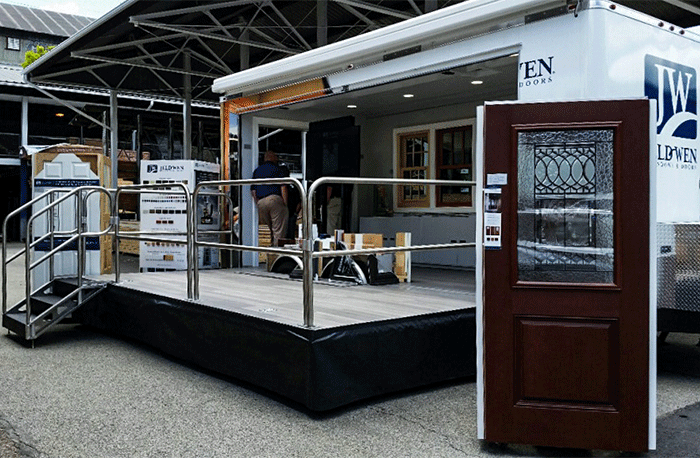 Delivering Immersive Experiences During a Pandemic
Hosting personalized events for targeted customers at manufacturing facilities or office locations makes it easier to comply with ever-changing pandemic health protocols. Traditional roadshow events usually have a manufacturer hosting guests at a restaurant or event space where there are more people involved, and they don't control the environment.
With mobile showrooms, manufacturers can maintain safe distances with customers, limit the number of people in the showroom at a time, clean surfaces constantly, use hand sanitation stations and install an air filtration system inside. Even when complying with pandemic health constraints, companies can still effectively present their products.
Manufacturers have realized a brand benefit from their mobile showrooms, too. When manufacturers visit companies at their office or manufacturing facility with mobile showrooms, the branding impact can be powerful. The effort made to connect with them shows how much they value customer relationships – and because the experience is so unique, it is very memorable.
A Window of Opportunity
What started out as a creative solution for manufacturers to market their products during the pandemic has become a way for them to expand on their trade show presence. They need to get in front of their customers, and with a little foresight they are designing a mobile solution that will also be a ready-made exhibit for trade shows. The incredible immersive experiences that can be created within these environments means a brand will truly stand out.
Mark D. Steele, P.E. is the president, CEO & co-owner of Craftsmen Industries Inc., a manufacturer of specialty industrial fabrication, containerized and mobile solutions since 1982.