Matte Black: The Hottest Finish in 2019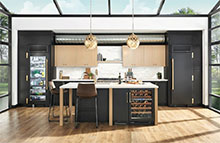 December 3, 2018
From the residential to the commercial market, expect to see bold, refined designs that create a sense of drama as matte black moves in.
                                  Photo Credit: True Refrigeration

Appliances: Manufacturers know darker kitchens with neutral oaks, charcoal and concrete hues will be trending in the coming year, so they've launched an array of matte-black appliances to be ready. Fortunately for homeowners, these new black appliances resist smudges and fingerprints and are easier to clean.
Steel Framing: The open floor plan concept has been popular for a while now, but it's slowing and starting to change with the use of glass dividers. Steel-framed partitions exclusively designed for interiors are being incorporated into homes to create spaces that feel both light and inclusive but also retain an element of separation.
Edgy and versatile, the sturdy, slim-profile frames of steel doors tap into the current trend for all things industrial; yet are versatile enough to work with all sorts of styles from modern farmhouse to Scandinavian. Internal glazing makes your living space a more inspiring place to be than a room with four walls and a window.
                                      Photo Credit: Fenix NTM

Mixing Materials: Nothing creates a sense of drama better than black. Mixing velvety matte black with natural wood such as oak creates an interesting dialog that is quite refreshing compared to the overly sterile white-on-white finish trend from previous years.
As the dark kitchen trend increases in popularity, homeowners will look for friendly dark finishes such as those offered by Fenix NTM, which are manufactured to be fingerprint resistant, antibacterial and self-healing through special thermal technology.
                                     Photo Credit: Stone Forest
Less is More: Interestingly, the more muted look of a matte finish is what allows the design of an object to stand out. This is a key element of the Japandi trend – a cross between Japanese and Scandinavian style – and this stone pedestal from Stone Forest is a perfect example of how a simple shape can look beautiful.
If your goal is to take a kitchen or bathroom out of the white-on-white style, you don't have to start from scratch to take advantage of this trend. Replacing a few doors with black-framed glass fronts or changing out hardware and fixtures is a great way to refresh your space. Modern, sleek and understated, black-matte decor is basically the perfect touch for any room – especially for 2019.

                                     Photo Credit: Amerock