Mirrors: Bigger is Better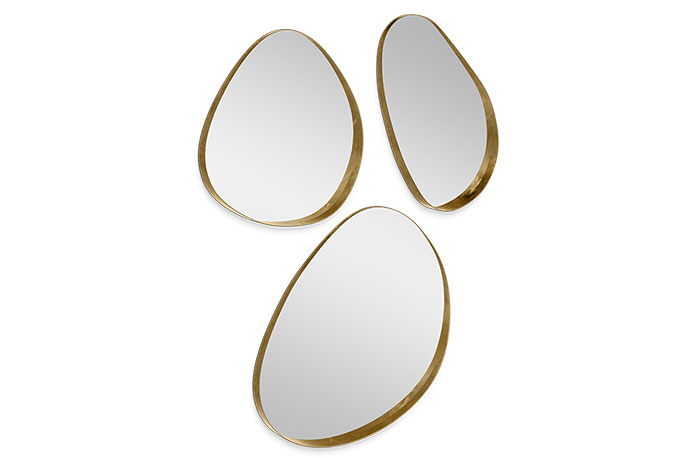 June 5, 2023
This article was originally published on June 5, 2023; it was updated on June 12, 2023.
We love a little drama here at Interiors by Popov, and we also love to bring a classic twist to our modern design style whenever we get the chance. How? Mirrors. Mirrors are some of the most functional and versatile pieces, and one of our favorite pieces to use in design. The word "oversized" gives the initial impression that it is not the correct size. However, as we walk you through the possibilities of incorporating an oversized mirror in a space, we think it will become one of your favorite pieces too.
To start, mirrors have many uses in a well-styled interior. They can make a small space seem bigger, a dark room appear brighter and are essential for that last-minute outfit check on your way out the door. An oversize mirror can be a striking focal point in a minimalist interior.
Selecting a larger size and scale mirror can be daunting, but playing with proportion is a fun way to create some drama in a space and add to the architectural style in a room. Are you working with large or even floor-to-ceiling windows that you could reflect with an oversize leaning rectangular mirror? You can even emphasize arched doorways by adding an arched mirror over a sectional. The possibilities are endless, but here are a few tips when positioning an oversize mirror:
Don't be afraid to use a large mirror in a small space.
Consider positioning your mirror opposite a natural light source.
Make sure your mirror is reflecting something visually appealing, like a sparkling chandelier or a piece of art (but not piles of laundry!)
If you have low ceilings, consider placing over a bench or storage unit.
There are a host of frame styles and shapes out there, from sleek and modern to vintage and ornate. Here are a few of our favorites:
Circular and Organic Mirrors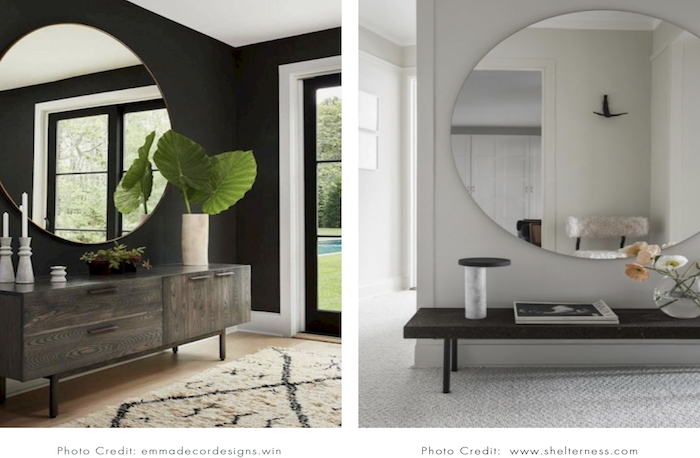 Curves and organic shapes are among the trends we are seeing. Large, round mirrors are showing up in hallways over a bench, or on the living room wall over low storage or media consoles; adding a striking element piece that is easy to incorporate in many rooms. A large-scale, minimalist, round mirror with no frame can look fresh and clean in your entry. Consider simple metal frames and add interest with simple styling.
Rectangular and Geometric Styles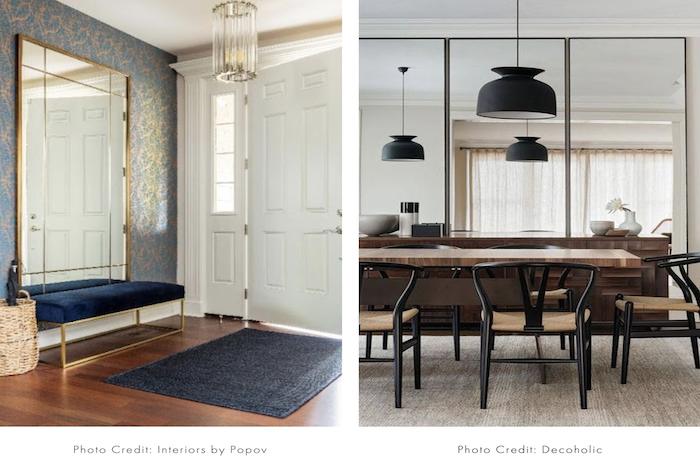 These shapes lend themselves to a more classic style but can still create a big statement. Oversize rectangular mirrors are great for leaning against a big empty wall in an entryway or living area reflecting a wall of windows. Place them over a console table or buffet and don't be afraid to layer over them with art or glass vases or sculptural objects. Consider warm, natural wood frames to tie in with most design styles or a slim metal frame for a more modern look. These shapes look great on a luxurious wallpaper or accent wall too.
Fusion Looks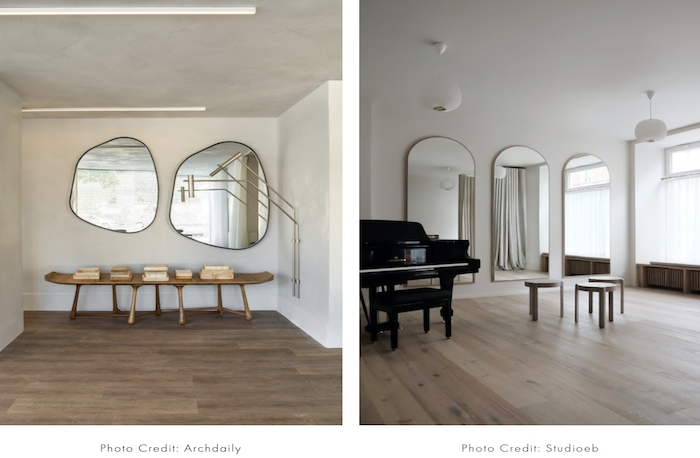 We love when styles can crossover and create a nod to different eras, yet still stay modern, fresh and current. As we see an increase interest in mid-century interior design, these Bauhaus-inspired curved-off edges can add just the right touch of style to elevate any space.
—By Anna Popov, founder and principal designer, Interiors by Popov