One Designer's 2021 Predictions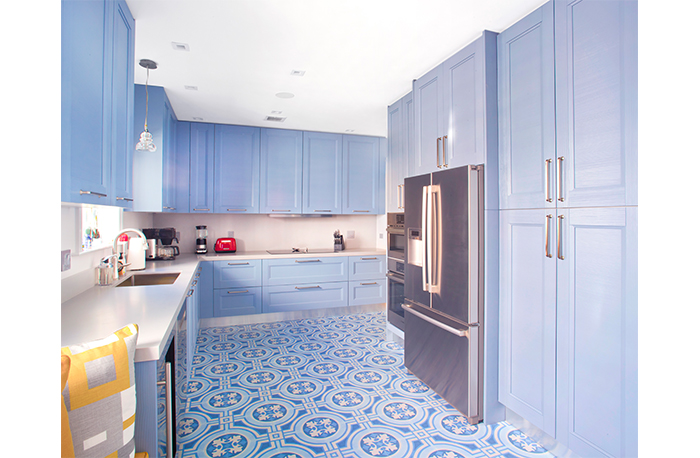 January 15, 2021
KBB spoke with Diana Viera, managing partner at ITALKRAFT, an Italian design firm that specializes in custom kitchen and bathrooms, to find out which trends she sees moving into our new year.
Colorful kitchens. In the past, white and monotone kitchens were a big trend, but during the pandemic, people developed more personal relationships with their home and want kitchens that are unique to them and function best for them. It's a great way for people to get more personal with their design and have more freedom instead of feeling pressured to follow a certain trend or color scheme. The top photo is of a colorful blue kitchen by ITALKRAFT.
A stronger relationship to nature. The pandemic forced everyone to stay inside, and as a result, people are wanting to incorporate the outdoors as much as possible into their future designs. Kitchens with glass backsplashes in the past are a great way to incorporate the nature and greenery of the outdoors without disrupting the cabinet space. In smaller rooms with less windows, decorating with plants and bringing greenery into the space is a great way to incorporate the peacefulness of nature and form that relationship.
More concealed storage options. Storage in general has become incredibly important in all areas of the home. The pandemic has increased the desire to have a minimal space and a space where all items can be put away and don't have to be left out or create clutter. We've seen an uptick in the demand of custom storage options and will likely continue to see the trend of completely concealed storage options continue into 2021.
Convertible kitchens with foldaway walls. In many homes, the kitchen is part of a larger layout that also includes the living room or dining room. Open layouts are great for making the space seem larger and more spacious, but the disadvantage of these layouts is that it's hard to separate activity in the kitchen from other areas. We've designed a few kitchens with this type of partition in the past, and it's the perfect solution to have an open layout but still have the option of separating the spaces.
Movable kitchen islands to maximize space. Kitchen islands that can be moved around to create more space will be a popular design trend in the future as people continue to want to maximize all of the space they have. In smaller spaces, stationary kitchen islands can be cumbersome and difficult to navigate, but movable islands can easily be navigated to emphasize available space without sacrificing counter space and storage.
Metals as accents. Bringing in metal as an accent has been a trend in design for a few years and is a trend that will continue to stay popular in 2021. Minimalism is still a top trend in the design world, but when designing a more minimal space, it's easy for it to become dull or flat if all aspects of the design are a single color. In 2021, we'll likely see a lot of bronze accents, as that is quickly becoming the most popular accent metal. The photo below shows ITALKRAFT cabinets designed with bronze.