Pros Share Top KBIS Picks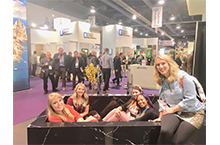 March 4, 2019
Hot off the heels of a fabulous KBIS in Vegas, some of KBB's Editorial Advisory Board members shared their favorite finds at the show. Be sure to look out for our April post-KBIS issue to see more of their KBIS choices.
Ebony Stephenson, CAPS
Designs by Ebony, Newport News, Va.
The creative use of color, textures, materials and shapes with bathtubs is what stood out to me. Anyone who knows me or follows my brand on social media knows that I love taking pictures in showroom bathtubs, but it's not just all fun and games. This started many years ago while working in a showroom with a client who had mobility issues. As a Certified Aging-in-Place Specialist, I was helping her navigate the many different options and obstacles with choosing a new tub for her bathroom. I tried out several tubs to check out their comfort levels and ease of entry. We took pictures, posted them on social media, and the rest is history.
At KBIS this year I noticed so many different options when it came to bathtubs. Kohler had a gorgeous purple clawfoot tub to match my purple hair (above photo). Pulse Shower Spas debuted its new line of stylish soaking subs. There was even a line of bathtubs from West Coast Mosaics that can be custom fitted with the client's choice of mosaic tiles to match any space. It was refreshing to see all the different shapes and sizes too. I am seeing tubs get bigger and bigger to fit more men who are looking to relax and soak at the end of a long day. Neolith even had a custom tub big enough to comfortably fit myself and several of my fellow NKBA 30 Under 30s (top photo).
Lab Designs laminate panels as oxidized metal.
Amy Ahearn, CKD, CAPS
Decorating Den Interiors of Williamsburg, Va.
Metals permeated every other material found at the show. They appeared in every shade imaginable, but the golds, brasses and bronzes in light, medium and dark shades were in nearly every booth! Mixed-media applications, such as gilding, metal oxidizing and mirroring, were seen on vanity consoles, vertical panels, lighting and plumbing fixtures. Copper was translated into farm and vessel sinks, range hoods, cabinet hardware, accent strips on appliances, and it was used to clad dishwasher panels in both smooth and hammered applications.
One of the trends I noticed immediately out of the gate was the prevalence of oak in cabinetry, flooring and panels. The oak was not in a raised panel and a dark stain as in the 80s and early 90s; it was cerused, limed, whitewashed and bleached. The cabinetry was either a slab door/drawerfront or some iteration of a Shaker door, whether wide rail or standard. The look was totally modern and contemporary and really highlighted the grain and texture of oak. Hues ranged from pale blond to charcoal gray, with medium grays predominant.
Lou Salge
Four Seasons Design & Remodeling, Angola, Ind.
I think Daltile's Bee Hive tile (photo above) is beautiful! Some truly mesmerizing designs could be created – blurring the lines between wall finish and art.
The Sicis GemStone laminated glass is gorgeous (photo above). Maybe I'm sheltered, but I've not seen a product similar to this – combining organic stone patterns in a backlit glass.
Along with the 3D printed faucets by Kohler and DXV, the Delta Vettis Collection (photo above) really captured my imagination of what a faucet can be. I love that this creates a fairly typical product out of an entirely unexpected material.
I love the integration capabilities of the Monogram Fully Integrated Customizable Glass Door Refrigerator! Of all the integrated and beautiful refrigerators I saw at the show, this one remained my favorite (photo above).
Patricia Gaylor
Patricia Gaylor Interior Design, Little Falls, N.J.
FLO by Moen is a great monitoring system for detecting leaks and water usage in your home. It can notify you of any drips, leaks, etc., and you can remotely shut off the whole-house water system over your phone
Wellborn displayed a laundry room with a special place for Fido – I'd never leave.
Rose Dostal
RMD Designs LLC, Hudson, Ohio
One of my favorite picks was this 6-in. wine cooler from Furrion (photo below). If you have a compact space or even a large space and need a 'filler,' this unit is just perfect.
The photo below is from Maxim Lighting. What is interesting about this is that it is a mini fan/light combination. Unlike most ceiling installations, this design does not overwhelm the space with a fan that has a large wing span. The matte-black finish exterior with the gold interior gives it a dramatic look when lit.