Revamping a Coal Room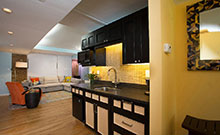 November 7, 2018
It is one challenge to transform an outdated kitchen into a high-tech space, but it is entirely something else to create a smart and beautiful room out of a former storage area. Vernon Hills, Ill.-based designer Ned Schechter of Ned Schechter Interior Design was called on to do just that in an apartment building in Evanston, Ill. Built in the 1920s, the building included six apartments and an unused ground level.

"This ground-level space was formerly a coal room, which contained the boiler used to heat the building by sending steam to radiators in the apartments," said Schechter.  "Truckloads of coal were funneled through an iron trap door on the side of the building. At some point a modernized HVAC system was installed, and the remaining 450 square feet of space was used for storage."
Kitchen Challenge: His client wanted to create a studio apartment down there to be used as a short-term rental option. The kitchen had to have basic features, including a sink, mini-fridge, storage and a coffeemaker, and it needed to contribute to a pleasant aesthetic.

Solution: By locating both the kitchen and bath off to one side, Schechter ensured that upon entry visitors would have a straight view toward the colorful living area. Using SketchUp software to define walls, electrical, lighting and plumbing to scale, Schechter designed a simple kitchenette with a twist: mixed cabinet door finishes. These cabinets from IMAGINE – Kitchen & Bath Studio incorporate dark cabinetry on the top and dark framed cabinets with light doors on the bottom. This technique creates a modern and eclectic appeal.
Bathroom Challenge: The challenge for the bathroom was creating enough space to give the appearance and amenities of a luxurious en-suite.
Solution: Schechter was able to move the wall that faced the future bathroom two feet closer to the actual furnace. By doing this, he had enough room to create a large walk-in shower complete with six body jets positioned around the walls, a full-width bench, a rain showerhead and steam functionality.
  Smart features needed to also be a part of the package. The kitchen sink has a faucet that provides filtered and carbonated water, and all lighting is controlled by Alexa using voice commands. The system can also vary the temperature of the light to replicate daylight and incandescent tones for evenings. Other voice commands can turn on the TV and operate the Roomba self-guided vacuum cleaner.
"My favorite part, as always, is the joy of having an idea come to fruition," said the designer. "It totally exceeded the vision that drove it."