Secrets to Designing the Ultimate At-Home Bar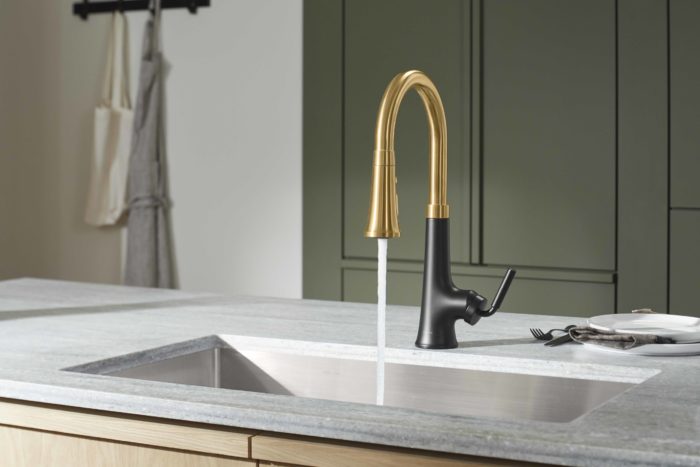 April 30, 2021
Designers Nina Magon of Houston-based firm Contour Interior Design and Anthony Gianacakos of New York City-based firm Anthony George Home have offered up their expert tips and go-to products to create the ultimate at-home bar. Whether it's a stylishly stocked bar cart for smaller spaces or transforming an unused nook into a proper wet bar, at-home bars are definitely in high demand from clients today.
Embrace Mobility and Multi-Purpose
According to Gianacakos, bar carts are a must-have for abodes where square footage is at a premium. "It's one of the most versatile and gracious pieces you can own, because it keeps drinks close at hand as the party shifts to different spaces throughout the evening. A favorite is the Crestwood Bar Cart from Arteriors. Its pared-back form and antique brass finish works with so many different aesthetics, and I love the smart design of the bottom rack to keep bottles upright," said Gianacakos.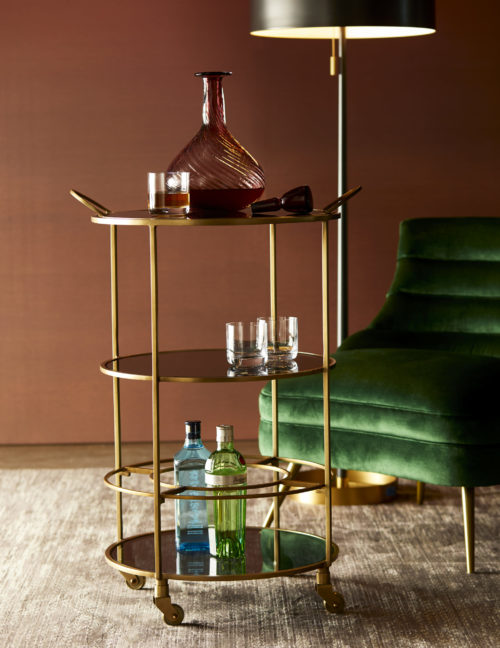 Think Moody, Masculine and Mirrors
"Our must-haves for a bar's design can be summarized with those three words," said Magon. "Embracing a different aesthetic helps define the space and create an experience that feels like an escape – even in your own home. I often gravitate toward dark wood and surfacing for a wet bar. I'm actually working on one right now and using Dekton Liquid Embers. I love moody, dark hues that still have a dynamic texture to them, and Liquid Embers really nails that. I also really gravitate toward bronzed mirrors and glass in a wet bar. It brings to mind visiting a classic Italian cocktail bar."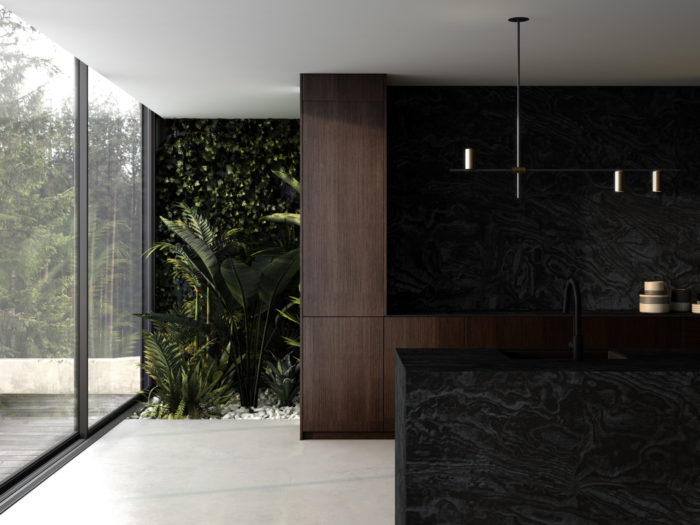 Go Hands-Free
"The pandemic has accelerated client demand for touchless faucets in both kitchens and wet bars," added Magon. "Not only are they helpful from a hygiene standpoint, but they help manage water use – a must when you're busy mixing cocktails!"
Bar's Open
"For my clients who are true bar enthusiasts and have space to spare, Arteriors' Kilpatrick TallCabinet is a total showstopper," said Gianacakos. "Opening its doors to reveal shelves lined with glassware, spirits and every accoutrement creates such a festive experience, whether you're entertaining guests or just yourself. And with a burnished gold leaf treatment, it's a dynamite piece."

Opt Outside
For the ultimate at-home bar experience, consider an outdoor setup. Brown Jordan Outdoor Kitchens' Elements Collection offers the very best in style with bold pops of color, unrivaled durability and smart storage solutions to accommodate outdoor wine fridges and kegerators.