Speaking of Bathroom Design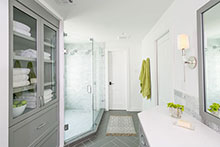 March 15, 2019
As we begin gathering content for our next issue, I'm focusing on our next trends piece on enhancing the bathroom. Today's bathrooms are meant to be lounged in and enjoyed. They are spa-like spaces that can rejuvenate and relax busy homeowners and often feature cover-worthy lighting and tubs.
Designer Allison Jaffe of Dallas, Texas-based Allison Jaffe Interior Design encountered this type of makeover in a recent master bathroom redesign. She filled us in on how she outfitted this modern space.

KBB: What were the issues with the former design?
Jaffe: The master bathroom was poorly designed and lacked adequate space to move around. The space felt more like a hallway than a bathroom.

KBB: How did you rearrange the layout?
Jaffe: I moved the water closet from the space between the closet and the vanity over to the far opposite wall of the vanity. I also moved the wall that separated the closet from the main space to create more room in the bathroom itself. Doing this allowed for a large walk-in shower. There was formerly wasted space to the left of tub that was converted into a floor-to-ceiling linen storage unit.

KBB: How did you pick the materials for the vanity?
Jaffe: The clients wanted a space that was calm with the appeal of traditional touches. Quartz was used for the countertops and marble for the backsplash. A light gray-painted vanity tied the space and materials together.

KBB: What was your favorite part of this design?
Jaffe: My favorite aspect of this project was the creative space planning solutions I came up with for the design!