Ahead of MLK Day, Ferguson Extends Partnership with NCBW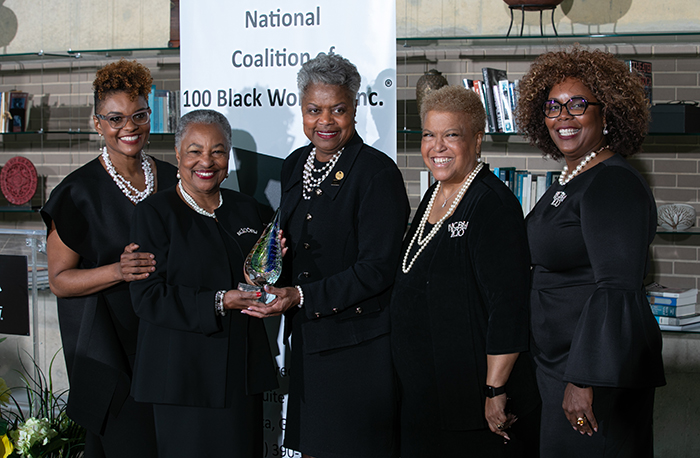 January 13, 2023
Ahead of Martin Luther King Jr. Day, Ferguson announces that it has extended its community partnership with the National Coalition of 100 Black Women Inc. (NCBW). Ferguson celebrates the organization's vision to see Black women and girls live in a world where socioeconomic inequity does not exist.
"We are excited to form a strategic partnership with the NCBW and align our shared values to continue the impactful work the organization is engaging in on behalf of Black women and girls nationally," said Cathy Williams, senior business diversity manager at Ferguson.
For more than 40 years, the NCBW has advocated for gender equity and is committed to developing Black women and girl leaders. Ferguson's relationship has fostered an in-depth understanding of the power of diverse perspectives. Ferguson believes that fostering a workplace inclusive of different ideas and backgrounds makes the company a more enjoyable place to work and helps it find success in the ever-changing business landscape.
"NCBW is excited to extend our partnership with Ferguson's African American Business Group to increase talent development and skill building in preparation for success and its Women's Business Group to encourage Women to explore business opportunities," stated NCBW President Elizabeth A. Jones. "NCBW will provide awareness to the communities we serve to share more information about Ferguson's excellent workforce readiness skills opportunities to help individuals meet and exceed their full potential."
Building on past success, NCBW and Ferguson will team up to support underserved and underrepresented minorities through training and workshops focusing on NCBW's core initiatives. Specific focus will be given to online leadership certification and seminar training programs for women in the community, NCBW members and NCBW100LEAD Academy candidates. The partnership also seeks to increase talent development and skill building within both organizations and collaborate on our shared work with Historically Black Colleges and Universities.
NCBW plays an active role in promoting women in leadership and works to help shape and define positions for women locally and globally. Last year, nearly 20,000 youth were served in NCBW's mentoring and STEM programs, and more than 175,000 individuals attended workshops, trainings and events. NCBW also awarded $800,000 in financial aid for students.
"We are committed to promoting diversity, equity and inclusion among our associates," said Melissa Hazelwood, director of social impact at Ferguson. "Collaborating with an organization with such an impressive record of service and leadership is an honor. We will support their efforts and look forward to leveraging their expertise and insight to promote greater inclusion, diversity and acceptance within Ferguson, constructing a workplace that reflects the communities we help build."
Ferguson's partnership with NCBW is part of its Ferguson Cares mission to strengthen the communities it serves. Ferguson prioritizes the well-being its associates and neighbors and is committed to living in an inclusive and diverse community.