American Standard Canada Launches Marketing Campaign "Welcome to the Big Leagues"
---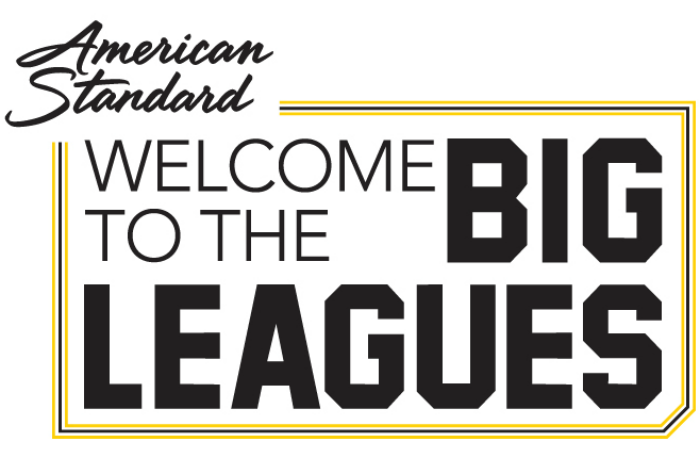 July 2, 2018
American Standard, part of the LIXIL Corporation, maker of water and housing products, has announced the launch of its new marketing campaign in Canada, "Welcome to the Big Leagues." The campaign amplifies American Standard's position as an industry leader while playfully humanizing everyday bathroom experiences and leveraging the brand's valued partnerships with the Toronto Blue Jays and center fielder Kevin Pillar.
"Making it to the big leagues is the colloquial equivalent of being at the top of your game, be it in sports, accomplishments or leadership," said Isabel Carvalhana, brand manager, LIXIL Canada Inc. "At American Standard, we are the leaders when it comes to kitchen and bathroom innovations – an accolade that makes us extremely proud."
At the core of the campaign is American Standard's "Big League innovations," a kitchen and bath portfolio highlighted by high-performance products, such as the recently launched VorMax Plus self-cleaning toilet and the new Beale MeasureFill faucet, one of the first on the market to deliver an adjustable set volume of water.
As part of a multi-year partnership with the Toronto Blue Jays, the campaign will feature in-stadium activations, contests, special events and digital and social media amplifications. Welcome to the Big Leagues is a concept that will extend beyond the regular baseball season as an integral part of the American Standard brand narrative in the Canadian market.
"Through this integrated campaign, our goal is to ensure American Standard continues to stay the brand of preference for Canadians," said Carvalhana. "Although our products and innovations are recognized for their high performance and quality, we have never before had such a robust Canadian-centric campaign that is targeted to our unique consumers. This campaign will ensure that the brand continues to be relevant with Canadian audiences, as we candidly have fun with bathroom humor."