Assessing Luxury Client Wants and Needs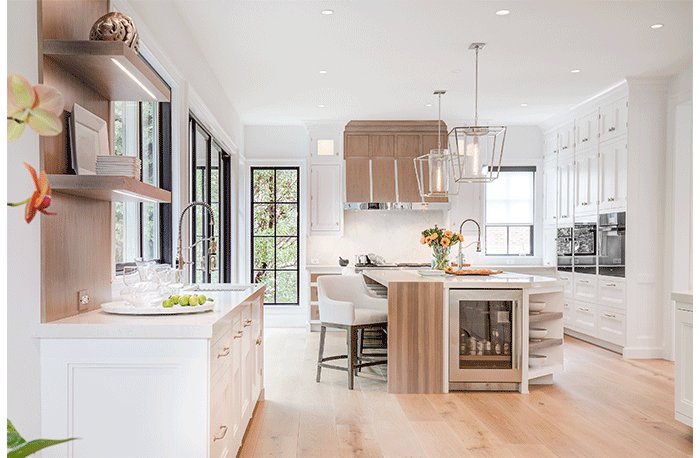 April 7, 2023
At Bakes & Kropp Fine Cabinetry, we have mastered the art of asking questions. We aim to deliver a luxury lifestyle for homeowners and their families, and that responsibility comes with the need for a precise, tailored discovery period to assess their needs. 
Our firm defines luxury as a belief in excellence, which begins in our approach. We honor our clients with a high level of respect for their needs in the team we cultivate, the care we take in our work and the way we treat their homes. In most cases, this is what draws clients to us in the first place. With that known, we prioritize communicating our care, caliber and experience in the market to harbor the right relationships with clients.  
Above photo: Ellen Schott of Bakes & Kropp and her team designed this kitchen with crafted Classic Meridian cabinetry in white and pearl walnut finishes. The built-in LED lighting adds to the natural light that flows through ample sliding doors and French windows. Photo courtesy of Bakes & Kropp 
Play the Question Game
From the first meeting with a homeowner, asking the right questions is key to success. Bakes & Kropp employs a highly individualized approach in which each introduction is tailored. New or younger homeowners may appreciate a more preliminary, get-to-know-you approach to better understand our value and capabilities. A more seasoned homeowner might prefer to dive into their personal wants, needs and visions for their space. In either case, Bakes & Kropp follows their lead to directly address their needs in the design concept. 
Next, we want to ensure we are the right partner for a potential luxury client. We urge them to review our website and present a portfolio to spark inspiration. We begin by asking, "what excites and speaks to you?" which helps open the floodgates and uncovers their specific luxury desires. From there, we guide the client through the process, explaining the project parameters and how the design team will deliver. As experts in the space, we provide value in steering the client in the right direction based on their expressed wants.   
Digging a Little Deeper
Concurrently, we explore the budget. In this phase, it is imperative to demonstrate the intrinsic value of working with a luxury brand. We highlight the quality of our materials, the caliber of our craftsmanship and our expertise in the market to assure the client that they are being offered a bespoke luxury service, along with the end product of a luxury kitchen. This discussion can be tricky, as many of us are conditioned to not speak so openly about numbers and finances. We direct simple, straightforward questions to ease into the conversation like "Do you have a sense of where your budget parameters are for the overall project?" When the homeowner cannot provide parameters, we lean on instinct, guided by years of experience, to feel out whether the collaboration is viable.  
A Luxury Client & Project Are Born
Once timelines and budget provisions are established, our client's dream kitchen truly begins to take form. In general, the modern kitchen has expanded in many ways. This is even more true in the luxury sector. Now there are secondary dishwashers and sinks, coffee makers and even secondary cooking positions. Most kitchens have a significant seating or congregation area as well.  
There's a lot more that goes into a kitchen than there used to be. A big part of incorporating the needs of a luxury client is identifying their functional preferences to decide how the space will operate. Do they cook often? Do they need a 60-in., a 48-in. or a 36-in. range? Do they prefer to have the ovens underneath the range or in a tower? What kind of and how much refrigeration do they require? These are just a few guiding questions to lead the way.  
With a functional layout mapped, the luxury aesthetic is then built out further. Guided by the inspiration provided in the discovery stage, Bakes & Kropp curates the finest materials and finishes to strike the right balance for the homeowner's needs. In this phase, we learn even more about the client's high-end tastes. We often get requests for intricate metalwork and accents, which add a layer of styled elegance. The color palette is also extremely important for homeowners aiming for a sophisticated look. Rich colors with depth instantly elevate the look of a kitchen, especially against opulent finishes. Perhaps the most common request, however, is top-grade appliances. We work with our vendors to always provide the best in the market, suitable to our clients' needs and wants. 
In the process of luxury kitchen design, the questions are endless. Knowing how to ask the right ones can yield exemplary results. 
By Bob Bakes, Head of Design, Bakes & Kropp