Dacor Debuts Provocative Advertising Campaign Highlighting Modernist Collection
---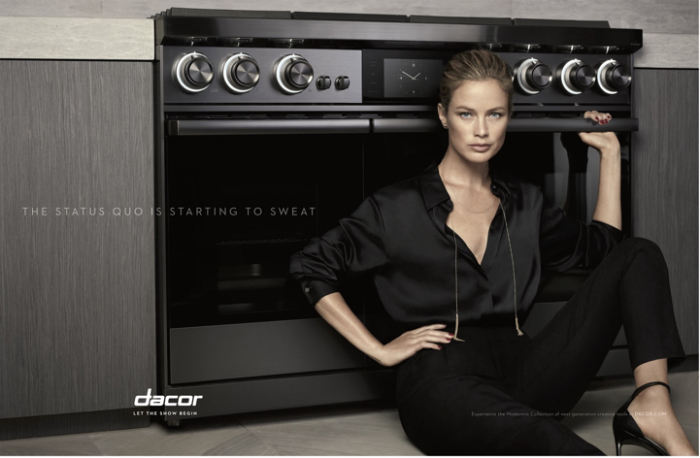 September 26, 2017
Dacor, an American home appliance brand, recently debuted a new creative advertising campaign featuring its latest line of next generation creative tools, the Modernist Collection. The campaign, developed by El Segundo-based agency, Team One, captures the Dacor Modernist Collection in a style reminiscent of fashion advertising and will run in market through December.
First seen during the live broadcast of CBS' Emmy Awards, Dacor's "Let the Show Begin" campaign depicts a pristinely tailored and impeccably dressed supermodel, Carolyn Murphy. Murphy assesses a sterile white kitchen space, and then violently destroys it with a sledgehammer and chainsaw. In the blink of an eye, the space is transformed. Later, she purposefully strolls through her new kitchen with admiration, caressing the surfaces and interactive touch screens of the graphite stainless steel stove top, refrigerator and oven, which are all part of the Dacor Modernist Collection of appliances. The spots close with a group of friends gathered in the kitchen as it comes to life for an unparalleled culinary performance.
Each of the 15-second, 30-second and 90-second spots, feature voiceovers that reinforce the visual kitchen revolution with comments such as, "For years, the kitchen has been ruled by rules. It's time to set it free."
In addition to the new video content, complementary print and digital ads will run through December and hone in on individual hero products from the Dacor Modernist Collection. Sample placements include the Modernist 48-in. Dual Fuel Pro Steam Range featured alongside the theme line, "the status quo is starting to sweat," followed with a full product description.
"Dacor is transforming the status quo and disrupting the luxury kitchen category," said Etienne Houseknecht, marketing director, Dacor. "For far too long the space has been habitually branded with a 'pro-style cooking' or 'design museum' label. With our new campaign, Dacor serves as a cultural thought leader on what it means to be a modern entertainer and invites the luxury consumer to view the category through a new lens."
By blending leading technology and innovation with aesthetics and premium features, the Modernist Collection champions the affluent kitchen as the most important place to connect and create unforgettable meals. Complete with Wi-Fi connectivity and easily controlled by the Dacor Kitchen iQ app, the Modernist Collection of cooking, cooling and cleaning appliances allow users to check on dishes while they're cooking, adjust time and temperature, and double-check the need for an ingredient in the refrigerator from any location using the iQ app.