Elkay and Cosentino North America Join the KBIS 2018 Hard Hat Media Tour
---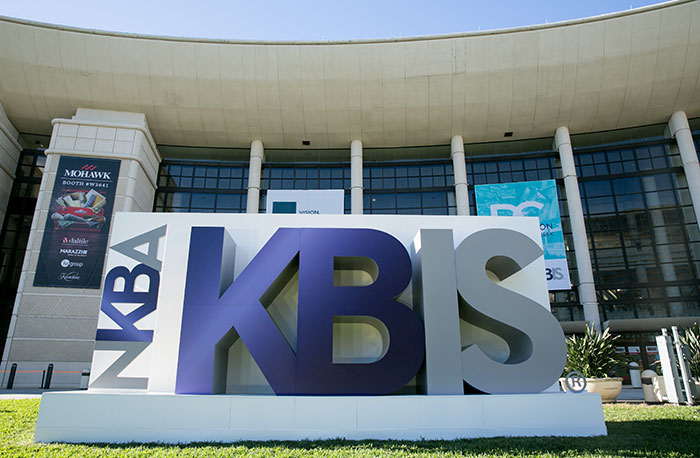 July 25, 2017
The 2018 Kitchen & Bath Industry Show (KBIS), the destination for kitchen and bath design professionals, announced today that Elkay will join the 2018 KBIS Hard Hat Media Tour as the official tour sponsor, and Cosentino North America will serve as the media tour breakfast sponsor. Both brands will receive a stop on the tour that welcomes select media to the KBIS show floor before doors open on day one, January 9, 2018.
"KBIS is always a highlight of the year, and Elkay is very excited to host the Hard Hat Media Tour at KBIS 2018," said Molly Pajauskas, director, marketing — plumbing products for Elkay Manufacturing. "We look forward to interacting with members of the media and other kitchen and bath professionals to share the innovative sinks and drinking water products we'll be showcasing this year. The entire event is an amazing opportunity to connect on the future of kitchen innovation & design."
The KBIS 2018 Hard Hat Media Tour will give nine exhibitors the chance to preview a new product or innovation to up to 20 select industry media. To apply to participate in the tour, KBIS exhibitors can complete the media tour online application. Applications will be accepted through September 13, 2017. Non-sponsoring exhibitor participants are selected through a brand-blind review by participating media.
"At Cosentino we are always thinking about anticipation and innovation. For us, KBIS 2018 represents an amazing opportunity to share what we are passionate about and show our beautiful new and existing Silestone and Dekton products," said Massimo Ballucchi, marketing director, Cosentino North America (CNA). "We are excited to host the Hard Hat Media Tour breakfast; this will allow us to connect with the media and professionals to learn, share and keep adding value to the growth of the design and architecture world."
"KBIS is where the kitchen and bath industry debuts new products for the New Year.  The KBIS Hard Hat Media Tour is truly a 'first look' for our media to see what's new and uncover the best of what our industry is bringing to market," said Suzie Williford, vice president of industry relations for the National Kitchen and Bath Association, which owns KBIS.
"The Hard Hat Media Tour continues to be one of the most anticipated KBIS programs. We're exposing our valued media contacts to the newest kitchen and bath products of the year, and it's happening first at KBIS," said Brian Pagel, senior vice president, Emerald Expositions. "We're proud to be the show that creates connections between the kitchen and bath industry's top brands and key media."
KBIS is owned by the National Kitchen and Bath Association.