Elmira Stove Works Debuts New Design Tool and Website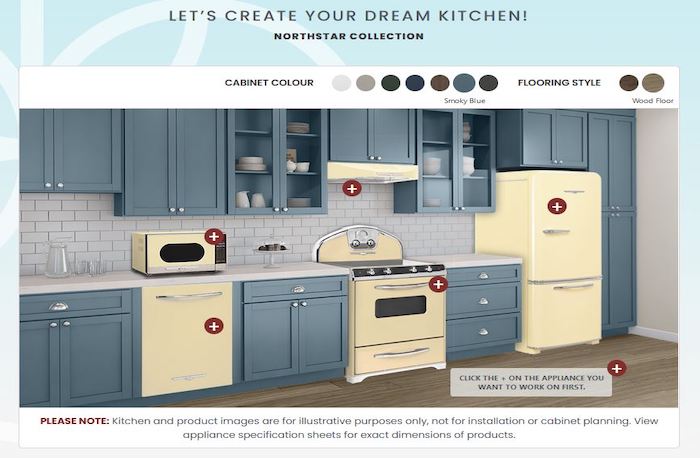 October 20, 2022
Elmira Stove Works, a leading manufacturer of premium vintage-style appliances and woodburning cookstoves, has launched a dynamic new website featuring state-of-the-art interactive Visualizers for each of its appliance lines. The completely reimagined site was developed to better meet the needs of design professionals and homeowners seeking an innovative experience in the kitchen design process.
"Audiences are using our appliances in ways that transcend vintage, going beyond nostalgia and into design and lifestyle themes that are altogether new," said Tony Dowling, vice-president of sales and marketing at Elmira Stove Works. "Designers and homeowners are integrating our appliances into a growing array of contemporary settings that include cottage, coastal and modern farmhouse themes. The website's intuitive navigation, responsive design and streamlined performance complement how the Elmira brand has evolved in continuing to lead the kitchen design marketplace."
Featuring a refreshing, modern look and enhanced browsing experience, the site allows visitors to experience Elmira Stove Works products by collection – Heritage, Northstar and Fireview – on dedicated landing pages that demonstrate all available options and customizations. Dimensions, specifications and pricing details are easily accessible, and the viewer can click on a "Color" tab to interactively explore the many color highlights that continue to be a leading hallmark for Elmira's lines. A comprehensive inspiration gallery showcases the brand's appliances in a variety of real-world settings.
The site's new Visualizer – an immersive tool that lets participants build, save and share their dream kitchen designs – is unparalleled in the industry. Users simply choose their desired appliances, colors, finishes and options, and then select from an array of on-trend cabinet and flooring finishes to complete their kitchen. A detailed price estimate for the appliance package is provided with the design, which can be archived for future reference. Thousands of variations in room settings and features are possible, all rendered in near-photographic clarity and detail.
A dedicated portal for dealers provides access to marketing materials and promotional information while a button at the top of the homepage allows visitors to book a Zoom video call at the Elmira showroom. To streamline the decision-making process, Elmira dealers can leverage the Visualizer to access updated appliance packages and prices for their customers, while they are together in the showroom.
Added Dowling, "Our primary goal with the new website is to provide designers and homeowners with the information and inspiration they need to create kitchen appliance solutions that reflect their individual style. It was paramount that the site not only be simple to navigate but also be visually engaging, allowing visitors to discover the full range of options in a one-of-a-kind interactive journey. We are excited to unveil this unique experience to the industry."
Elements throughout the new site reflect Elmira's re-envisioned brand identity, which was designed to highlight vintage style through an updated lens. Even the brand's newly designed logo features a modern colorway that honors the brand's classic roots and renders the "e" from Elmira to evoke an oven knob or burner on a classic range.
Through the new website, Visualizer and branding, Elmira Stove Works is propelling the brand's role as an appliance industry innovator, style guide and solutions expert. From its inception almost a half-century ago, Elmira has been at the forefront of integrating the latest appliance technology into timeless designs – for distinctive kitchens that add character to any space.