Frigidaire
---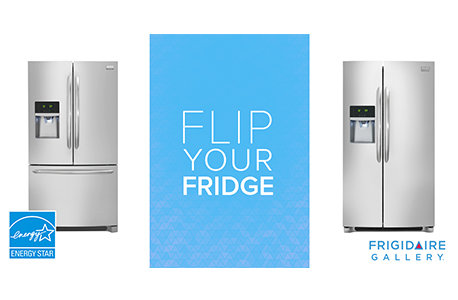 April 15, 2016
Frigidaire is enabling consumers to reduce their carbon footprint by more than 7,000 pounds where for the second year in a row. The company is participating in the U.S. Environmental Protection Agency's (EPA) ENERGY STAR initiative, "Flip Your Fridge," helping consumers upgrade their current Frigidaire refrigerators to Energy Star-certified models. 
Participation in this program is part of the brand's larger goal to help consumers save energy and help protect the climate, and below are a few interesting statistics from the EPA:
– Frigidaire ENERGY STAR refrigerators use less energy than two 60-watt light bulbs. This keeps more money in consumers' pockets instead of the utility companies.
– If all the refrigerators in the U.S. that are 15 years old (or older) were replaced with new ENERGY STAR models, Americans could save more than a billion dollars in annual energy costs, which is enough energy savings to power 800,000 homes or prevent 12 billion pounds of greenhouse gas emissions.
– Consumers can save as much as $260 over the next five years and reduce their carbon footprint by 7,900 pounds when replacing an old refrigerator with a new ENERGY STAR-certified model.