GE Appliances Partners with Kohler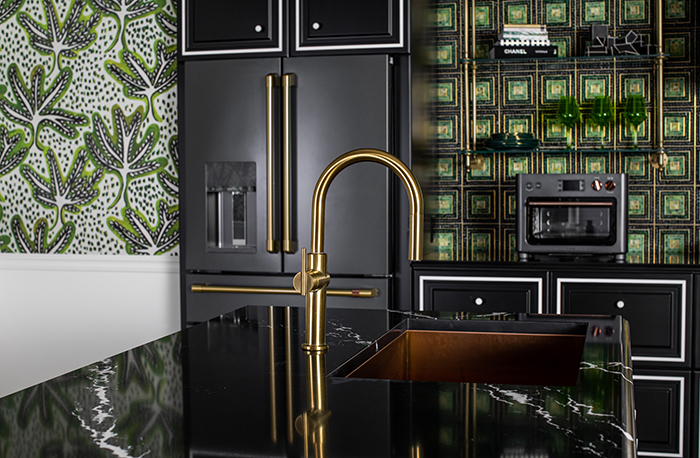 February 14, 2023
GE Appliances brands Monogram and Café are joining design forces with global leader in the design and manufacturing of kitchen and bath products Kohler to launch complementary finishes that seamlessly integrate luxury into everyday life. The partnership delivers customization with appliance hardware designed to help consumers complete their desired style aesthetic with matching hardware finishes across the kitchen.
"We're proud to partner with Kohler to bring customizable appliances with striking finishes, purposefully designed to reflect the style preferences of our owners," said Mary Putman, vice president of marketing and brand, GE Appliances. "This collaboration captures the legendary sophistication of each brand, while continuing to push the boundaries of what our clientele have come to expect from Café and Monogram."
Café is unveiling two hardware offerings, brushed brass and flat black, to bring bold, new kitchen accents to kitchens. The vibrant hues of the brushed brass finish pairs well with Kohler's vibrant brushed moderne brass finish. For owners looking for a more bold look, Café flat black finish complements Kohler's matte black finish, granting more creative freedom for homeowners to curate a kitchen that mirrors their individual style.
Monogram, the luxury appliance brand synonymous with impeccable craftsmanship and sophisticated design, is also thrilled to introduce the titanium and brass aesthetics from the Monogram Designer Collection x Richard T. Anuszkiewicz, Monogram creative director. The collection collaborates with Kohler's luxury brand, Kallista. The dark-charcoal muted tones and sleek lines of Monogram's titanium collections pairs with the cool undertones of Kallista's gunmetal to bring a more modern look to contemporary kitchens. In contrast, the gold and polished hues of Monogram's brass collection complements the warmth of Kallista's unlaquered brass finish.
"Kohler's partnership with Monogram and Café provides a nice symmetry between our kitchen sink and faucet products by offering complimentary colors and finishes," said Scott Edmunds, vice president of marketing at Kohler Co. "As Kohler celebrates our 150th anniversary this year, we are proud to have a partner like GE Appliances that share a similar passion for design and rich history of creating quality products and experiences that delight our customers."