Increase Your Knowledge of Smart Technology Offerings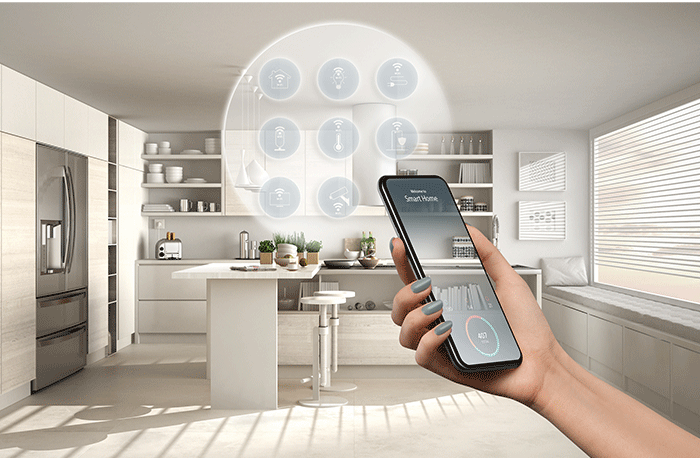 March 20, 2023
Kitchen and bath designers are expected to be experts on every amenity. Admittedly, that's a high expectation. It is challenging enough to keep up to date with design trends and the ever-evolving appliance landscape, though statistics show another category may be even tougher for designers to confront … smart home technology. This article is meant to help you feel more confident in recommending smart technology offerings to your clients.
The National Kitchen & Bath Association's (NKBA's) "2022 Design Trends Report" revealed that only 30% of kitchen and 21% of bath projects included integrated technology features. The reason these numbers are so low can be deduced by the next finding: Only 29% of designers are using a home technology pro for kitchen projects and only 24% for bath projects. The same report revealed that homeowners are excited about integrating technology into these spaces.
Add a Home Technology Integrator as a Team Resource
An integrator is a professional who designs, installs and services all manner of smart technology offerings for the home. These range from audio video, smart home systems, home theater, lighting controls, motorized shading, security, home networks, wellness and more. The home technology integrator has roots in audio video, so you may have heard them called "AV Guys," though that name is no longer accurate. Besides the fact that an increasing amount of integration firms are woman-owned, audio/video is just one aspect of what they do.
A qualified integrator will help your design practice in important ways. For one, they are your resource for answering all your and your clients' home technology questions. Technology is progressing so fast that it is a full-time job for them to keep up to date, so you can unburden yourself from thinking you need to be up on every new development.
Next, many of them will have their own showroom or can take you to manufacturer showrooms that will allow you and your clients to experience these technology systems firsthand. When you experience various home technologies in a demo, you will be more confident informing your clients about their options.
Why Address Home Technology on Your Projects?
For starters, as NKBA research has shown, clients want it. Though what is in it for you, the kitchen and bath designer? Happier clients, kitchens and baths with more of a wow factor, which will lead to more referrals.
For example, by controlling both natural and artificial light, the entire look of the kitchen or bath can literally transform in seconds, with a single button push. Lighting color temperature and intensity can adjust automatically to mimic natural sunlight even as that changes throughout the day. Some studies suggest this helps with your circadian rhythm and improves the wellness aspect of the environment. Properly designed lighting systems also can transform to match how you want to use the space. It can be bright for cleaning, or you can use warmer color temperatures and dimmer settings for a relaxed or even a romantic setting.
Motorized shading adds privacy, security and may be programmed to raise and lower based on sunrise and sunset or react to the presence of direct sunlight. These features will mitigate unwanted heat gain and possible damage to furniture. Music systems, often with flush-mounted or invisible speakers, can instantly transform the mood from boring to party. You can watch TVs that are invisible until turned on, either using special mirrors or motorized TV lifts. Only your imagination stands in the way of what can be done. And when designed early by a competent integrator, all of this is easy to use through a few apps or even one single centralized app.
More kitchen- and bath-specific manufacturers are making their products work with smart home systems, too. Kohler, Moen, Gaggenau, Sub-Zero and others are adding smart home features to their products to integrate them with other systems. For example, an "unwind" button can activate a connected bath or spa tub, start aromatherapy, change the lighting to any color you want and start playing ambient soundscapes. That is the definition of luxury!
A One-Page Technology Checklist
To get started with meeting your clients' tech needs, NKBA members can access a Project Technology Assessment form at https://nkba.org/insights/find-an-integrator/# that will give you a checklist of the home technologies that tech integrators can help design, install and service.
To keep your finger on the pulse of design meeting technology, subscribe for free to the "Home Technology Design" enewsletter at htacertified.org and to both Connected Design and Technology Designer magazines.
By Josh Christian, CEO of the Home Technology Association, which helps design professionals and homeowners find the most qualified home technology integrators. 
Photo credit: ArchiVIZ/Adobe Stock