KBB Closeup: Design Pros Dish on Kitchen Appliances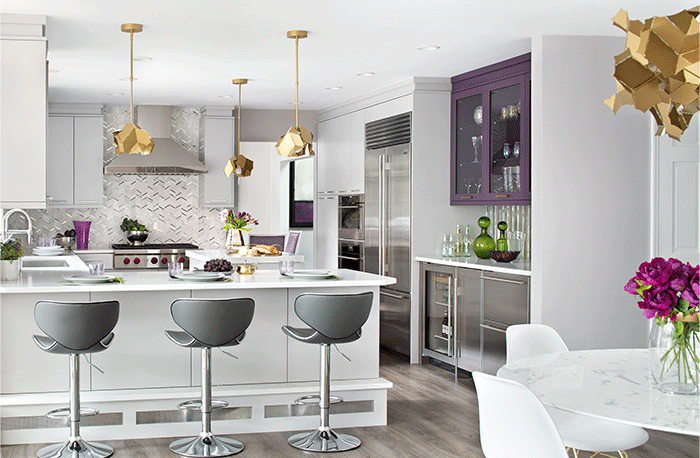 November 29, 2022
If cabinets and storage are the largest part of a kitchen project, appliances easily slide into the number-two spot. Whether your client is a home chef or rarely prepares food, there is always a need for certain types of kitchen appliances.
Almost all of today's kitchens include a main cooking and refrigeration appliance, as well as some sort of air blower or venter and a means to wash dishes. For those who have more space and who use their kitchen every day – multiple times a day – secondary appliances like wine refrigeration or coffee makers may also apply.
We recently surveyed our readers regarding all things kitchen appliances, and they estimate a 4.3% median level of growth in that area over the next year. The responders also reported that a median of 22% of the project budget is devoted to appliances.
We also wanted to know what percentage of kitchens include a single brand across all major appliances versus more than one brand. It was about 50/50, with 53% of projects using one brand. According to design/builder, Michael Menn of Michael Menn Ltd. in Northbrook, Ill., about a third of his clients prefer one brand so handles and finishes match. The other two-thirds are choosing appliances based on their preferred features, which may mean more than one brand.
The design professionals who answered our poll had some great ideas for future renovations, including UV light disinfection for dishwashers, right-size blowers and hoods for 48-in. ranges and a separate dishwasher just for pots and pans.
Key Takeaways
According to survey respondents, 22% (median) of the kitchen budget is directly related to the appliances.
Almost 80% of designers specify the appliances at the beginning of the project.
The most-requested secondary appliance is wine/beverage refrigeration.
The most common fuel source for homeowners today is gas at 40%.
A median of 26% of projects included connected/smart appliances in the last 12 months.
Project Timeline
Almost 80% of our respondents say they specify the appliances at the onset of every kitchen project. According to designer Aparna Vijayan of Ridgewood, N.J.-based Ulrich Inc., she signs that order first because most high-end appliances have lead times of more than a year. As a design/builder, Michael Menn of Michael Menn Ltd. In Northbrook, Ill., says scheduling is extremely important.
"We don't want to be sitting with a partially done kitchen, waiting for the appliances," he added. "As we are designing and specifying, we check lead times on most items and work backward on when we need to order them."
Secondary Appliance Needs
Wine and beverage refrigeration topped our list as the most-requested ancillary appliance, with the microwave drawer coming in second place. Other write-in choices in our survey included air fryers (still all the rage!), convection ovens, countertop coffee makers (who knew?), craft/pebble ice makers (very popular answer), downdraft ventilation, pizza ovens, a second cooking surface and combi-steam/steam ovens (also prevalent).
Menn says in lieu of built-in coffee makers, his clients are opting for a coffee bar area, often hidden behind cabinet doors when not in use. Vijayan clients are asking for plumbed coffee makers and 18-in. dishwashers in the bar area versus dishwasher drawers.
Luxury Wherever You Find Paradise
As the leader in high-quality commercial refrigeration and bar solutions for the world's finest restaurants, bars, stadiums and entertainment venues, Perlick offers homeowners the opportunity to bring that same level of quality into the comfort of their own home with its line of luxury residential products that blends professional-level performance with exquisite style and modern functionality.
Now, for the first time, homeowners can enjoy the ultimate in luxury refrigeration wherever they find paradise with Perlick's new Marine- and Coastal-Grade Undercounter Refrigeration featuring Perlick Armor. An upgraded version of their best-in-class undercounter refrigeration line, Perlick Armor is the first and only all-stainless, marine-grade undercounter refrigeration line available today. Whether you own a home near the coast, a saltwater pool or a boat on the open water, the harsh effects of high-salt environments can wreak havoc and weather outdoor appliances prematurely. Perlick Armor is built to endure the harshest of environments while maintaining consistent functionality and a showroom-quality finish.
-Heather Shannon, Director of Brand Marketing
Fuel Sources & Smart Options
For the main cooking appliance, our respondents said clients are still wanting gas as the main fuel source, with dual-fuel options coming in second place. This may change as gas is being phased out in certain areas of the country. Vijayan says she recommends dual-fuel options for better baking.
In terms of tech options, Menn says his clients are 50/50 – half do, and half do not request them. Vijayan says most of her projects do include smart options because a lot of her clients are tech-savvy millennials.
Cooking Range Features
For cooking appliance features, a self-cleaning oven was ranked highest, convection coming in second and double ovens and high-performance burners tied for third. Other options included ball-bearing glides, bridge elements, colored finishes/custom colors, commercial looks, downdraft ventilation, gas elements under griddles, movable induction surfaces, rotisseries, Sabbath modes, slide-in ranges and shallow-depth options.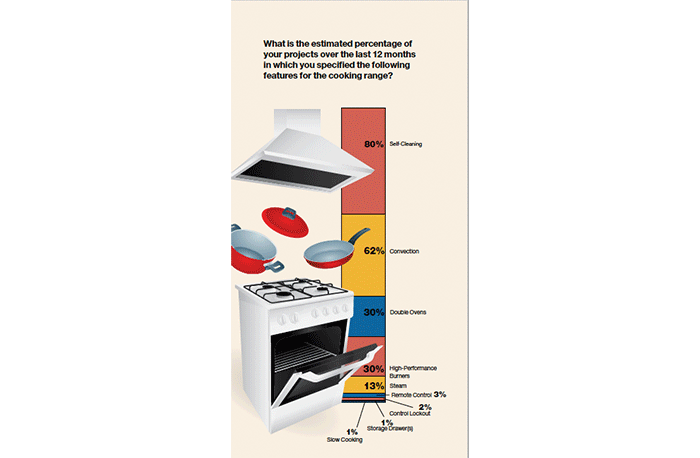 Refrigeration Must-Haves
The most popular bells and whistles for this appliance are automatic temperature control (36%), followed by organization drawers (33%) and lighted drawers/doors (31%). Other requests include the desire for black interiors; counter-depth, panel-ready and French-door units; food preservation technology (seen at KBIS 2022); internal water dispensers; Sabbath modes, air purification, dual compressors and quick-chill features. Menn said most of his clients want a crisper/veggie/fruit drawer that can be opened independently of the main refrigerator door(s).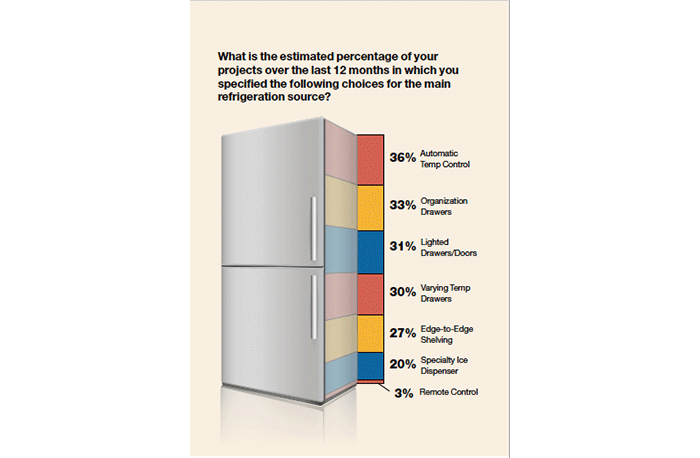 Go With the Pro (Equipment)
When it comes to cooking, today's consumers want it all and that includes the right equipment and technology to help them elevate their culinary game. In fact, the NKBA's 2023 Design Trends Report found that homeowners are excited about the benefits smart, connected appliances bring, such as integrating advanced functionality like steam technology into ovens along with other modalities.
Today's forward-thinking home chefs know that having the right cooking tools is just as important as the ingredients. With advanced culinary features like dual-fuel ranges with sous vide built directly into the cooking surface along with steam, induction and other modalities, plus spacious refrigerators with convertible drawer technology and specialty ice options, Signature Kitchen Suite's appliances allow these individuals to expand their repertoire in the kitchen. High-tech appliances not only make at-home chefs' lives easier and help reduce cooking-related stress, but it can give them greater precision and flexibility at every step of the cooking process – helping them achieve professional level results right at home.
– Nick Ritchie, Executive Chef, Signature Kitchen Suite
Future Appliance Potential
In general, design professionals would like additional options for wine dispensers and refrigeration drawers; more effective, better-quality range hoods; improved built-in coffee makers; more appliance options for smaller spaces; additional color and finish options; and improved induction and electric technology.
More specifically, they want non-leaking water dispensers, griddles with fully heated surfaces, the ability to toast in a convection oven; steam/convection microwaves; improved ice makers and specialty ice as part of the main refrigerator; and data delivered when service is needed.
Diving in even deeper, our respondents suggested such things as an undercabinet ice maker with an integrated door, a sensor to detect expired food in the fridge, microwaves with a right hinge/reversible door (multiple suggestions for this), flip-up shelves for hood warming lights; a 15-minute dishwasher cycle; a range with a built-in air fryer and/or microwave drawer; indoor grills that can achieve outdoor flavor; dishwashers with built-in storage; slide-in oven doors as seen in Europe; and – perhaps the most innovative: a transparent door on the dishwasher that auto tints when not in use.
"Realistically, in the near future, not having supply chain issues would be a valid kitchen appliance ask," said Menn. "Having to order appliances six-plus months in advance and then having to wait to start construction – you are going to lose clients."
Top photo credit: Peter Rymwid Architectural Photography