KBB Closeup: Experts Weigh In on Kitchen Sinks and Faucets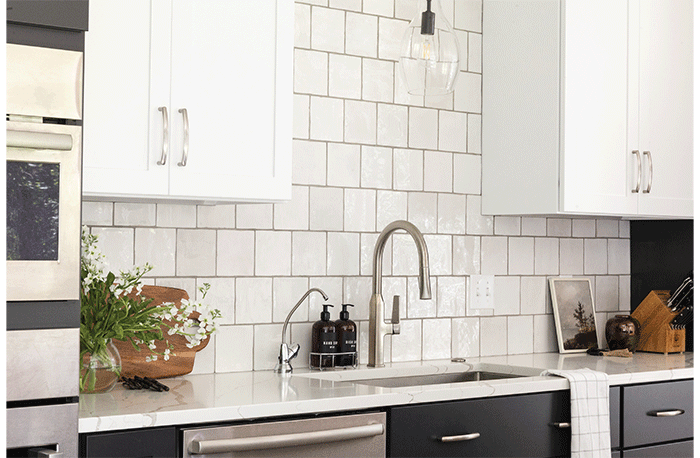 October 10, 2022
Although kitchen sinks and faucets may not be the big revenue generators in today's projects, they are still an important aspect to consider. Both fixtures are used daily – numerous times – and with the finish and style choices available today, sinks and faucets have definitely come a long way. We recently surveyed our readers on the importance of these two fittings, and about 58% say they expect to see some growth in their kitchen sinks and faucets business over the next year. Some respondents said what while certain clients are indifferent about those selections, others prefer a certain sink and/or faucet style and want to include accessories around this area.
Designers, on the other hand, have several innovative ideas as to what they'd like to see coming down the pike for sinks and faucets. Some of those include improved storage for sink accessories, strainers that match the sink and more powerful spray options for faucets.
"This part of the kitchen project is important and is often overlooked," said Morgan Molitor, founder and creative director of Construction 2 Style in Elk River, Minn. "The sink and faucet are some of the most used things in a kitchen; we use them more than any appliance to wash and clean multiple times throughout the day – even when we're not eating."
Key Takeaways
Š Acording to our survey respondents, the median price for kitchens completed in the last 12 months is $25,806.
Š 3.6% of total kitchen project revenue is directly attributable to the sink and faucet.
Š Functionality is the most important consideration for clients when choosing the main sink for their kitchens.
Š The most popular sink and faucet material in the last 12 months is stainless steel.
Š Single-bowl, undermount sinks are the most commonly specified design.
Š Disposals, strainer drains and bottom rinse grids are the most popular sink accessories.
Most Essential Considerations
With today's variety of styles, colors and finishes, kitchen sinks can be pretty to look at, but function is the name of the game with these fixtures. More than half of our respondents chose function as their top priority when choosing the sink for their clients' kitchens.
All Factors Ranked:
Functionality
Size
Aesthetics/Finish
Product Availability
Price/Cost
Other answers included accessories/features, which we will get to later in the article, brand, color, drain location, flexibility in use, number of bowls, material and quality. According to Steve Friedson, owner of NYC-based Next Inc. Fine Interior Contracting, although sinks have become more stylish, most of his clients are more interested in depth and width (size). Molitor said her firm also considers cleanability, practicality and color.
Stainless steel is the predominant material of choice for kitchen sinks among designers. In addition to those materials listed, a tiny percentage of respondents say they also specify concrete, concrete and resin and stone materials.
Life in the Kitchen Has Never Been This Good
Kitchen design professionals everywhere are incorporating The Galley into their designs to create kitchens that are both beautiful and functional. The Workstation + Tap combined forms a complete culinary system where multiple people can prepare, cook, serve, entertain and clean all in one central and convenient place. In your Galley, you can chop, strain and mix easily and ergonomically to prepare a meal and efficiently transition to cooking with a cooktop nearby. Using various Serving Boards, quickly and conveniently transform your prepare and cook station into a serve station or set out drinks and hors d'oeuvres to create an ideal entertain station. Consider adding a separate WashStation™ with a dishwasher next to it to create a separate cleaning zone. Simply put, The Galley Workstations, WashStations and Taps make kitchens work better. Each Galley is thoughtfully designed, engineered and hand-crafted in the USA.
"For anyone who wants to make their kitchen more functional, more convenient, more social and more fun, The Galley Workstation does that and so much more. Homeowners tell us all the time that they will never have another kitchen without one." – Scott Anderson, CEO, The Galley
Materials & Finishes
Sink materials run the gamut – from cast iron to fireclay to stainless steel. Most of the respondents (44%) said they specify stainless steel. Other answers not listed in the survey included concrete and countertop slabs used to make a sink.
"When choosing a kitchen sink, it's important to consider the type of material and how it will perform, the maintenance involved for that material, what style will work best for their lifestyle, what is the overall look we are going for and lastly, what finish fits in with the design to ensure a proper, cohesive look," said Kailee Klevan, a CMKBD based in Rochester, Minn.
In terms of faucet finishes, stainless steel was the most popular among our survey responders, and other choices included black stainless, copper, oil-rubbed bronze, polished nickel and white.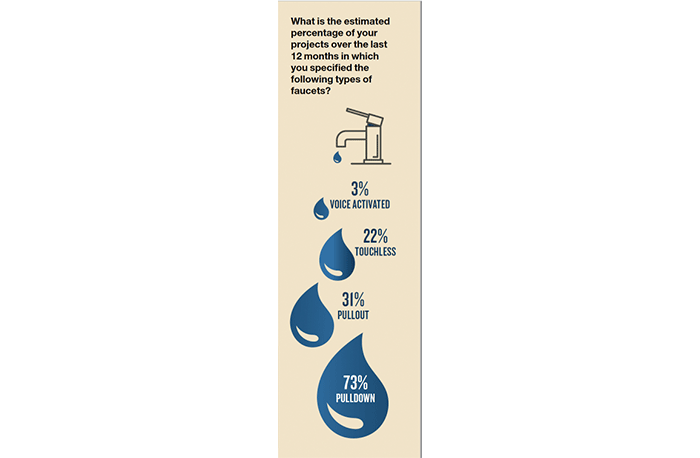 Pulldown faucets were the most popular choice. Among the other types of faucets specified are lighted, touch, spring formed and wall mounted
Kitchen Sinks and Faucets: Types & Styles
Do your clients prefer pulldown or pullout? Touch or touchless? Most of the respondents in our survey (73%) said the pulldown was their clients' most preferred type of kitchen faucet over the last 12 months. Other write-in answers included bridge, lighted, spring-formed and wall mounted.
For sinks, undermount is the style/type of choice for 82% of respondents, and single bowl and double bowl rounded out the top three. The write-in answers included wall-mounted, top-mounted and outdoor sinks.
"After narrowing down the sink material, we look at different styles," said Klevan. "Again, it comes down to functionality. I'm finding most people prefer a large, single-bowl sink lately, but a low-divide sink is also one that's commonly selected."
Make the Most of Your Space
If you thought a sink was just for washing dishes, it is time to unlock your sink's full potential. Workstation sinks are the most productive use of space in your kitchen. Use them to rinse dishes, scrub pots and pans, dry glassware, rinse fruit, chop vegetables, and the list goes on. The new QAWS-740 sink by Karran comes with a complete assortment of accessories to make food prep and cleanup a breeze. Constructed from ultra-durable quartz composite, this sink will provide years of carefree use, and with its stunning apron-front design, it will surely make a statement in your kitchen. Choose for one of the six great color choices and two apron-front depths (9-1/4 inches or 6-1/2 inches). -Mark Webster, VP Sales and Marketing, Karran USA
All in the Accessories
It's a matter of preference if some homeowners are happy just having a kitchen sink that does the obvious handful of jobs. Still there are others who want everything with their kitchen sink. Those choices range from handy tools like colanders and cutting boards to crafty storage choices like sponge caddies and utensil holders. Klevan said she has included basin racks to protect the bottom of the sink, and Friedson's clients have asked for dish racks and innovative drain designs. Molitor said they always spec a glass rinser, which she said was a game-changer for her family.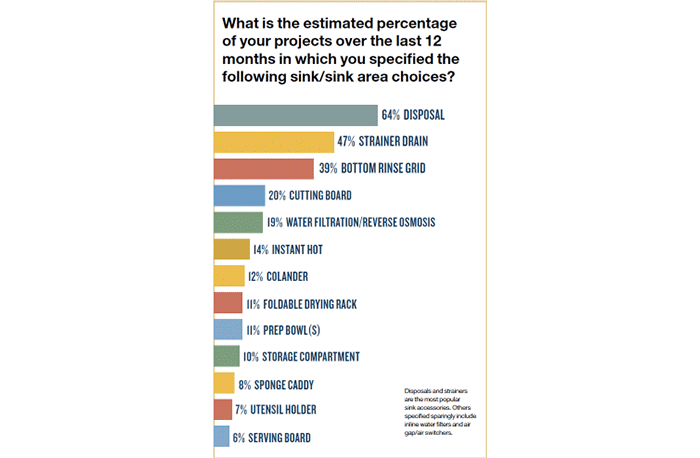 Disposals and strainers are the most popular sink accessories. Others specified sparingly include inline water filters and air gap/air switchers.
The Future Looks Bright for Kitchen Sinks and Faucets
Our respondents had many innovative ideas for what they'd like to see soon for kitchens. In general, they are hoping additional color options, easy-to-clean choices, improved designs and cleaning products that come with the sink and/or faucet purchase.
Specifically for sinks, they hope to have more quartz workstation options, accessories that work with an undermount opening, chef/professional inserts, undermount options for laminate countertops and integrated storage options. In terms of aesthetics, they'd like improved quartz composite finishes, quality strainers that match the sink, lower-profile edges for drop-in sinks and workstation sinks with rounded corners. When addressing function and durability, they are asking for sink lids, quicker water drainage, self-cleaning rims that attach to the countertop, steeper drain runoff, hard water stain resistance, properly fitting dish racks at affordable prices and – perhaps the most coveted of all – the ability to replace an undermount sink without having to remove the countertop in a renovation.
Regarding faucets, our respondents are asking for improved handle accessibility; more finishes (rose gold), finish combinations, sizes, spray options and bridge styles with pulldown options; and styles and finishes that match pot fillers. In terms of function and extras, they would like to see options with built-in water filtration, catch-free hoses and splash control; metal versus plastic heads/pulldowns; pulldown locking mechanisms; and integrated soap dispensers and glass cleaners.
According to Klevan, more of her clients are requesting voice-activated options and air switches for the garbage disposal.
"The desire for smart faucets is growing, so it's possible to see a change in the next year," she added.
By Chelsie Butler, KBB Executive Editor