Keys to Successful Designer-Client Relationships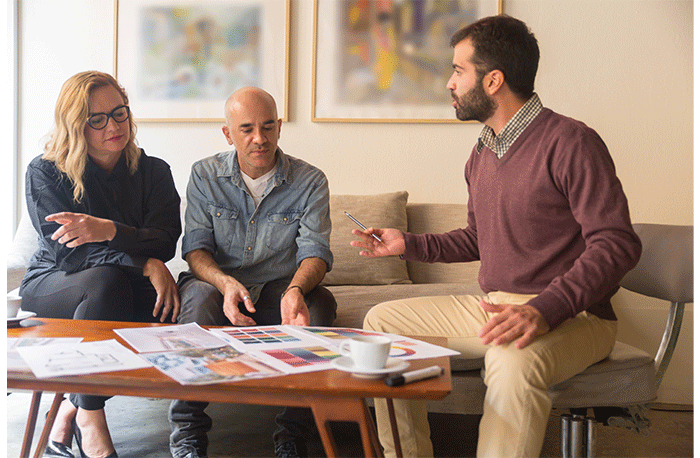 February 17, 2023
Interviewing a prospective client is a lot like speed dating; you only have a few moments to discern if you will be a good fit, which, in turn, will lead to successful designer-client relationships.
From the initial "discovery call," you should be carefully listening not only to the questions the client asks you but how the client responds. That's right, you are also interviewing the client. If a nagging little voice in the back of your mind starts raising red flags, take note. Intuition plays a big role here.
What is the key to a successful relationship with any client? Honest communication from day one. I have developed a tried-and-true system to vet potential clients. Here are some ideas to help you in your interior design and/or kitchen and bath design practice.
Perfect Your Elevator Speech

When you ask the question "tell me about your project," you will be able to determine if the scope of work and budget is in alignment with the services you provide. When speaking with your prospective client, you should succinctly explain what services you provide, your design process, what value you bring to the project and what type of investment working with your firm will require. Generally, you will know by their response if you might be a good fit.
During our conversation, I ask three very important questions:
How Did You Find Our Firm? I would like to know how you found me. Did you come across my work in an editorial in a magazine? Are you familiar with our work? Are you a referral from a client? If you have been referred, that would mean you are familiar with what working with my firm would be like. Did you conduct an internet search and find me that way? If so, next questions are have you reviewed my portfolio, read my client's testimonials and my "how we work" page? This will give me insight as to how much they know about our firm.
What Is the Scope of Work and the Timeline for the Project? If the client is looking for services you do not provide, you should politely and honestly let them know that up front. Next, look at the type of project as well as the timeline. I specialize in kitchen, bath and millwork projects. Furthermore, our materials are custom, so they will take time to produce. If the client is looking for something outside of the services we provide or a faster timeline than we can accommodate, we might not be a good fit. Again, being forthright during the interview process avoids problems down the road.
What Are You Willing to Invest in Your Project? Unquestionably, this is one of the most important factors in a successful designer-client relationship. The client may not have any idea what their project will cost if they work with you. I use my portfolio to help them understand what investment is needed to complete a project. Then, if needed, you can further explain the value you bring beyond the material costs.
Honesty Is the Best Policy

I have many years of experience with successful designer-client relationships. During our initial meeting, I am often asked "What do you need from us?" My best response is honesty. We can talk about the project and look at inspiration boards and portfolio images, but if everyone is not being honest, not only will the project fail but so will the designer-client relationship. Being up front about the costs, the availability of products and what your schedule is like are three of the most important details to discuss.
Who Is Your Ideal Client?

Determining this provides the key to finding that client. I know who my processes, services and design style resonate with. That discovery was crucial to developing my own successful designer-client relationships. Once you understand the personality and expectations of you and your dream client, the rest will fall into place.
This may sound like a long process, but I have honed these conversations down to a 15- to 20-minute discovery call. If you lay the proper groundwork, your collaborations will be so much stronger. Just like building a strong foundation to support a building, build the foundation to support a great designer-client relationship.
By Sharon Sherman, CKD, ASID, CID, NCIDQ, founder and principal of Thyme & Place Design
 Photo: Mangostar/Adobe Stock