Kitchen and Bath Designers Talk Tech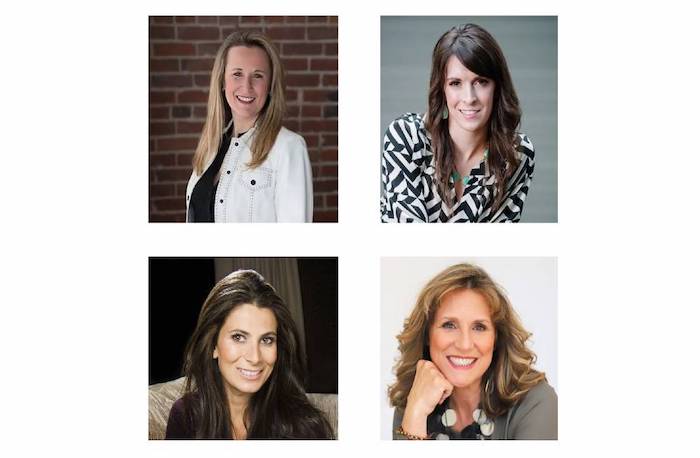 February 6, 2023
Shortly before KBIS, Arlen Schweiger, executive editor of KBB's sister publication CEPro, spoke with four kitchen and bath designers (clockwise from top left: Tristan Gary, Molly Switzer, Sharon Sherman and Janna Robinson) to get their take on tech and design.
What are your favorite types of products, or specific products, you like to have integrator partners install because of their ability to conceal, blend or show off technology?
GARY: When it comes to technology and integration with our clients, we want just enough to show [them] that if you know, you know. When we invite a client into their theater or game room for the first time and their Stealth Acoustics [invisible] speakers are 100% concealed behind drywall, their minds are blown. And they know that every friend, family member and colleague will feel the same way. But it's their choice and decision to be conspicuous or go all out – such a fun one!
SWITZER: Hands down, I love the Wall-Smart products that allow so many pieces [like keypads, touchpanels, outlets] to be installed flush; they have partnered with so many great brands it really makes it easy.
ROBINSON: I love motorized shades and automated lighting. Both encompass consumer and professional markets and offer reliable solutions.
Are you finding options across tech categories offer more interior design-minded solutions these days?
GARY: Yes. Again, Stealth speakers being behind drywall doesn't detract from the aesthetic of the room; one does need to remain mindful of theater draperies not blocking them, of course. But also, that Lutron has partnered with a shading company to deliver automated shades in various opacities means they are thinking about the end user and the designer.
SHERMAN: There is always a delicate balance between design and tech. In the past, tech was not always very attractive and required creative concealment. As the tech and design worlds come to an alliance of seamless integrations, the options have increased ten-fold and not just for the very top end of the budget spectrum. There are more options available and a variety of price points making the sensory experience of design and tech more approachable. Design and technology should walk hand in hand in creating environments that foster health, wellness, well-being and mindfulness. All of these features should be available to everyone.
SWITZER: I believe that Snap One has done a great job of listening to designers to help create some great details for their products, including their contemporary switch plates, which look so good! We put them in our own home first and I can't believe how many of our neighbors have complimented and inquired about them. They have also done a great job with attractive security options with Clare Controls' ClareOne. Being able to have options for our clients that go beyond a clunky box is so refreshing.
ROBINSON: Absolutely! I am seeing more design-minded lifestyle-technology solutions on the market: TVs, mounts, screens, projectors, speakers/subwoofers, lighting, surveillance cameras and a host of other product categories. One example that stands out to me is rather simple, but I really love the collection of pull-down TV mounts from MantelMount. So many people have fireplaces in the family or living rooms and end up mounting the TV above the mantel. This pull-down mount is well designed and solves eyeline and positioning issues.
How can custom integrators and kitchen & bath designers foster better relationships?
GARY: I've had experiences with integrators on both ends of the spectrum. The most important way for everyone to play together in the same sandbox is for it to truly be a team goal, a team objective, and for everyone to remember what the same end goal is — to make a client very happy so they want to refer us all to their family and friends. When we remember that, it's a golden opportunity to foster growth for us all.
SHERMAN: Just like with any good designer-contractor relationship, integrators and designers really need to understand each other and respect each other's area of expertise. 'My way or else' just does not work and it is not good for the client either. A cooperative approach is always best. There is a design concept phase when both professionals can work together to create the optimal design solution. There is always give and take, and not everyone can lead at the same time. It is a very complicated process but very rewarding for each professional as well as the client. Many times, job site conditions will not allow certain applications so mutually agreeable solutions must be found via cooperative design collaboration.
SWITZER: I think one of the best ways to create a better relationship with designers on a local level is to have an open-house experience and invite local designers into their showrooms to experience the product and meet face to face. The average designer is intimidated by technology; by opening up a world that is often very foreign to most designers in an inviting and non-pressured way allows them to explore and get curious. Also allowing the integrator teams to introduce themselves, because relationships are key and fitting personalities is crucial to successful projects.
ROBINSON: The integrator and designer often take different routes to meet the same goal: fulfilling the client's needs and visions. Ideally, each comes to the drawing board with an eagerness to learn from the other and a respect for their differing roles. I recommend both meet prior to embarking on a job. This allows time to learn what each envisions will be the scope of work that lies before them, what solutions may best suit the client and an opportunity to establish a formula for teamwork. Oftentimes, both the integrator and designer will have to make some sacrifices or find creative solutions to achieve an objective, and it's important that this is communicated in a way that doesn't catch the other off-guard. By meeting prior to the job kick-off, they can begin to cultivate a common language.
What tech-driven experiences are most in demand from your clients heading into 2023?
GARY: It has certainly been an interesting couple of years in our industry. From rapid demands for whole-home renovations to outdoor kitchens, I feel like we wrapped up 2022 with the largest demand for epic primary bathrooms. We are seeing steam showers in high demand. We are seeing luxuries for the primary suite, from automated shading and over-the-top wine/coffee areas, that allow the paying adults some much-needed respite from the world that has taken and needed so much more than before.
SHERMAN: For our kitchen and bath renovations, it's all about healthy cooking so anything which provides built-in tech access to recipes, and cooking with friends via web applications allowing everyone to socialize during preparation and dining. For bathrooms, anything which is creating a spa-like atmosphere. Built-in wet space TVs for showers and tubs, controlled sensory experiences with sound and light, especially chroma and aroma therapy. Steam controls are another big ask for bathroom experiences.
SWITZER: Clients are realizing that lighting and media are more important than they used to be, having access and control of these from our personal devices rather than always hunting for remotes. Often once these two elements are established, they realize that adding window treatment control, security, etc., it's all beneficial and easy. I'm not sure there's any one specific thing, they are starting to really see the bigger picture the rest of us have seen for a while.
ROBINSON: If you can automate it, the client wants it. However, they also prefer simplicity and convenience. And while some clients wish to conceal their technology as much as possible, others prefer to showcase it as they would a piece of art. One of my favorite ways to do this is by committing to the idea and using Leon Speakers' custom bezels for the TV and sourcing beautiful fabrics for speaker grills. These solutions offer a combination; concealment and exhibition, which does seem to be the sweet spot for the contemporary client.
By Arlen Schweiger, CE Pro Executive Editor
This article originally appeared on CEPro.com.