Kohler Co. Expands with Kohler Experience Center in Los Angeles
---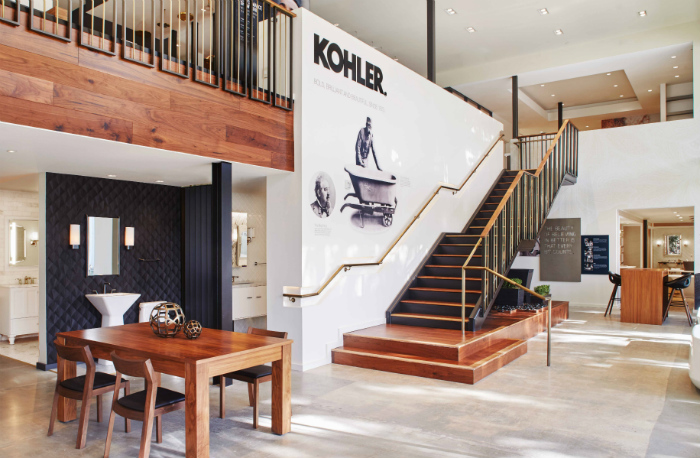 December 11, 2017
Kohler Co. expands its new retail concept and joins the Los Angeles design renaissance with the opening of a new Kohler Experience Center (KEC LAX). Located in the heart of West Hollywood, KEC LAX serves the city's burgeoning design scene by giving architects and designers hands-on access to the global offering of Kohler products.
One of seven in the world and one of two in the United States, KEC LAX opened its doors at 8955 W. Beverly Blvd in West Hollywood on December 5, 2017. Following the opening of the first-ever KEC in New York City in May 2017, KEC LAX offers consumers and design professionals on the west coast a truly elevated brand experience, whether they're working on projects domestically or around the globe.
KEC LAX houses Kohler's entire global product line available across the world—a first for both the industry and for the Kohler brand. This enables trade professionals to test fully functioning displays as needed and source Kohler products like never before. Onsite working products, including showers, bathtubs, sinks and toilets enable all customers to experience Kohler's differentiating features in performance and design.
"Each market where we've launched a Kohler Experience Center has been a design mecca in its own right, and each has received tremendous acclaim from both industry professionals and consumers, allowing them to connect with the Kohler brand and our products in a more personal and meaningful way," said David Kohler, president and CEO of Kohler Co. "It's an exciting time to increase our support of the Los Angeles design community, and we look forward to collaborating on new projects, fostering new ideas and driving continued growth."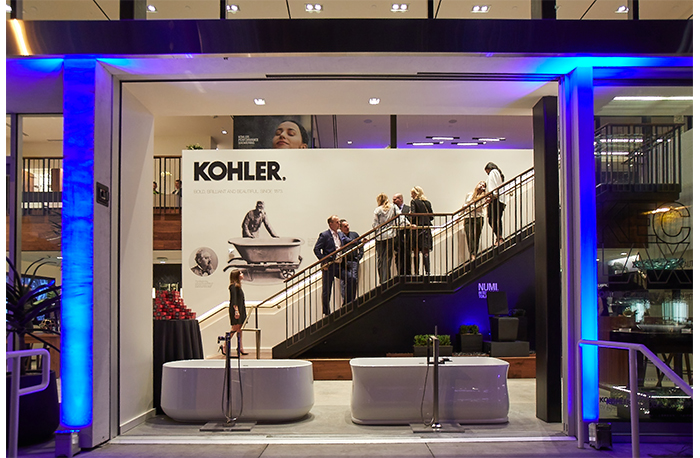 Designed by renowned architecture firm Marmol Radziner, the new KEC LAX embodies the city's midcentury modern flair both inside and out. Every touchpoint of the two story, 10,000-sq.-ft. space – from more than 20 bath vignettes and five full kitchen vignettes, to the Artist Editions Gallery, to the art displayed in the storefront window – is designed to connect and inspire. The Experience Center within KEC LAX is a private, by-appointment, immersive product trial space designed for customers to fully experience products like the Real Rain overhead shower panel, the DTV+ digital showering system, VibrAcoustic hydrotherapy and a range of showerheads and intelligent toilets among the very latest in Kohler technology.
To best serve design professionals, Kohler Experience Centers offer a new Kohler global specification service, which for the first time allows professional architects and designers working on international projects to have instant, hands-on access to all products across the entire Kohler global portfolio. A Kohler team of experts will be stationed onsite to help source and resolve complex plumbing projects both in the United States and around the world. By-appointment videoconferencing is also available, connecting customers with the full network of Kohler product experts across its international markets.
"The retail industry as a whole is rapidly evolving, and we see KEC at the forefront – addressing a tremendous need across the industry for a deeper knowledge and hands-on insight into how our products work that simply cannot be replicated in the digital space," said Larry Yuen, Kohler Co. president of the global Kitchen & Bath Group. "Strong brick and mortar presence remains an integral part of how we best serve our customers. The beauty of what we offer at each KEC is a seamless service experience to design professionals with both the ability to source and resolve all plumbing needs on a global scale from any KEC location."
Kallista and Robern, two brands from the Kohler Co. decorative products sector, will also call KEC home. Kallista luxury plumbing products will have a dedicated space, offering an elevated, shop-within-a-shop retail experience. The latest Robern vanities, cabinets and lighted mirrors will be incorporated throughout the KEC bathroom vignettes to inspire sleek, smart storage solutions.
KEC LAX will also serve as an art exhibit space for select pieces from the permanent collection of Kohler Co. and its Arts/Industry Program through the John Michael Kohler Arts Center, which fosters the intersection of art and the industrial process. Since its founding in 1974, the program has hosted more than 500 resident artists from around the world at the manufacturer's global headquarters in Kohler, Wisconsin, where in its pottery and foundry, artists are immersed in a new creative medium. The John Michael Kohler Arts Center promotes creativity and innovation while supporting each artist's individuality. It is the leading center for research and provides artists the ability to present to the industry, offering exposure unlike any other program.
KEC LAX will host the inaugural exhibition of Ghost School (2015) by renowned Washington State-based sculpturist and two-time Kohler artist-in-residence David Franklin. The installation, crafted from clay during Franklin's 2015 residency, celebrates life on the water while giving form to the artist's continued concern for the ocean environment where he frequently spends time.
Kohler Co. plans to launch a total of 10 KECs in 2017 and 2018 to meet global demand. In addition to New York and Los Angeles, Kohler has also opened KECs in London, Singapore, Taipei, New Delhi and Bangkok; Hong Kong, Shanghai and Dubai will soon follow.
KEC LAX will be open seven days a week, welcoming walk-ins from both consumers and trade professionals. It will be run and operated in partnership with Texas-based Expressions Home Gallery, a Kohler plumbing distributor in the Southwest and California and showroom brand for the Morsco platform companies.
"Our history with Kohler Co. extends more than 50 years," said Chip Hornsby, CEO of Morsco. "We're thrilled to build on the momentum of our recent Kohler Signature Store opening in Helms Bakery District in Culver City, and continue our collaboration with Kohler Co., combining our experienced consultants with Kohler's global product portfolio to deliver an inspiring shopping experience for both consumers and design professionals."