LG Electronics Commissions National Consumer Study
---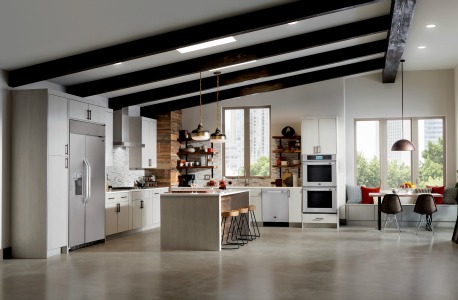 November 20, 2015
According to a new nationwide study, millions of Americans want to renovate their kitchen and are cooking up wish lists for a more functional, attractive and spacious room. The survey was conducted by Kelton between Sept. 30 and Oct. 12, 2015 among 1022 Americans ages 18 and over who own a home.  
The new survey was commissioned by leading home appliance manufacturer LG Electronics and reveals that nearly nine in 10 homeowners (87 percent) plan to make renovations inside their home, and half of them are planning to do so within the next year. 
Among their plans for renovating, homeowners are resolving to make improving their kitchen a priority – with more than half of future renovators revealing that they have their sights set on improving the heart of their home. Furthermore, 46 percent of homeowners noted that the kitchen is the number one room on which they would be most likely to splurge while renovating. 
Top motivations for those planning to renovate the kitchen stems from wanting to improve the room's design and aesthetic appeal (26 percent) and making it more functional (25 percent), rather than trying to increase the overall value of their home (11 percent). The survey reveals a number of noteworthy findings and wish list items shared by homeowners:  
·      A Space That's Functional: Two in five homeowners would like their kitchen to be more functional (40 percent), and many want this room to be bigger (47 percent), have more counter space (44 percent), include additional cabinets (37 percent) and accommodate more people (33 percent).
·      Central Hub: It's no wonder homeowners would like to make their kitchen more comfortable for those in it, as nearly three in 10 say this room is an area of their home that guests tend to gather to socialize (29 percent) and a place that they themselves gravitate toward even when they are not eating or cooking (27 percent).
·      An Appetite for Upgraded Appliances: More than half of homeowners who plan to renovate their kitchen have their eyes set on changing their kitchen appliances (56 percent), and of those looking to renovate their kitchen, many would like appliances that are professional style (45 percent), built-in or counter-depth (42 percent), premium (36 percent), disguised (32 percent) or timeless-looking (25 percent) in their kitchens.
·      Spending Where it Counts: Homeowners planning to renovate their kitchens would spend a premium price on some big-ticket kitchen items including countertops (61 percent), cabinetry (52 percent), a refrigerator (49 percent), and a stove/oven (45 percent). In fact, nearly nine in 10 homeowners (89 percent) would be motivated to pay a premium price on a new kitchen appliance, especially if it is energy efficient or ENERGY STAR certified (64 percent), comes with a 10-year warranty (60 percent) or comes with advanced features or functionality (49 percent).
·      Willing to Sacrifice:  Nearly four in five homeowners would give up something substantial for a year in order to have their ideal kitchen (79 percent), including their next vacation (51 percent), Saturdays (29 percent), date nights (28 percent) and surfing the Web (19 percent).