Lighting Options for Today's Kitchens and Baths Have Significantly Evolved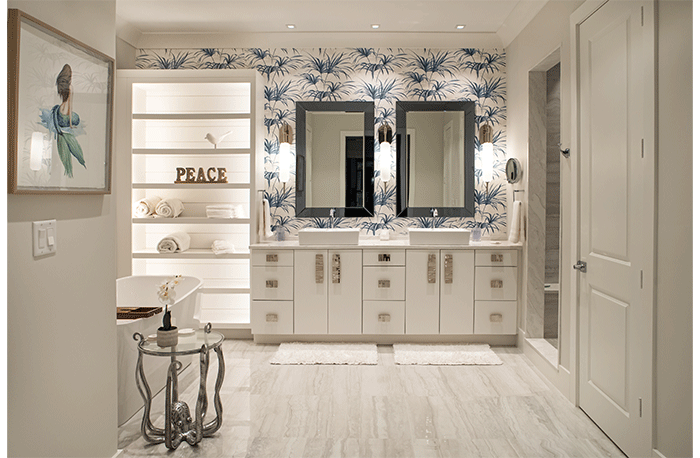 June 1, 2023
Big elements like cabinets and surfaces often take center stage in today's kitchen and bath designs, but these spaces would be nowhere near complete without a fully functional lighting plan. Whether it is the designer who is making the lighting selections or a specialized lighting expert on the team, today's lighting plans go way beyond a decorative fixture over an island and may include accent, ambient and task illumination.
"Lighting has always been an important part of my designs, and a layered plan allows you to customize your clients' lighting needs," said Patricia Davis Brown, CMKBD, NCIDQ, owner of Vero Beach, Fla.-based Patricia Davis Brown Designs. "With multi-generational homes, it's even more of a necessity as we all see differently depending on our age."
Key Takeaways:
Š In terms of smart lighting options, 14.6% of respondents' projects in the last 12 months included them.
Š More than half – 51.6% – of kitchen and bath projects in the last year included some form of natural light.
Š The majority – 77.6% – of kitchen projects included undercabinet lighting.
Š 46.3% of design pros finalize the lighting plans in their kitchens and baths at the beginning of the project.
Š Most – 74.4% – do a walkthrough of their projects to approve lighting rough-ins.
According to our survey results, the level of growth in our respondents' kitchen and bath lighting business in the last 12 months was a median of 7.7%. As lighting plans become more detailed, it makes sense that 46.3% finalize the lighting needs for their projects at the onset. Still, 41.2% do this in the middle of their kitchen and bath projects.
Above photo: This bathroom, located in Treasure Cay, Bahamas, on the island of Abaco, has a layered lighting plan. Designer Patricia Davis Brown considered the general, task and ambient lighting, giving the user control over the room's lighting scenes. All zones are on dimmers so the light levels can be set to anyone's comfort for getting up or relaxing at the end of the day in the soaking tub. Photo: Stephanie Davis
"I'm encouraged that there was a 50/50 split about when to finalize lighting, as at least 50% are thinking seriously about it up front," said architect Doug Walter, CMKBD, LEED AP, who also helped write the National Kitchen & Bath Association's Design Guidelines for Kitchens & Baths. "But it isn't until the space is framed up and we do a walkthrough that clients are truly able to visualize what they want, and often there are last-minute changes. So if by finalizing lighting means the last time you messed with it, then I'd say halfway through, too."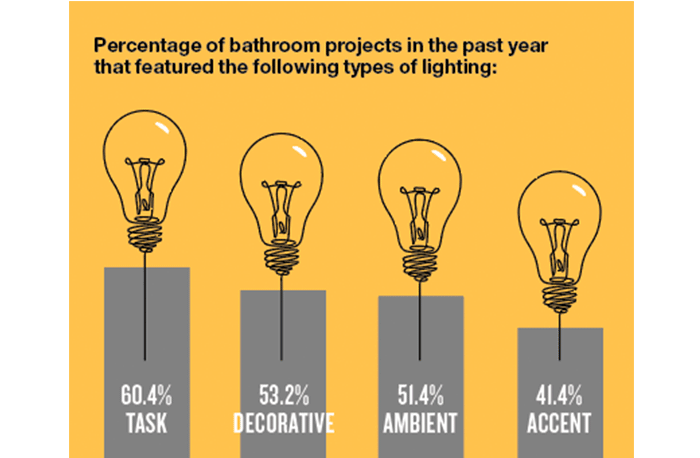 Creating the Lighting Plan
Our survey's choices for who oversees the lighting options in today's kitchen and bath projects included the interior and/or kitchen and bath designer, which took the top spot at 59.3%. The contractor was second at 9.7%, and only 9.3% of respondents said they have a lighting designer specify the lighting needs for their projects. An electrician came in at 6.9%, and an architect making the lighting choices resonated with 5.1% of respondents. A popular write-in answer was a combination of some of the above choices/roles.
The good news is that 74.4% of design professionals do a walkthrough of their kitchen and bath projects to approve lighting rough-ins. Alternatively, 25.5% do not, which Brown says may be because they do not specify the lighting.
"I design my clients' lighting plans, and I walk through the projects with the electrician to identify anything that needs to be ironed out," she added. "Sometimes a truss is in the way, and anytime you move a recessed can it changes how the light hits the space. These are situations, typically due to framing, that need my attention."
Specialized Lighting Options
A median of 51.6% said their kitchen and bath projects in the last 12 months have included natural light, which makes sense if some of those spaces are enclosed in the home and do not feature windows. An accurate lighting plan is even more important in such projects. A median of 77.6% of kitchen projects in the last 12 months have included undercabinet lighting, which is included in the future innovations we will discuss later in the article.
Regarding smart/connected lighting options, 14.6% say they have included those in their kitchen and bath projects in the last year. Our respondents would like to see improved smart lighting at more reasonable prices, stating that more clients want these options, but individual controllers are pricey and often cut from the budget. Design pros also want smart light fixtures like pendants and chandeliers that can switch between task and ambient lighting. According to Brown, automation needs to be included in the lighting plan equation and should be discussed during the planning stages.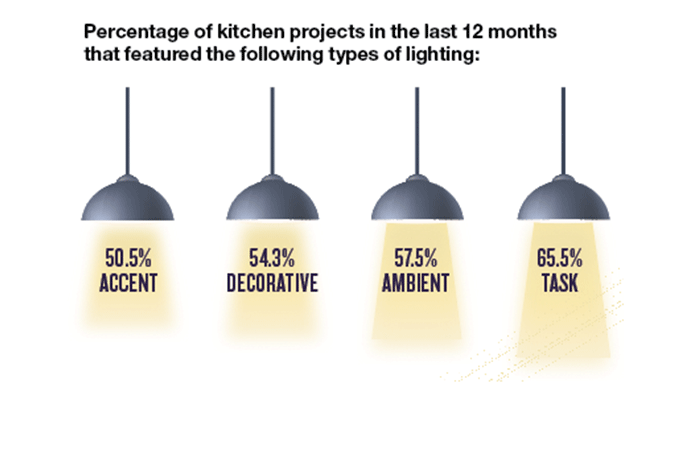 Let There Be Layers of Light
It is common for kitchens and baths to include different forms of illumination, including accent, ambient, decorative and task. Walter says one fixture can also encompass two or three lighting types by itself.
"A great-looking pendant can be ambient and decorative," he explained. "Task downlights, while primarily lighting the countertop, also accent the upper cabinets with their beams."
Write-in answers from our respondents for other types of lighting they have included in their kitchen projects were fans with lights, countertops with incorporated lighting, lighting for plants and undercabinet illumination, which we discussed earlier. In the bathroom, the write-in answers included in-cabinet, mirror and toe kick lighting.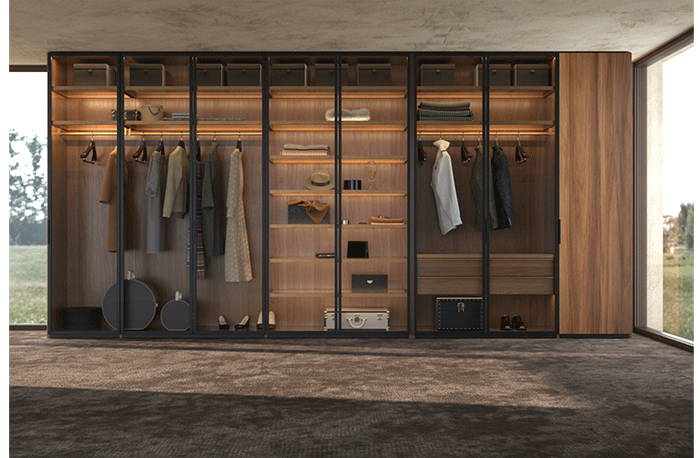 Add Drama and Excitement with Richelieu Lighting
Whatever the design, Richelieu has lighting that fits right in. Undercabinet lighting is an obvious first step. But how about a drawer that lights up as it opens? Or closet lights that turn on automatically when you open a door? Or how about lighting art or display cases and then controlling all of it with your voice? Amazing, yes, but all in a day's work for Richelieu's lighting.
Holl undercabinet lights embody refined minimalism. Holl seems to float atop cabinetry and furnishings. The two models of FlexyLED have an opaque diffusing technology that cancels out the spotlight effect of many LEDs. Both are infinitely adaptable, and they more than live up to the name.
Hiddi incorporates an infrared sensor that automatically switches it on and off when a door or drawer is opened, making it perfect for drawers and vertical lifts. Four-millimeter Lineo is perfect under cabinets. Its slim design ensures ideal illumination with no distractions. Unika is a perimeter light or light plus USB integrated into a holder inclined at 15 degrees, for installation under a wall cabinet and close to the wall.
Lighting Innovation to Come?
Some of our respondents' suggestions may just be wishful thinking, but others seem entirely possible. Some of the more attainable ideas – at least in the near future – include additional options for decorative lighting over the island and showerhead lighting, more attractive wet-rated fixtures, improved backlit mirrors and smart lighting options, narrow side lights for vanities, lighted towel bars and wireless fixtures.
Innovative ideas that would be amazing but may take a little while longer to achieve include selectable temperature options for all LED lighting; additional fixture options that are open on the bottom with sockets aimed downward; lighting that is all dimmable and color tunable; more sustainable options; motion-sense lighting for nighttime in the kitchen; frosted bulbs that produce less glare; improved dimming options for LED recessed cans; and more products that combine electric receptacles/outlets, lighting and USB connections.
The suggestions from our respondents that may take a little longer to employ include almost invisible and easy-to-install undercabinet lighting that doesn't require wiring behind the walls; in-mirror lighting that can disappear completely; sensor lighting that maintains itself based on the natural light in the room; configurable chandeliers/pendants that grow in size with additional plug-in segments to place more light where it is needed; and AI-controlled lighting.
Brown would like to see LED lighting with a CRI of 100, which she says would be the best at keeping the furnishing colors true under artificial light.
"Incandescent lighting has a CRI of 100 but isn't energy efficient," she added.
Walter would love an OLED ceiling paint that could be wired to a switch, so you could turn the entire ceiling to whatever color and intensity you desire.
"It would be like being outside on a bright yet overcast day; diffused light with no shadow and very easy on the eye," he said, adding that a guy can dream.
By Chelsie Butler, KBB Executive Editor