New KitchenAid Dishwasher Features Exterior Window and Interior Lighting
---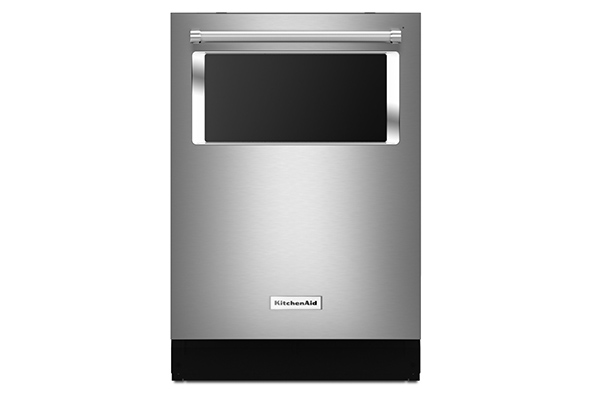 March 15, 2016
The latest dishwasher from KitchenAid combines the premium performance of other KitchenAid models with a sleek design element: a tinted exterior window with chrome-inlaid frame and lighted interior that illuminates dishes upon completion of the washing cycle.
"This new dishwasher is an ideal choice for homebuilders, remodelers and designers who want to offer their clients innovative appliances that meet the highest standards of performance," said Bob Bergeth, general manager of builder sales at Whirlpool Corporation. "Discerning homeowners with a passion for cooking will appreciate the assurance that their dishes are sparkling prior to removal."
The newest model is ENERGY STAR qualified and offers a quiet performance sound of 44dBa thanks to a built-in sound insulation system. This system includes sound-dampening components that contribute to a quiet home environment, ideal for an open floor plan.
Precision Touch Controls provide a seamless, easy-to-use look and feel, and the handles are inspired by professional-grade kitchen appliances with a satin cross-hatch texture and secure, no-slip grip. An inner tub made of stainless steel helps withstand the test of time by resisting streaks, stains and odors.
Superior performance permeates both the exterior and interior of the dishwasher. On the upper rack, a new bottle wash feature provides a high-powered, concentrated spray for bottles, vases and deep or odd-shaped dishes. The concentrated spray consists of four dedicated nozzles that are adjustable and can be bent to accommodate a wide range of bottle and dish sizes.
A dynamic wash arm, comprised of nine wash arms in one, allows for better soaking and scrubbing with complete water coverage throughout the dishwasher. The exclusive Clean Water Wash System continuously removes food particles from the wash water for superior performance—even with the heaviest loads—by using a stainless steel, maintenance-free filter.
The dishwasher provides room for customization with adjustable shelving on both sides of the upper rack, featuring indents for securing stemware that can also be folded down to provide extra space for cups or longer utensils and spatulas. Homeowners can slide the tines on the lower rack from left to right to accommodate either large dishes with a wide setting, or smaller items with a narrow setting.
The new window models will be available in January in stainless steel, with a suggested retail price of $2,049.