Polycor Offers All-Inclusive Quarry Tours to Designers and Architects
---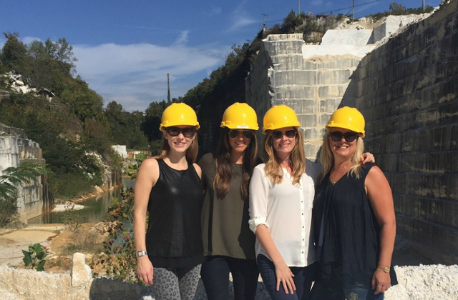 March 24, 2016
Polycor offers architects and designers a select number of all-inclusive tours to its Georgia Marble and Cambrian Black Granite quarries in the United States and Canada. Participants will have a chance to win an inside look at how Polycor quarries and cut blocks of marble and granite for architectural and design projects. 
Three winners will be chosen for all-inclusive trips including free travel arrangements, a private tour of quarry landscape and a slab fabrication demo. Participants can enter at polycor.com. All winners will be notified on or before April 27 via email. 
Last year, Polycor took a group of designers to its marble quarry in Tate, Georgia. The designers loved seeing the soaring walls of white marble and the naturally occurring waterfall there, but it was the window into the process that stayed with them. 
"You go to a showroom and pick out a stone, and you don't understand the global impact," said NYC designer Tamara Eaton. She said the tour changed her mind to thinking about the natural stone slabs as a culmination of its origin and the people who made them, rather than just a product. "It's not a commodity. It's a unique thing that a lot of people have touched." 
The Tate quarry has been in operation since 1835 and has supplied the marble to structures like the Lincoln Memorial, the United States Capitol, the New York Stock Exchange and even for the recent restoration St. Patrick's Cathedral. In addition to White Georgia Marble, the quarry is home to White Cherokee, Pearl Grey and Solar Grey. There is an older area called the Etowah Quarry, where a light pink colored marble with a pronounced white and grey vein pattern is extracted. The site is also where Polycor's sister brand Vetrazzo, a recycled glass material, is made by hand. 
For those who want a look at the truest black stone, Polycor also offers a tour of its Cambrian Black Granite quarry up in the Canadian wild.