Tile of Spain Expands Quick Ship Collection to Include 57 Companies
---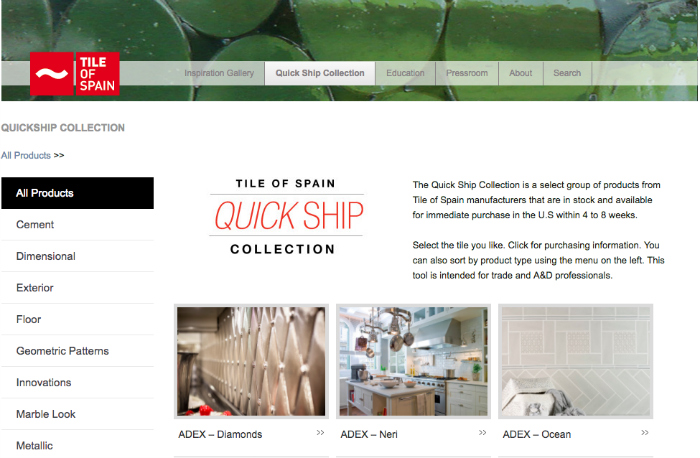 July 5, 2017
Tile of Spain the international brand representing 125 ceramic tile manufacturers belonging to the Spanish Ceramic Tile Manufacturers' Association (ASCER), announces new additions to the Tile of Spain Quick Ship Collection. The updated catalog of Spanish tile now includes 57 ceramic tile companies and more than 215 products available in the U.S.
The Quick Ship Collection reference guide includes a select group of tile products from Spanish manufacturers that are available for immediate purchase in the U.S. and available for delivery within four to eight weeks. Established in 2013, the collection is updated annually to ensure the most up to date information is available to purchasers.
New Tile of Spain companies added to the Quick Ship Collection for 2017 include Argenta Ceramica, Ceramica Estilker, Emotion Ceramics, La Platera, Onice Ceramics and Sanchis by Azulev. These new collections, along with collections from 51 additional ceramic tile companies, are available online at www.tileofspainusa.com/quickship.
The Quick Ship Collection's interactive catalog makes it easy to search for Spanish tile. Users can search by product category or by company name. Each entry includes the series name, color image, a detailed description of each design, available sizes and U.S. contact information for purchasing.
"We are pleased to grow the Quick Ship collection for the fifth year in a row," said Rocamador Rubio, director, Tile of Spain. "With so many exciting innovations happening in the world of Spanish tile, the Quick Ship collection is a great way to bring the latest tile trends and technological advancements to U.S.-based designers, architects and installers."