Get to Know Green Demolitions
---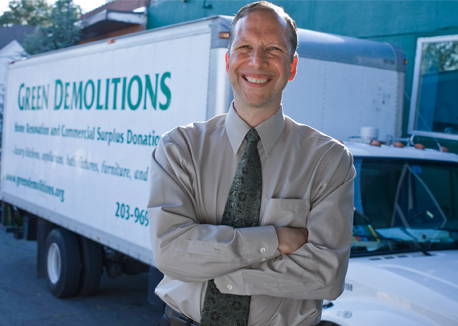 July 8, 2010
The year was 2001, and Steve Feldman had recently left his job as senior marketing manager of two Clear Channel Providence, R.I., radio stations to fundraise for recovering addicts. He was driving past a lot where a 10,000-sq.-ft. "Rockefeller-esque" mansion once stood when he got an idea that would change everything.
The house had belonged to Farah Pahlavi, the last empress of Iran, and had a "Demolition in Progress" sign in its yard. "I drove up the driveway, and the house was gone," Feldman recalled. "I thought, 'There had to be good things in this mansion.' That's when I thought of earning money through demolition donations."
And Green Demolitions was born. The organization is a part of Recovery Unlimited, a nonprofit that supports the All Addicts Anonymous program, which is close to Feldman's heart: "I'm the president [of Green Demolitions], the founder and a recovered addict." A multifaceted organization, Green Demolitions works through several independent yet connected programs toward an ultimate goal: supporting recovering addicts.

THE CURE FOR THE PERFECTLY GOOD KITCHEN
The most popular of its programs is the kitchen donation. Green Demolitions works with most anyone in the industry to remove existing kitchen and bath products for free. Everything removed is then recycled and sold to other homeowners looking to remodel.
"A lot of people have what they think of as a perfectly good kitchen, and they wrestle with getting rid of it," said David Stimmel, president and senior designer of Stimmel Consulting Group, Inc. "This gives them the avenue to do so. There's no worry, no muss, no fuss. It couldn't be cleaner."
Green Demolitions works all across the United States, traveling everywhere from Florida to California, but the farther away the kitchen, the more value it has to have. "What we look for really comes down to quality, condition and geography," Feldman said.
The crew shows up with a truck, ready to work, and all kitchens are finished in one day. The removal team is made up entirely of professionals, so the process is smooth and clean, which, Stimmel said, is exactly the business model that makes Green Demolitions successful. "Most designers' concern when bringing in a nonprofit is that they use volunteers to remove the product," he said. "Volunteers can end up doing more damage than good. The use of professionals really allows you to take the worry out of it."


The benefits of using Green Demolitions, Feldman said, is threefold: environmental, financial and charitable. "I think it helps everyone," Stimmel said. "That's what's really kind of great about it. Green Demolitions will take everything, and it behooves them to do it the green and clean way."
Green Demolitions allows the donor to eliminate the cost of removal and the rental of a dumpster and provides a tax deduction because of its contribution to Recovery Unlimited, something customers can feel good about. "There is an addiction epidemic in this country," Feldman said. "People feel good about supporting addiction recovery outreach because someone in their lives has dealt with addiction in some way."
THE CURE FOR DIY-ERS
Each of the kitchens removed is then taken to one of the organization's four stores, located in Norwalk, Conn., Bethel, N.Y., Honesdale, Pa., and Riverdale, N.J., where it's sold for 50 to 60 percent off the retail price. "We need an outlet to sell everything," Feldman said. "Otherwise, we couldn't create income."

Feldman characterized his buyers as "Do-it-yourselfers" and "HGTV junkies," saying the majority of the customers are homeowners, rather than designers. "It takes a certain personality type," he said. "They're not going to buy new, and they're not going to pay full price for anything, but they have good taste. That's why Green Demolitions coexists really nicely with the kitchen industry. It's the buyers who aren't going to buy that keep this whole thing going."
And when people order products from Green Demolitions, they get exactly what they see—no more, no less. There's no design, no installation and no refurbishment. "We did not want to compete with the industry that spawned us," Feldman said. "We won't do it."
THE CURE FOR SITTING ON THE FENCE
The organization is also doing things for those in the industry, beginning with the "Kitchen Closer" program, which allows designers to send in pictures of an existing kitchen before closing on a project. Green Demolitions will tell them how much the homeowners could save by using it in the removal process.
"We saw that the kitchen industry was really having a hard time with closing deals," Feldman said. "People were price-shopping and sitting on the fence. We thought, 'How can we help the kitchen industry?' And that's how we came up with the 'Kitchen Closer' program."
It helps when homeowners are struggling with getting rid of a functioning kitchen. "It's a sales tool," Stimmel said. "It's easier to justify spending money on the project when they know they are getting something in return."
THE CURE FOR ADDICTION
Green Demolitions' stores do more than donations, though. They also consign. "A lot of kitchen dealers find selling displays becomes a real burden," Feldman said. "[They] don't want to bother selling displays." Green Demolitions now sells items from showrooms and surplus inventory, and it pays back a percentage of the profit to the companies. There is also a small liquidation program, where companies can sell products directly to Green Demolitions, who then sells them and keeps 100 percent of the profit.
Regardless of the method, Green Demolitions' ultimate goal revolves around raising money to support recovering addicts of all kinds through the larger organization, Recovery Unlimited. Everything Green Demolitions does is to put products in its stores to sell. And everything sold in the stores goes to benefit Recovery Unlimited. "We don't do any standard fundraising," Feldman said. "We don't mail things. We don't hold events. We just recycle kitchens."
And the organization is continuing to search for ways to grow the earnings, including replicating the program across the country in seven more luxury regions around the United States. In addition, Feldman and his staff are looking into other avenues to raise even more support. "We're having conversations with the television industry about creating a reality TV show," he said. "You're going to keep hearing about Green Demolitions."