K+BB Announces Winners of its 2014 Product Innovator Awards
---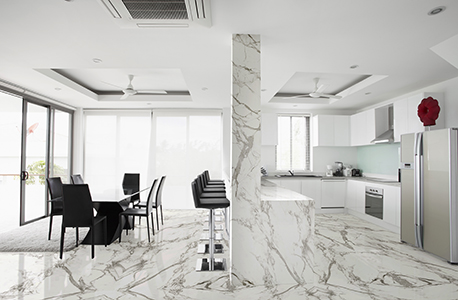 November 24, 2014
K+BB is excited to announce the winners of its coveted Product Innovator Awards for 2014. The five judges had the challenging task of choosing the lucky winners out of 140+ innovative kitchen and bath product submissions.
Awards went to both the Kitchen Product of the Year and Bath Product of the Year, and four products were given an Honorable Mention. For the second year in a row, we have included a "Judge's Picks" category for the additional products the judges felt were worthy enough for recognition.
View the gallery of winners here.
Kitchen Product of the Year: Dekton by Cosentino
Judges love the technology behind – and the planet-friendly nature of – this great ultra-compact surface option, which is composed of recycled glass, porcelain and quartz. It can be used for a variety of indoor and outdoor applications – including flooring, cladding, staircases, exterior facades, kitchen countertops, bathrooms and pool surrounds.
Bathroom Product of the Year: Kohler's Touchless Toilet Technology
The judges are impressed that this modern technology is now available to the residential market and that there is a retrofit option offered. Homeowners also have the option to upgrade an existing toilet to a no-touch flush with an easy-to-install retrofit kit; they can remove the existing flush lever and replace it with a color-matched hole cover if they so desire.
Honorable Mentions
– Discovery IQ 48" Dual-Fuel Range by Dacor
This Discovery Range is the first to feature Dacor's iQ Cooking App and the functionality of an Android tablet. The Remote iQ Cooking App allows home chefs to control the range via their smartphone or tablet – from any connected location.
– Trough 4819 by Native Trails
Judges chose the Trough 4819, which measures 48-in. x 19-in. x 5-in., because it is a good response to current trends, it is functional and beautiful for many applications, and they applaud the company for good green practices.
– Blue Chilled and Sparkling by GROHE
This sleek, easy-to-use, instant filtered water system impressed judges because it saves 1,200 plastic bottles of water per household of four each year, making it better for the environment and the health of the homeowners.
– Kohler's Nightlight Toilet Seat
Kohler's Nightlight features two LEED light displays that illuminate the toilet in a soft glow for guidance in the dark. The judges like that it is a practical application for kids, seniors and those wanting to "age in place."
Judge's Picks
– Kohler's Undertone Preserve
Troy Pavelka chose this new finish available for stainless steel because it addresses the age-old concern over how the sink will look after normal use and is truly an innovative modification on a classic kitchen fixture.
– Ametis Ring by GRAFF
Toni Sabatino had a love-at-first-sight moment with the Ametis Ring because the cascade of water flowing from it makes such a powerful aesthetic statement for any contemporary bath design.
– ROHL's Modern Architectural Side Lever Stainless Steel Pro Pull-Down Kitchen Faucet
Katie Poehling is impressed by this faucet's beautiful design with its clean, crisp lines and graceful, curved spout, which makes it easy to fill large pots or rinse large platters.
– Stream Linear Drain by Quick Drain USA
Brandy Souza chose the Stream Linear Drain because with more designers replacing tub/shower units with larger, stand-up units, she feels this is a perfect product.
– ONE Collection by BLANCO
Cheryl Kees Clendenon this collection of three spacious, stainless steel sinks and five accessory kits for the ultimate in individualized workstations.
– HydraChoice Max by Brizo
Katie Poehling chose this body spray system because she loves the technology of the body jets and the 50-degree available adjustment of the spray heads in any direction.
– Bosch's Bosch Benchmark Single Wall Oven
In addition to its great cooking features, Toni Sabatino chose this oven because of its SideOpening door, which is a great innovation for anyone who has burned a forearm getting something out of the oven.
– iSteam 2.0 by Mr. Steam
Cheryl Kees Clendenon chose this Wi-Fi-enabled steam shower control, which is a state-of-the-art LCD touch-screen panel that responds to a touch or a swipe.
– Viking's Professional French-Door Double Oven
Brandy Souza appreciates the modern, commercial look of this oven and that it matches the current French-door refrigeration trends, allowing users to open it with one hand.
– Trutankless by Trutankless
Troy Pavelka likes this product because it can be installed in tight spaces, offering the ability to create the at-home-spa experience in high demand today.
About the Judges
Katie Poehling is the showroom manager for First Supply LLC/Gerhards Kitchen & Bath Stores. She has a strong background in business development and has grown her company's K&B division with solid business practices and key vendor relationships.
Troy Pavelka is an award-winning, licensed architect for Chicago-area residential firm, Normandy Design Build Remodeling. In addition to designing and selling remodeling solutions for his clients, he also directs Normandy's design staff to ensure aesthetic sensitivity and function.
Toni Sabatino is a leading kitchen and bath designer in New York; has designed residential projects in Manhattan, Brooklyn, Long Island and the Hamptons; and was the recipient of a Best of Houzz Award for customer satisfaction in 2013 and 2014.
Brandy Souza is the general manager for Kitchen Views at National Lumber's eight New England stores. She has been designing kitchens for remodels and new construction for the last 15 years.
Cheryl Kees Clendenon, owner of In Detail, has been working in the design field for more than 14 years. Each kitchen, bath or other space she designs is a reflection of the individual client's personality, lifestyle and taste.