The Showroom Experience
---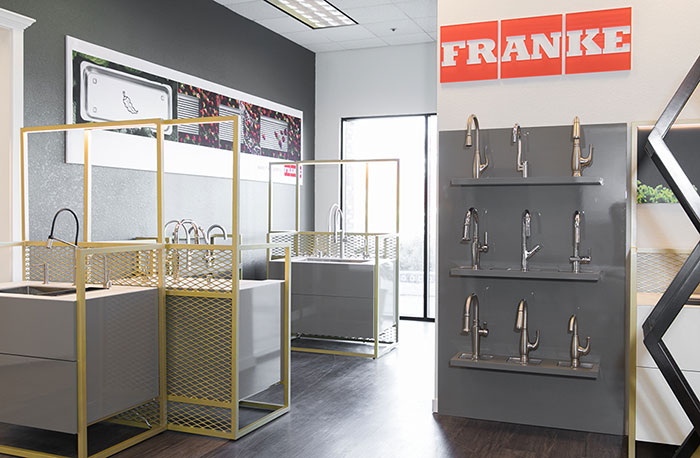 December 4, 2017
Franke has expanded its U.S. presence with the introduction of a unique retail experience: the Franke Design Boutique. These boutiques are intended to immerse architects, designers and consumers in a curated experience focused on the Franke culture, its Swiss heritage and its commitment to quality engineering and design. KBB managing editor Erinn Loucks traveled to the grand opening in San Francisco to find out more.

View a gallery of the Franke Design Boutique in California here.
This 1,000-sq.-ft. space is a separated display room inside the Plumbery Showroom just outside of San Francisco. Designed in partnership with Italian architect and designer Carlo Colombo, this small showroom emphasizes the art of entertaining. The vignettes Colombo designed, which include different combinations of trending sinks and faucets, highlight how Franke's products impact the functionality of the larger kitchen system.
The boutique is meant to be an experience for consumers and designers, who can actually use the products and have a better idea of how they would work in a space. According to Oliver Bahr, president of Franke Kitchen Systems, North America, kitchens and cooking messes are no longer separate from entertaining; everyone is embracing open plans and gathering in the cooking space itself. Because of this, Franke is creating solutions to make entertaining in the kitchen easier and cleaner.
Collections showcased include the Chef Center Workstation, Pescara Collection and Absinthe Faucets. The Chef Center is a sink system that includes a removable glass cutting board, a microbial compost bin, a storage bin, a stainless steel colander, a drain board and a roller mat – all of which can make prepping a meal simpler and less messy. This and each of the other products are showcased in individual vignettes so consumers can see them in a more natural setting.
"For both architects and consumers, the abundance of product in a traditional plumbing showroom setting can make the selection process a challenging one," said Bahr, who also pointed out a seating area with a high-definition screen for designers and clients to discuss their options. "The Franke Design Boutique is inviting; it eliminates the chaos of choice and empowers people to quickly envision living with Franke in their own homes."
Throughout 2017 and 2018, Franke will open five Design Boutiques – each in markets known for strong bases of professional designers and architects. In addition to San Francisco, the company will also open in Los Angeles, Chicago, Miami and New York. The new retail concept is part of a larger two-year expansion plan to strengthen the brand's presence in the U.S.
"Our new Franke Design Boutiques have been designed to truly foster and strengthen relationships with the North American architecture and design community," said Bahr. "We are thrilled to open the doors of our California Bay Area Franke Design Boutique with our esteemed partners at the Plumbery and to commence a year of exciting growth and development across the U.S."