ASID Celebrates Successful National Student Summit
---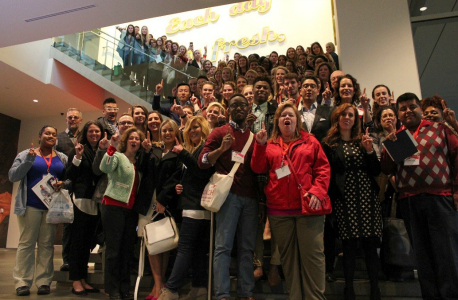 March 16, 2016
The American Society of Interior Designers (ASID) recently hosted LAUNCH: The ASID National Student Summit. Nearly 250 interior design students attended the event, hosted at Savannah College of Art and Design (SCAD). Attendees learned about the career paths available with an interior design degree and gained valuable insights on resumes, portfolios, networking and transitioning from student design to practice. 
"LAUNCH unleashed the power of design, and we couldn't be more thrilled with the results," said Randy Fiser, ASID CEO.
Highlights from the three-day event included keynote speakers Brooke Traeger-Tumsaroch, ASID, design director at AvroKO (Bangkok, Thailand), and Primo Orpilla, ASID, co-founder and principal at Studio O+A (San Francisco).
In addition to a full schedule of speakers and hands-on engagement opportunities, ASID concluded LAUNCH with the Student Portfolio Competition, sponsored by Kabuni. Student finalists with top portfolios were invited to attend an exclusive student portfolio track at LAUNCH where they worked one-on-one with professionals to polish their resume, portfolio and presentation skills. Leigh Ann Soistmann, Student ASID, Virginia Tech, was named grand prize winner and will attend Celebration, the 2016 ASID National Awards Gala, in Minneapolis, Minnesota in July. Zijian Wang, Student ASID, Indiana University, Bloomington, was the winner of an internship with Gensler and Zhaoqi Su, Student ASID, Indiana University, Bloomington, was the winner of an internship with HKS Architects.
Honorable mentions included Rebecca Thompson, Student ASID, Florida State University, and Yiyun Luo, Student ASID, Drexel University.  
New ASID Premier Partner Kabuni announced its 12×12 internship opportunity for ASID students. The contest winner will travel around the world as a design ambassador, learning from and helping to tell the stories of local artisans, villages and cultures. The winner will be announced on November 2, 2016.