Behind the Products We Know: Lighting
---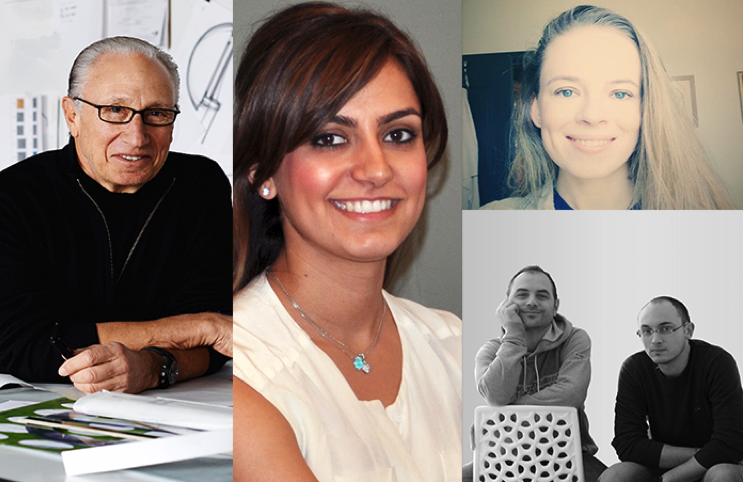 March 13, 2017
Even if the countertops perfectly complement the cabinetry and the floor plan allows for an ideal use of space, a kitchen or bath is useless without lighting. Whether natural or installed, lighting can create ambiance in a room and set the scene. While making it possible to cook, clean and bathe safely, lighting also can make a decorative or statement piece.
With this in mind, KBB spoke with several lighting designers to find out who their muses are, what they find most challenging about their job and how they create the products that light up our lives.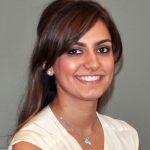 Neda Farzan
Product Designer
Nora Lighting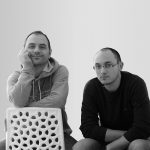 Paolo Lucidi and Luca Pevere
Designers and Founders
LucidiPevere Studio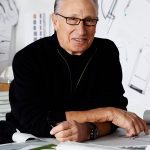 Robert Sonneman
CEO and Founder
Sonneman – A Way of Light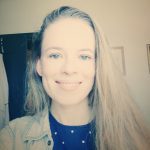 Polina Kurovskaya
Product Designer
Jetclass
A Day in the Life
"My job as a product designer is to marry technology with customer needs. My team is always up to date on the latest technologies in lighting, and we apply these technologies to products our customers are looking for. We rely on direct input from lighting professionals to help shape the actual product design and determine the final specifications, ensuring that we develop a product that is both aesthetically and technically a home run."
–Neda Farzan, Product Designer, Nora Lighting
"We are a very small studio. It's Paolo and me and a couple of guys from abroad helping us. We sketch a lot, each with his own? Moleskine and with his own style. The idea and concept process is very silent, and when one of us finds a direction the first check is with a quick talk. If we both agree with an idea the project starts, and for the next important check, till the end of the work, there is always cooperation between Paolo and me."
-Luca Pevere, LucidiPevere Studio, a collaborator with Foscarini
"Everything starts from concept, sketches, selection of the material fabrics and finishes. It's a heart-warming process when you see the design come to life and become the final product."
– Polina Kurovskaya, product designer, Jetclass

"I am design driven. Design is not just something I do; it's something I am. I think that's true of most people who work in creative disciplines – especially in the modern space.  My job is to investigate innovative approaches to modern lighting design and then to develop selected concepts through the engineering, manufacturing and creative disciplines required to bring them to market. I consider it a privilege to be able to have the platform for creative expression and to do the hard work it takes realize the vision. I love what I do and feel blessed to be able to do it."
– Robert Sonneman, CEO and founder of SONNEMAN-A Way of Light
Trials and Challenges
"There's never enough time! My team and I are constantly working on five or six new products at any time. We have to keep innovating and delivering new products to stay competitive in the marketplace. This industry doesn't have room for companies that aren't developing new products around the rapidly changing technologies that are available. On top of that, our product lifecycle has been cut in half. We can't spend more than six months working on a new product! If we do, we lose customer interest."
– Farzan, Nora Lighting
"I think the best opportunity in our work – and a challenge at the same time – is to switch from a product group to another. When you face a new sector or a new product range, you are always scared and at the same time excited; scared because it's something completely unknown to you but excited because it's like a breath of fresh air."
– Lucidi and Pevere, LucidiPevere Studio, a collaborator with Foscarini

"There are challenges every day when you start working on a new design and thinking about the function and its aesthetics. You have to consider how the product will be received by the public and how will it be used in projects."
– Kurovskaya, Jetclass
"Lighting is infinitely interesting and incredibly challenging on many levels. It requires broad knowledge, experience and extensive resources in design, technology, manufacturing and marketing. We are immersed in new technology and the expanding potential of electronic lighting and controls technology. The challenges create the opportunity. My passion to discover, innovate, design and develop superior products continues to drive the vision. Our team's collective talent and commitment continues to make it possible."
– Sonneman, SONNEMAN-A Way of Light

Nora Lighting's Iolite modular LED is available as a 1-in. downlight or 2-in. and 4-in. adjustable. With an easy-to-assemble design, Iolite Modular LEDs can be installed on site with square or round trims in a variety of finishes.

Inspiration and Motivation
"We look at what's going on around us in related industries. Trends in architectural styles are one source of inspiration. For example, when we noticed a trend toward modern design, we knew we had to design products that would fit into these environments – hence, all the contemporary square trims we have available now! The same is true for our aggressive push toward smaller and smaller apertures. Modern design is minimalist. The smaller the opening in the ceiling, the more receptive the architect, lighting designer and homeowner."
– Farzan, Nora Lighting
"Everything can be an inspiration: an image, a word, an object from a different culture, a new material or technology, a surface – everything. It depends on if you are able to notice the hidden values of things. We like our Italian design tradition where we come from, but we also love the poetic design of the French, the experimental design of the Dutch and the industrial design approach of the German. In every culture there is something to learn."
– Lucidi and Pevere, LucidiPevere Studio, a collaborator with Foscarini
"Inspiration is everywhere; you just have to be open to it. Fashion, travel, nature –  sometimes you get inspired by an experience that simply makes you think differently."
– Kurovskaya, Jetclass
"Everything inspires me: walks in cities, architecture, restaurants, bars, cars, stores, magazines and mostly just working. I love the process – I am always excited to start new projects and investigate the next idea. People always ask how I come up with so many designs, but in fact it is hard for me not to because everything I see and experience inspires me. I am driven by 'what's next.' I am very fortunate to be so engaged by the challenge and the process."
– Sonneman, SONNEMAN-A Way of Light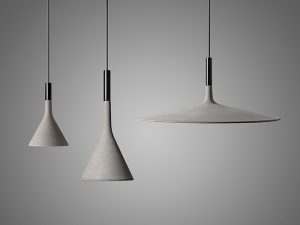 Designed by LucidiPevere Studio from Foscarini, Aplomb is a funnel-shaped lamp made of concrete. The pendant light appears to have a rough surface, but a transparent layer gives it a smooth finish.
Growing, Improving and Innovating
"Our job is to always keep our finger on the pulse of what is new and different in our industry and in our industry supply chain. We work very closely with our components manufacturers and often build our fixtures around their upcoming technologies. That keeps us up to date on the technology side of things. We are always experimenting – experimenting with different materials, different technologies and different designs. We are constantly testing and re-testing our products at our in-house testing facilities and working closely with key partners until we find the perfect harmony within technology, quality and aesthetics."
– Farzan, Nora Lighting
"Innovation can come in many ways and in many steps starting from small things that look irrelevant at first sight. When you speak about innovation, usually people think of complex things like high-tech materials or artificial intelligence and so on, but you can do innovation starting from small things."
– Lucidi and Pevere, LucidiPevere Studio, a collaborator with Foscarini
"Every product has a long way to go before a prototype is made. Our production facilities allow us to create forms that are very challenging and can reach perfection only by high technology."
– Kurovskaya, Jetclass

"Today I am focused on using technology to create innovative designs with sculptural presence. LED technology has allowed us to completely reimagine the forms, scale and application of luminaires. It has been creatively liberating to be able to think minimally in radically different ways and to realize these visions without having to package large heat-generating bulbs. Artistic forms and light sculptures, in a variety of materials, can be rendered in less restricted and exciting new ways. One is no longer required to create a base and separate a shade to house the bulb – technology permits creative development in a unified way that integrates the form with the function in newly imaginative ways.  Our engineering team is constantly involved with emerging technologies and innovative ways to apply them to our design vision. It's a marriage of art and science."
– Sonneman, SONNEMAN-A Way of Light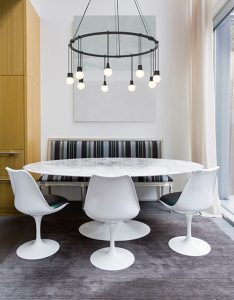 Suspenders by Robert Sonneman is a delicately scaled, modular system of interconnected elements and suspended LED luminaires that can be configured as individual lighting sculptures or as a tiered web of infinite scope and variety.
The Best Parts of the Job
"The best part of my job is when I hear these three words: 'This is sexy.' Nora's national sales manager, Chris Johnston, says those exact three words any time we show him a new fixture that he really loves. That's when I know my team and I have hit a home run. And that feeling of hitting a home run, that's the best part of what I do."
– Farzan, Nora Lighting

"We love when a good idea arises and we immediately understand it can work! It's a special moment because it usually comes after long deliberation. Every time we start something new, a new challenge starts. It's like pushing the reset button and starting again."
– Lucidi and Pevere, LucidiPevere Studio, a collaborator with Foscarini
"My favorite part of the job is definitely having the access to the process of a product coming to life. I also like being able to see people's reactions at the fairs. It's not often that you get this experience."
– Kurovskaya, Jetclass
"I enjoy working every day with a team of dedicated young people who are eager to learn and anxious to invent their futures. I'm also motivated to continue pushing the boundaries of design and innovation. The vision is limitless and the discipline of executing well-designed products is demanding, but it is what we love to do and continue to be inspired by."
– Sonneman, SONNEMAN-A Way of Light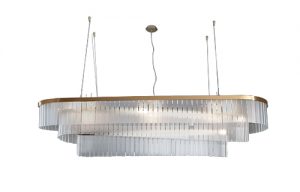 The Christie suspension fixture from Jetclass combines metallic materials for an elegant and modern look.