Christopher Grubb Renovates Veteran's Home on NBC/LX.TV
---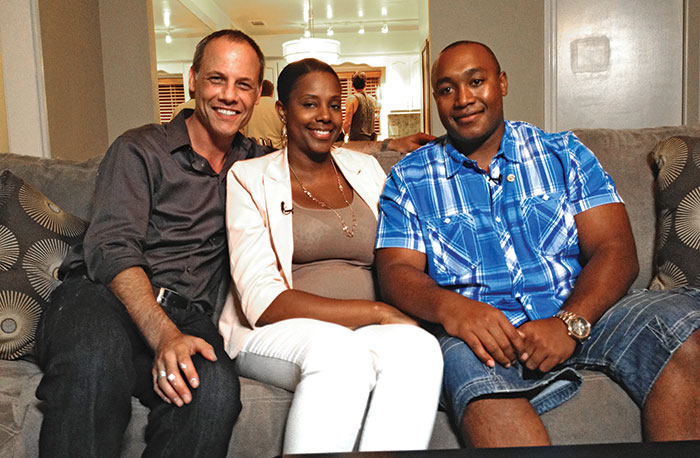 June 5, 2017
Designer Christopher Grubb, president and founder of Beverly Hills-based Arch-Interiors Design Group, recently worked alongside TV-host George Oliphant for a special episode of NBC/LX.TV's "George to the Rescue." Grubb was invited to join the team as the lead designer for the remodel of Corporal Sherman Watson and his family's Compton, California home, which was in dire need of an update. Grubb and team gave the home an Americana flair complete with the white picket fence in the episode.
Watson, who served three tours of duty in Iraq with the U.S. Marines and received three Purple Heart medals, and his wife Tyra loved the home they purchased together in 2010, but it was in need of a little T.L.C. Working with the Americana theme, Grubb's renovation included opening up living spaces, adding elegant marble mosaic tile to the fireplace, and versatile furniture in the living room, as well as the creation of a welcoming outdoor living space. The team also transformed the home's exterior with new wood siding, a new porch, and a flagpole befitting of the American hero and his family.
Project highlights include:
Removal of walls to open up the living room into the dining room and kitchen, creating a lighter, more welcoming space.
The addition of new furniture in the living room, including a sectional and coffee table with stools underneath for additional seating, which Grubb says is always a great seating solution in small spaces.
Installation of engineered floors throughout. Since the existing floors needed repairing, it was a perfect opportunity to use a warm shade of engineered flooring throughout, which also helped to unite the multiple rooms.
Infusion of casual elegance with a beautiful mosaic marble fireplace. Grubb incorporated this element to create both visual and tactile texture.
Creation of an outdoor living space with new furniture, shade sails, and a great view of the newly landscaped backyard.
"The thrill of seeing everybody help out, it was amazing. I was honored to work with this team of volunteers," says Grubb of the experience. As for Watson and his family, they now have the comfortable home they dreamed of.  "It means a lot when people who don't even know you step up to show you such support," Watson said.