Dwyer Group COO Mary Kennedy Thompson Receives Award from International Franchise Association
---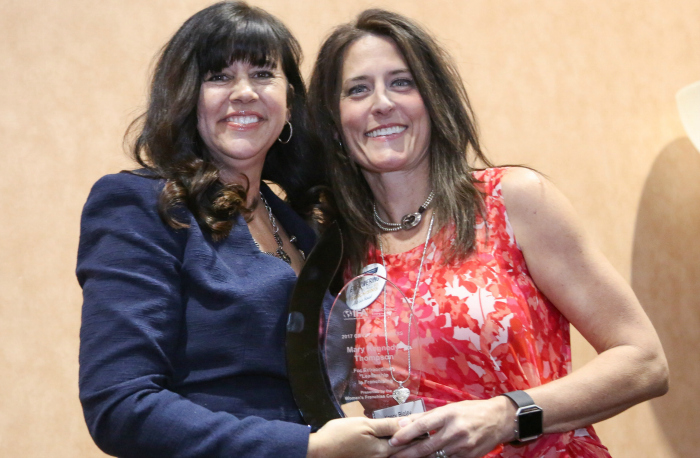 February 28, 2017
Mary Kennedy Thompson, the chief operating officer of Franchise Brands for Dwyer Group, was recently honored with the Crystal Compass Award for leadership by the International Franchise Association's Women's Franchise Committee during the association's 57th annual convention in Las Vegas.
"I am humbled by this honor and joining a group of servant leaders who have been recognized by the Women's Franchise Committee over the years," Thompson said. "Leadership is about finding your voice and using it to serve and inspire others to be the best version of themselves. It is the team around me that makes it a joy to lead, learn, and grow alongside them."
The IFA's Women's Franchise Committee bestows its Crystal Compass upon an individual within the franchising community who epitomizes the ideals of leadership. Recipients of the award have earned reputations for leadership by making significant contributions within their respective franchise organizations, the franchising community in general, and in their local communities.
Thompson has been a leader in cultivating strong relationships across Dwyer Group and the franchising industry at-large. Her responsibilities call on her to bring 11 Dwyer Group service brands together for improved processes, sharing of best practices, integrating three brands new to the company and coaching four new brand presidents on how to fill their roles and best lead their brands.
Prior to her role as COO, Thompson was the president of Mr. Rooter, Dwyer Group's largest brand. Previous to that, she served as president of Cookies by Design. And before joining the franchising industry, Thompson served for eight years in the U.S. Marine Corps as a logistics officer and achieved the rank of captain.
In 2013, the IFA awarded Thompson the Bonny Levine Award, IFA's highest award for women who mentor other women and have made an impact on franchising. Thompson also held the leadership position of past chair of the IFA VetFran committee a few years ago. During her term, she helped lead and launch Operation Enduring Opportunity where the IFA/VetFran partnered with the First Lady, Michelle Obama and her Hiring Our Heroes program. Franchising pledged to hire 75,000 veterans into franchising by 2014. The initiative achieved more than double the goal by 2015.
Pictured: Mary Kennedy Thomspon, COO of Dwyer Group and Nancy Bigley, CEO of Bottle & Bottega