Fritz Hansen Appoints New CEO Americas
---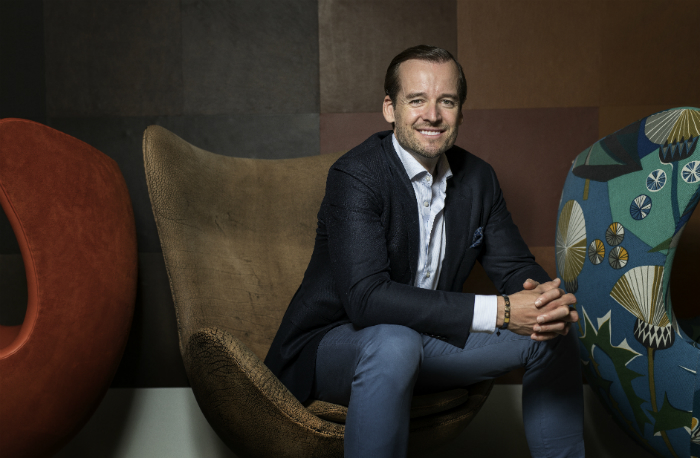 October 5, 2017
Henning von Gerstenberg Rosted has recently been appointed to CEO Americas for Fritz Hansen Inc. Rosted is experienced in developing and building up satellite markets and has a strong retail focus, which will be essential working for Fritz Hansen in the Americas. Formerly based in Tokyo, Rosted will relocate to New York City. He has a background working with European design and luxury lifestyle brands and has successfully generated sales in markets outside the European sector.
"With Henning's recruitment, we enhance very competent forces to our team in the U.S. market," said Fritz Hansen A/S, President & CEO Jacob Holm. "Fritz Hansen has a huge potential for growth within all our three categories: furniture, lighting and accessories, and with Henning on board we have found the right profile for the development in the U.S. market. Henning comes with a large amount of expertise in the furniture and lifestyle industry and, not least, experience in building and expanding markets. He is therefore the right profile to continue our U.S. strategy."
Rosted, comes to Fritz Hansen Inc. with many years of sales experience. Prior to joining Fritz Hansen, he served in managerial positions with companies including Carl Hansen & Son Japan, Bang & Olufsen and Aston Martin. He also founded and created a health and  wellness concept business and sold the business to an industry competitor in 2012. Rosted completed his education at CBS – Copenhagen Business School, with a degree and concentration in marketing, economics & business administration.
"I am very excited to be joining such an amazing design brand like Fritz Hansen with an impressive history but also with a strong view to the future," said Rosted. "Fritz Hansen has a solid presence in the contract market in the Americas, and together with our Americas team, I look forward to continuing our further journey in the Contract market. At the same time, Fritz Hansen Americas will be embarking on a new retail journey. This is important for our future and for opening up the Fritz Hansen world of design, craftsmanship and quality to more people who enjoy surrounding themselves with beautiful things."
Find more news about people in the kitchen & bath industry here.