Houzz Launches 2017 My Houzz Series
---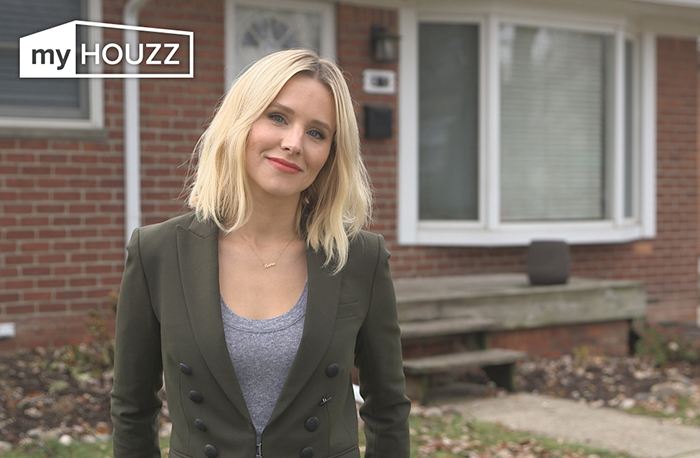 March 8, 2017
Houzz Inc. today introduced a new episode of "My Houzz," a video series that follows people as they renovate the home of someone meaningful to them. Following the success of the pilot featuring Ashton Kutcher, the series kicks off with Kristen Bell as she surprises her sister, Sara, with a major renovation to her home outside Detroit. Bell's story is available to watch now at houzz.com/myhouzz.
Leveraging Houzz technology, Bell redesigns every detail of Sara's underutilized basement. Along with a local design-build firm, Bell was able to remotely plan a beautiful, functional space for the family of six, who all have different interests and needs.
"I've wanted to do something like this for Sara and her family for a long time," said Kristen Bell. "Using Houzz, I was able to pull off a major surprise remodel in Michigan from my home in California. From finding a local pro with great reviews to sharing ideas for my sister's dream home, to buying all the furniture and accessories in my ideabook, Houzz made the process easy and fun."
The first episode of the "My Houzz" series featured Ashton Kutcher, who secretly remodeled the basement of his family home in Iowa. The 2017 series includes five episodes that will premiere in the first half of the year. Each episode documents a well-known, public figure as they surprise a close family member that made a difference in their life with the gift of a renovation, using Houzz throughout their journey.
"We are thrilled to launch the 2017 series of My Houzz and kick it off with Kristen Bell," said Adi Tatarko, Houzz cofounder and CEO. "Houzz helps to make the home remodeling and design process more fun and productive for everyone involved. My Houzz gives people a glimpse into how people in the Houzz community leverage technology to bring their dream home to life."
In addition to watching the full story on Houzz, people can take an inside look at Bell's Houzz ideabooks that inspired the project, discover and purchase the products and materials that Bell selected and bought from the Houzz Shop, and read more about the design and the Houzz community's involvement in the project.
"My Houzz" was shot for Houzz by Shed Media and was executive produced by Ashton Kutcher, Pam Healey, John Hesling, Bill Gaudsmith and Dan Pierson.