It's All in the Family
---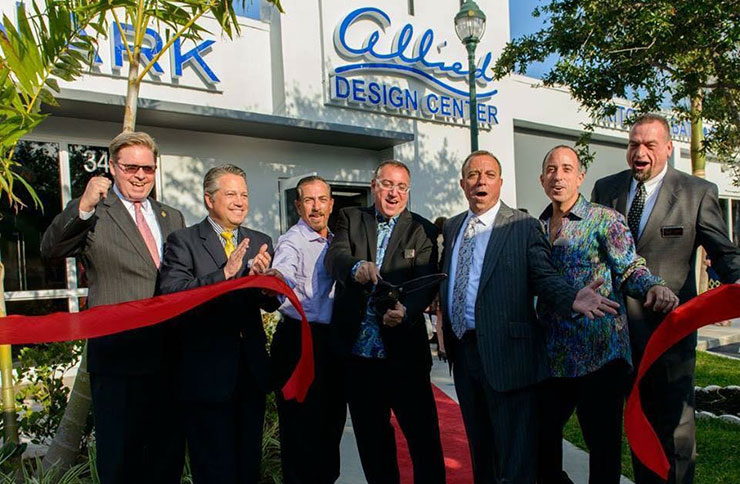 December 5, 2016
Dan Lindblade, CEO of Greater Ft. Lauderdale Chamber of Commerce; Chip LaMarca, Broward County Commissioner; from ALLIED Kitchen and Bath: David Feinberg, Bill Feinberg, Joe Feinberg and Rob Feinberg; and Tom Lonergan, Mayor of Oakland Park, Fla.
At design firms, showrooms and product manufacturer companies, more families are starting to work together and seeing these businesses transform into much more than a workplace. KBB spoke with some of them to find out the history, the challenges and the benefits of working with family.
KBB: Explain how you got involved working with your family.
"I began working for a small remodeling company as a salesperson, and one by one each of my three brothers moved to Florida to join me with the same company. Eventually, all four of us became the top sales people for this company, but then in 1984 I decided – along with my brother Joe – to open up our own company, and we formed ALLIED kitchen & bath. My parents also moved to Florida to be with the rest of our family, and they too came to work for ALLIED with the rest of us. My mother became our bookkeeper, and our father mostly helped us in obtaining permits. Also, my daughter has worked with me now for about the past eight years and now has taken on a new role of managing our newest and second kitchen showroom, which we just opened about six months ago."
-Bill Feinberg, Oakland Park, Fla.-based ALLIED Kitchen and Bath

"Our grandfather, Walter Dwight Gahm, bought Kitchen Kompact in 1955. All three of Gahm's sons help guide the firm along with their sons. All together, there are seven Gahms currently working for Kitchen Kompact."
-Brett Gahm, Jefferson, Ind.-based Kitchen Kompact

"My grandfather started the company in 1953, and my dad took the company over in 1992. Both of my parents have run the company since. I got my bachelors of fine arts in interior design in 2011 and have been working fulltime ever since. Currently, it is my mom, dad and me who are involved with the business as far as family. My mom acts as the CFO; she does all the paperwork, accounting and manages all office staff. My dad sells and manages the production side of the company. I am one of the interior designers; I am meeting with clients, estimating, designing and managing my ongoing jobs."
– Samantha Bowen, Crofton, Md.-based Bowen Remodeling and Design
          Left to Right: Joe Bowen, Samantha Bowen and Cherry Bowen, Bowen Remodeling and Design
KBB: What are the challenges of working with family?
"Obviously there are many challenges working with family members. For the most part, however, we all get along very well – and probably because we each do something a little bit different. The biggest challenge, although rarely spoken, is probably in the hierarchy, as I know having to take orders from the younger brother such as myself may not always be an easy pill to swallow. We generally keep our disagreements to ourselves, as we know that many of our employees look to us to lead the way. Our arguments are always very minor and short lived, and we seem to get over them rather quickly."
-Bill Feinberg, ALLIED Kitchen and Bath

      Bill Feinberg and his daughter, Kara Feinberg, ALLIED Kitchen and Bath
"We are very blessed that we have a family that works well together and does not have significant issues/challenges because we are family. We have communicated and created processes that have set a clear way in making decisions. I think most family businesses see challenges when there is a family member or members that may have an ownership stake or decision-making power, but is not involved in the day-to-day activities of the company and does not set clear guidelines as to who is making the decisions or even how to make a decision."
-Brett Gahm, Kitchen Kompact
"Always the challenge of working with family is separating business from personal. With that said, we get along great. Our biggest problem would be constantly talking about business in 'personal' time.'"
– Samantha Bowen, Bowen Remodeling and Design
KBB: How do you avoid family disputes in the workplace?
"We may see each other several times during the day, but we are rarely working in tight quarters together or spending a whole lot of time together during the week."
-Bill Feinberg, ALLIED Kitchen and Bath

"Each family member at Kitchen Kompact is very much involved in the day-to-day activities of the company, and I believe this a key reason KK continues to stay successful."
-Brett Gahm, Kitchen Kompact
 KBB: What are the benefits of working with family?
"The one thing I can testify about is that working with family does have a lot of great benefits as well. For one thing, I know they always have my back, and we can talk about anything, run ideas by each other and come up with solutions that help us run our business better.
Being that we are family, our parents taught us well, and we realize that nothing is more sacred or valuable than our own family, so we do not take that for granted and respect each other. The one thing I know is that I can always trust my brothers with anything at all. Running a large business like ours can be quite challenging and complicated, but knowing that one of us is always there and able to take the ball and run with it – whenever there is a situation – is a huge advantage for us. I think our reputation and business have grown because we are a family business, and people know that we truly don't just talk about what we can do – we show it as well."
-Bill Feinberg, ALLIED Kitchen and Bath
 "The benefit of working with family is the flexibility it provides. Not only are we more flexible in that we can make decisions faster than most companies our size, but also each family member is flexible in doing whatever job is necessary for the good of the company. Even though we have clear guidelines and responsibilities for each family member, we still are willing and flexible to do tasks outside the formal job description to ensure the success of the company."
-Brett Gahm, Kitchen Kompact
Left to Right: Walter Gahm Jr., Gordon Gahm, Philip Gahm; Center: Dwight Gahm Kitchen Kompact
"Like I said, we get along great. I couldn't imagine not seeing my parents almost everyday after doing this for five years. When you own your own business it consumes most of your time and energy. I always saw it as such a benefit that both of my parents did this together. When they have late work nights and stresses at work they are always getting through it together. What many see as a nightmare situation has definitely been a blessing for us."
– Samantha Bowen, Bowen Remodeling and Design