The National Kitchen & Bath Association Announces 2017 Chairman and Board of Directors
---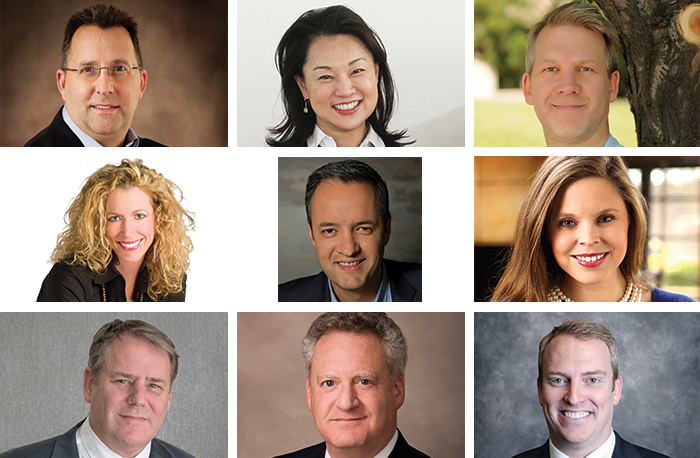 December 1, 2016
The National Kitchen & Bath Association (NKBA) has announced its 2017 Board of Directors. The nine-person Board of Directors, who together represent a wide spectrum of the kitchen and bath industry, will work with CEO Bill Darcy to guide the NKBA through the next year.
The 2017 Board of Directors, led by NKBA Chairman, Lorenzo Marquez, vice president of marketing, Cosentino USA, includes Chris Terrill, CEO, HomeAdvisor; Mark Kovich, vice president of sales and marketing, Waypoint, a division of American Woodmark; Neil Bailey, president, Smallbone of Devizes; Emilee Chappell, director of marketing, TOTO USA Inc.; Steve Joseph, chief product officer, Side Chef; Patricia Davis Brown, CKBD, owner, Patricia Davis Brown, LLC; Young Huh, owner, Young Huh, LLC; and Steve Petock, senior vice president of business development, Ferguson.
Find detailed information on each of the 2017 NKBA Board members below.
Chairman – Lorenzo Marquez, Cosentino USA
Lorenzo Marquez is vice president of marketing for Cosentino North America, a world leader in the manufacturing and distribution of quartz, natural stone and recycled surfaces. In this role he oversees all marketing, public relations and digital strategies for Cosentino Group's portfolio of brands in the U.S and Canadian markets, including Silestone Natural Quartz, Dekton by Cosentino, SenSa Granite, Scalea Natural Stone and the Prexury Collection. Marquez joined Cosentino in 2003 after receiving a degree in entrepreneurship from the University of Houston and working in marketing for Levi Strauss & Company.
Vice-Chairman  ̶  Chris Terrill, HomeAdvisor
HomeAdvisor's CEO, Chris Terrill, specializes in e-commerce, online marketplace structure, strategic planning, on-demand technology and company rebranding. Terrill is a seasoned Internet veteran with 16 years' experience working for top-tier brands such as Match.com, Nutrisystem.com and Blockbuster.com. Terrill also serves on the board of Realogy, the premier provider of residential real estate services in the U.S., and the Board of Advisors for Denver's high-profile Quarterly Forum. He is also a member of the Business Experiential-Learning Commission, which focuses on integrating work-based education and training into Colorado schools. In 2016, the Denver Business Journal named Terrill the Power Book Winner for Technology, Telecom and Aerospace.
Secretary/Treasurer  ̶  Mark Kovich, Waypoint, a division of American Woodmark
Mark Kovich has spent 24 years working for manufacturers of products for the kitchen and bath industry. He has served the NKBA at the national level for the past seven years, most recently holding the position of chairman on the Board of Directors. Kovich also served on the Board of Directors as a Member at Large. During his three-year term, he chaired the Nominating Committee and served as the chair on the Governance Task Force. He also served as the Chairperson for the Advisory Council of Manufacturers. Kovich is currently vice president of sales and marketing for Waypoint, a division of American Woodmark. Waypoint is the proud sponsor of the NKBA Student and Professional Design Competitions.
Neil Bailey, Smallbone of Devizes
Neil Bailey is president of award-winning luxury British furniture maker, Smallbone of Devizes, the global authority on bespoke fitted cabinetry, where he will develop the retail, dealer and project business across North America. Bailey joined Smallbone in late 2016, following a successful year that saw its owner company, Canburg, win the 'Emerging International Brand' award at The Sunday Times HSBC International Fast Track 200 Awards, and ranked 18th out of 200 private U.K. companies for export growth. Previously, Bailey was president/CEO of Poggenpohl U.S. and Canada. Through acquisition and development, Bailey helped grow the U.K. network into one of the most successful in the world.
Emilee Chappell, TOTO USA Inc.
Emilee Chappell is the director of marketing for TOTO USA Inc., the world's largest plumbing manufacturer and the recognized leader in performance design and innovation. She is responsible for marketing strategies, communications and public relations activities for TOTO Americas. Chappell graduated from the University of North Alabama with a Bachelor of Arts in communications and has been with TOTO and active in the kitchen and bath industry for more than 10 years. She has served as both the chair and a board representative for the NKBA KBIS Advisory Council.
Steve Joseph, SideChef
Steve Joseph is partner and chief product officer at SideChef, Inc., a kitchen technology company. He is passionate about helping people cook better through innovation in the kitchen. In addition to producing an award-winning step-by-step cooking app, SideChef develops smart kitchen software for manufacturers and connects appliances to the Internet of Things. Prior to SideChef, Joseph was president of Dacor, a manufacturer and distributor of luxury kitchen appliances, where he led the design and development of the world's first smart, connected ovens and ranges, winning Best in Show KBIS and Best of CES Home in 2014.
Patricia Davis Brown, CKBD, Patricia Davis Brown, LLC
Patricia Davis Brown is an award-winning interior designer whose work has been featured in Florida Architecture, Traditional Homes & Design, Florida Design, Qualified Remodeler Magazine and Better Homes and Gardens Kitchen and Bath Ideas. She began her career in the kitchen and bath industry in 1985, and went on to form her own design studio, Patricia Davis Brown Fine Cabinetry, Inc., in 1992. The firm specialized in residential and commercial interior design and remodels, lighting design, universal design and custom furniture. In 2010, she took her passion and expertise national with the launch of ProfessionalKitcheandBathPlans.com and her online store PDBhomestore.com. Davis Brown also authors a blog titled "Digthisdesign.net" and is a regular contributor to QuinStreet, Inc.
Young Huh, Young Huh, LLC
Young Huh is principal and founder of Young Huh Interiors, a full-service design firm specializing in residential and commercial interiors. Based in New York City, the firm continues to grow, expanding its original repertoire of residential interiors to include larger commercial projects, and has been published in House Beautiful and Westchester Cottages & Gardens. In 2011, Huh was honored with the Innovation in Design Award for Interior Design by Connecticut Cottages & Gardens, and was selected as one of the new designers to join the prestigious 2014 Kips Bay Decorator Show. In addition to her design practice, she co-founded the blog "Les Design Nerdes" with Audrey Margarite.
Steve Petock, Ferguson
Steve Petock is the senior vice president of business development for Ferguson, the largest distributor of residential and commercial plumbing supplies in the U.S., where he is responsible for the business development and strategic direction of the company's multiple business segments. Petock has more than 35 years of experience working in the kitchen and bath industry and has held numerous positions in both sales and management. A Virginia native, he graduated from Roanoke College, and throughout his career he has attended executive development programs at Stanford University, Harvard Business School, Duke University, the Darden School of Business and International Institute of Management Development in Switzerland.