ROHL Announces 2018 Members of Auth Lux Design Guild
---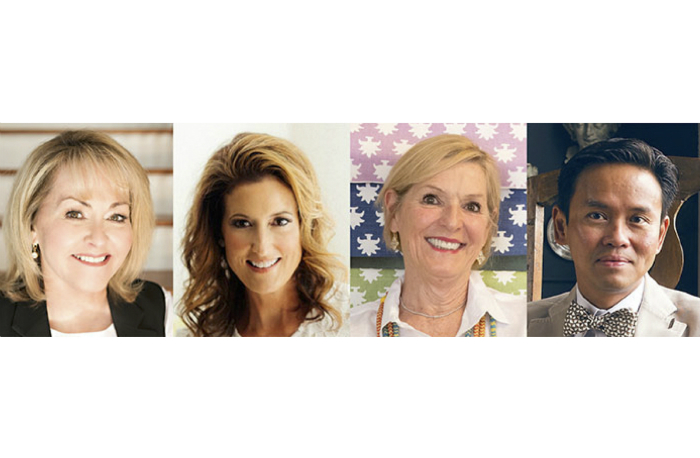 January 26, 2018
ROHL has announced the 2018 class of the ROHL Auth Lux Designer Guild – Lisa Mende, Amy Vermillion, Mally Skok and Jonathan Rachman. Now in its second year, the ROHL Auth Lux Designer Guild reinforces the value and appreciation ROHL has for the expertise of designers and trade professionals. This year's class joins inaugural members Marcia Tucker, Julia Buckingham, and Design Denise McGaha as part of the guild.
One of the primary responsibilities of each guild member is to serve as a co-host, along with ROHL Vice President of Marketing Greg Rohl, for one of four Auth Lux Summits being held in 2018. Each summit is a daylong event exploring What Makes Authentic Luxury.
"We are thrilled to have Lisa, Amy, Mally, and Jonathan as members of the ROHL Auth Lux Designer Guild," said Rohl. "Each of them has a unique design aesthetic, but at their core they all stand for similar design beliefs that we share at ROHL including authenticity, truth in materials, a commitment to craft and a passion for design. Everything that we convey through our collections."
As the principal of Lisa Mende Design in for over two decades, Mende is known for her luxury interiors, which are modern enough to be livable, yet traditional enough to have a sense of performance.  Her portfolio includes a vast range of projects that include everything from historic preservation to new construction as well as commercial design. Her work can be found in the country's most recognized national shelter magazines as well as showhouses from east to west coast. Mende is often asked to serve as a brand ambassador for luxury product lines, companies and events across the country and internationally. Travel to global markets allows her a worldly perspective, which she employs in her projects thru cutting-edge technology and furnishings. Lisa is a member of the NKBA as well as an Allied Member of ASID.
As one of the Southeast's leading interior designers, Amy Vermillion believes strongly in the collaborative relationship between client and designer. She is known to have an eye for detail that makes the interiors she designs unique and fresh. Her work has been featured in The New York Times Magazine, Stark Carpet's Decorating with Carpets, Charlotte Magazine, Southpark Magazine and Charlotte Home & Garden Magazine among others. She is an Allied Member of the American Society of Interior Designers (ASID) and has a Bachelor of Science Degree in Interior Design from Illinois State University. Outside of her design practice, Amy is a member of the Junior League of Charlotte, the Mint Museum and the Daniel Stowe Botanic Garden.
Mally Skok is a South African-born designer who has run a residential and small commercial interior design firm in Lincoln, Massachusetts since 1997. In addition to her design projects, Skok's love of fabric, color and pattern led her to launch her fabric and wallpaper line in 2008. All of Mally Skok Design fabrics and wallpapers are hand-screened locally in Great Barrington, and are represented in many prestigious showrooms throughout the U.S., and Canada. Skok is involved in several local organizations, including the Junior League of Boston Show House, Heading Home to Dinner, and the Emerson Umbrella Arts Association. She is an active member of the Design Bloggers Conference Advisory Board.
A Bay Area interior designers, Jonathan Rachman brings an international story to all of his work.  Born in Sumatra, Rachman developed an appreciation of Indonesia's natural beauty and attention to detail in the craftsmanship of their furniture, textiles, and sculpture. An education in Switzerland afforded him the luxury of traveling across Europe to some of the best antiques markets in the world. Living in Paris, he frequented its famed flea market and developed a keen eye for collections. Rachman is known for the buying trips he takes with clients around the world. He opened his first antiques and floral design shop in the heart of San Francisco, and it became a favorite of design enthusiasts and the media alike. After giving patrons advice on interior design, Rachman started his own design firm.