The 2017 The Complete Häfele Catalog is Available Now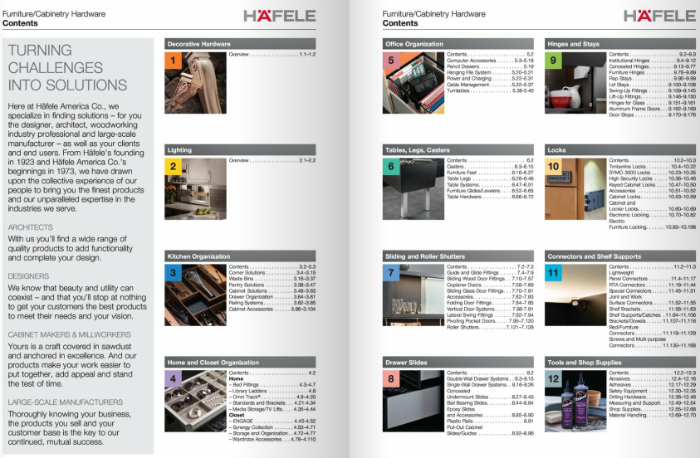 October 26, 2016
The Complete Häfele: as its name implies, this in-print and electronic compendium is used every day by Häfele customers in the United States and around the world to find the products they need to start a project, execute their design vision or simply run their business. The latest edition is available now.
Leveraging the global reach of the Nagold, Germany headquartered company, the U.S. 2017 The Complete Häfele catalog, or "TCH" as it's commonly known, is packed with the latest innovations and products to serve the architectural, design, cabinet and millwork markets.
"The newest TCH has truly been refined with the latest, innovative and trendsetting products our customers have been clamoring for," explains David Hatcher, senior manager, Product Management and Development for Häfele. "This was a total team effort including product management as well as sales and procurement teams to determine the exact, right assortment to include."
Set up in easy to use, color-coded chapters and categories, the revised The Complete Häfele catalog is over 1,000 pages of product images, details and technical data. Registered Häfele customers can reserve their printed copy of the 2017 The Complete Häfele catalog through their sales representative or by logging onto www.hafele.com/us. An electronic copy is also available for download or review on the website.