Adding Sister Spaces to Kitchens & Baths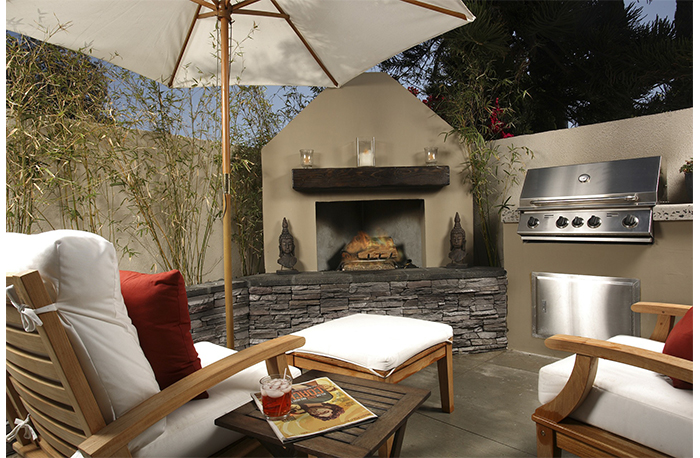 September 17, 2018
Kitchens and baths are the rooms people renovate most often in the home. Oftentimes – if there is enough space, budget and creativity – "sister" spaces like laundry rooms and bar areas are incorporated into these projects.
KBB recently asked the Houzz community of consumers and industry professionals which add-on projects they have recently been involved in. We included bar/beverage areas, butler's pantries, laundry rooms, mudrooms and outdoor spaces.
The poll results as of press time – with a total of 546 votes – are reflected in the pie chart below. Based on the comments we read, we determined the following:
A lot of people are doing renovations of main rooms like bedrooms.
They are also adding pavers that from the back door to the garage.
The add-on areas can include things like pet leash and food spaces.
Home offices are gaining traction.
Some spaces have been improved by:
Taking down walls and repurposing rooms
Adding a door to the bathroom where there was not one
Moving a washing machine that was next to the bathtub to a more appropriate place
Removing a pocket door between the kitchen and dining room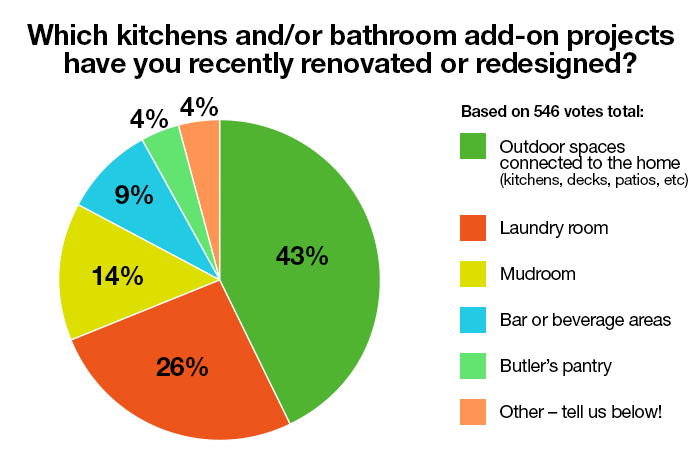 Creative Solutions
One member of the Houzz community took the living room cantilever that was meant to be a TV area and turned it into a bar that is much used.
"I was surprised you didn't have powder room on your selections above since many homeowners in this area who remodel their kitchen do the first-floor powder room at the same time," said one responder. "When we remodeled our kitchen, we did much-needed window replacements in the kitchen and family room at the same time. Upgrading the nearby powder room with a new vanity, sink and toilet made both economic and design sense by adding the vanity and stone counter to the kitchen cabinet/counter order. Now there is wonderful visual congruity and better function in these living spaces."
Another consumer added Adirondack chairs, lanterns and candles to the patio to make it feel more like an oasis. When she wants to escape the hustle of life, she goes to the patio with a cup of java and a good book.
"We moved the tight laundry closet space to the dining room, creating a real laundry room with space for baskets, a folding table and place to hang clothes," said a member of Houzz community. "The other half of the formal dining room became a walk-in pantry, which is fantastic. We have plenty of cabinets in the laundry area and had enough left over to create a built-in bar at the edge of the dining room that faces the hallway just off the living room and looks like a neat little butler's pantry-coffee station-bar. My favorite part is the walk-in pantry. My kitchen doesn't feel so small anymore now that I have storage space."