Appliance Innovation: From Concept to Consumer
---
---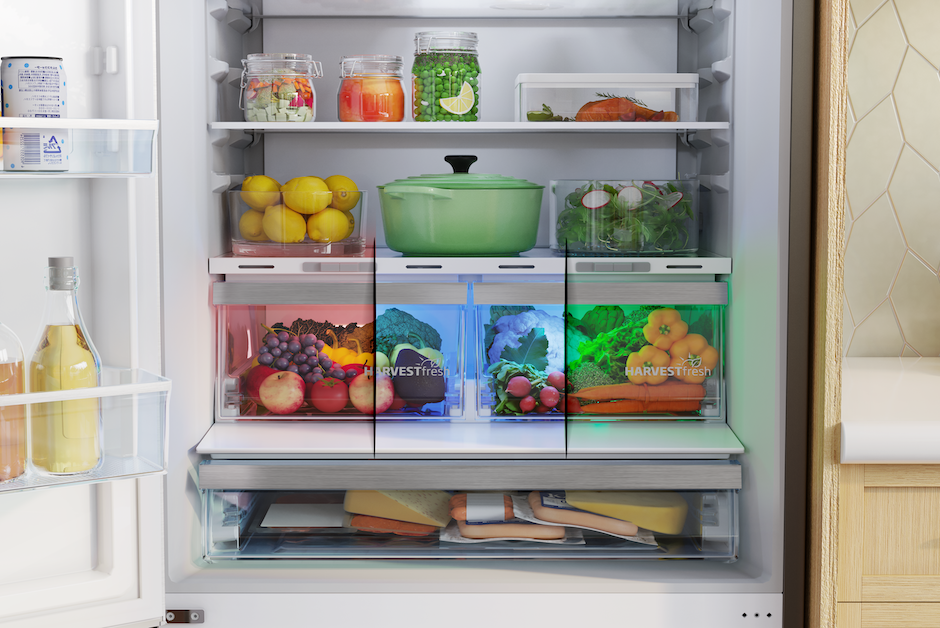 April 3, 2023
True design innovation isn't Darwinian or reactionary, and it is rarely the result of a lighting-bolt, a-ha moment of genius. Innovation is a focused, methodical, boundary-breaking, expensive commitment for brands to make. Products, materials and technologies require forethought, iteration and testing. As a McKinsey & Company analysis of creative companies points out, successful innovation occurs at the intersection of three elements: identifying a valuable problem to solve, a technology that enables a solution and a business model that generates money from it.
At KBIS this year, a few examples of appliance innovation stood out, while incremental improvement of a more conservative kind was also observed. The upshot for specifiers as well as consumers? If it's worth wanting, it's worth waiting for. Next year will be sure to yield additional break-throughs.
Cooking Appliance Innovation
For cooking appliances, the elephant not-quite-yet in the room is the gas/induction issue. Sometimes a polarizing topic outside the industry, kitchen professionals take a more balanced view.
A report prepared by Bertazzoni breaks down how U.S. homeowners view the appeal of induction. Saving on energy bills topped the list of perceived benefits at 63%. Ease of cleaning was cited by 61%. Precision cooking was mentioned by 58% of respondents, with 54% noting the cooking speed and 50% mentioning heat-safety features. The clean look of the appliance appealed to 43%, the same percentage that saw induction as being eco-friendly.
Consumers considering making the switch from gas to electric ranges could find incentives in the climate spending bill signed into law in August 2022. The Inflation Reduction Act includes rebates of up to $840 for the purchase of new electric ranges as part of some $4.5 billion in funding to help low- and moderate-income households electrify their homes.
"When we launched our first induction downdraft cooktop in 2022, we designed it to ensure that the downdraft is compatible with the induction cooktop," said Jennifer Bradley, global product development at Fisher & Paykel. "We centered the downdraft component in the middle of the cooktop to maximize the ventilation performance. The proximity is closer to the pot or pan, which is the source of the airflow and creates the most compatible combination that has sufficient extraction."
Jennifer Stoner, president and chief creative director of Richmond, Va.-based Jennifer Stoner Interiors offers a practical compromise to address the question. "I think that induction is certainly the wave of the future and offers many benefits, including quick heating, cooler surfaces for safety and more precise, even cooking. But Americans are still enamored with their gas ranges. This is why when recently renovating my own kitchen, we installed the Signature Kitchen Suite 48-in. Pro Range, which features an induction cooktop along with four gas burners. It's the best of both worlds and resolved the argument with my husband over which we should get."
Ventilation Innovation
Indoor air quality continues to be top-of-mind with many households. Placing an air purifier in the kitchen, a move that a Johns Hopkins School of Medicine study found lowered nitrogen dioxide levels by about half as much as replacing a gas stove, is one way to address this issue – but mind the details when choosing an appliance. Some brands have been "innovating" the truth about the efficacy of their products.
Since the onset of the pandemic, the air purifier market has been saturated with manufacturers making unproven claims of about the performance of their appliances. These are often based on skewed, back-of-the envelope calculations of air-exchange rates.
There is an impartial measurement, though, for accurate performance data. Jim Sanduski, president of Sharp Home Electronics Company of America, said, "Sharp has used AHAM's 'Verifide' program for air purifiers since nearly the program's inception. With rigorous, standardized measurement testing for Clean Air Delivery Rate (CADR), it provides independent testing that enables an apples-to-apples comparison of effective square-foot room-size coverage at 4.8 air changes per hour. Consumers who choose AHAM Verifide-certified air purifiers can trust that the products will deliver the performance they claim."
Refrigeration Innovation
A recent report from Allstate Protection Plans drills down to expose an interesting perspective on food preservation. It revealed that just over half (55%) of homeowners spent money repairing or replacing broken appliances, costing an average of $713 each. Thirty-nine percent had to throw away food due to a damaged refrigerator or freezer. Put another way, 67.1 million American homeowners tossed out over $14.1 billion worth of spoiled food, an average of $209 per incident.
Whether it's due to faulty appliances, a reaction to inflationary prices or a fixation on farm-to-table ingredients, food preservation has come to the fore of innovation in the realm of refrigeration.
Two manufacturers are tackling this issue with different technologies.
A light-based process called HarvestFresh is Beko's response. A sequence of three colored lights simulates the 24-hour natural sun cycle inside the crisper drawers. Blue light at sunrise initiates the photosynthesis process, green light at midday captures the strongest sunlight and red light at sunset work together to preserve not only the freshness of fruits and vegetables but also their vitamin A and C content longer.
Liebherr is taking a liquid-based approach to food preservation. Its HydroBreeze system spritzes produce with a cool, protective mist of water for four seconds every 90 minutes and for eight seconds each time the refrigerator door is opened, similar to the automated grocery store treatment. The cold mist combined with an internal temperature of just over 32°F gives food that extra boost for longer shelf life.
Laundry Appliance Innovation
Depending on the frequency of use, laundry appliances can be energy gobblers in the home. A shift in dryer technology is mitigating that condition.
A heat pump dryer works as a closed loop system. Unlike conventional dryers, there's no heating element and no vent in the appliance. It uses technology like that of an air conditioner – but operates in reverse. Air is pulled through a condenser where it is heated before entering the drum. The hot air absorbs moisture from the clothes. Next, the damp air is directed into an evaporator which removes the moisture and collects or drains it. That same air is then pulled back through the condenser, to be reheated while it is still warm. This saves energy by recycling warm air instead of releasing it through a vent and using more energy to reheat new cold air.
GE Profile has incorporated heat pump technology into its UltraFast Combo washer/dryer and Samsung's Bespoke laundry line also uses the energy-saving system.
The W1 washing machine from Miele features a two-phase automatic liquid soap dispensing system. Sensing the load size, type of fabric and programmed level of soiling and staining, the appliance uses 30% less detergent than if soap was manually added.
Dishwasher Innovation
While comfort may come at different price points, the notion of luxury may be becoming more equitable – a rising tide lifts all boats, so to speak. This thinking, applied to the prosaic act of doing the dishes, might not be considered innovative per se, but certainly offers a platform for market differentiation within the category.
Noise level has been a traditional benchmark for this sector, with decibels (dB), the logarithmic unit of measurement to determine loudness, being the long-accepted point of comparison. More recently, a new standard has entered the arena: A-weighted decibels (dBA). dBA assessments are performed by a third party, Owens Corning, in its acoustics testing facility.
dBA takes a more human-focused approach than dB. It puts more weight on the sounds human ears are most sensitive to and de-emphasizes sounds that are more difficult to hear. Basically, the dBA scale is a more intuitive way to determine what we perceive as loud and quiet.
Andrea Smith, senior brand manager of JennAir, said, "Luxury isn't loud, and we have some of the industry's quietest premium kitchen appliances. Our RISE 24-in. built-in dishwasher has a 38 dBA tranquility system."
The design community has definite opinions on how the dishwasher sector can demonstrate innovation going forward. Among the wish-list items designers mentioned in KBB's latest Closeup on Appliances survey are a 15-minute cycle, dishwashers with built-in storage and a transparent door that auto-tints when the machine is not in use.
Appliance Innovations Ahead
While genuine appliance innovation often defies expectations, a few new ventures worth watching have been designed with modern living habits in mind.
The Qoldfusion Cold Pantry is an answer to the uptick in home entertaining. Combining the capacity, features and functionality of commercial-grade walk-in refrigeration with the aesthetics of a luxury appliance, it seamlessly integrates into the home design. CEO and co-founder Dale Seiden said, "We offer leading-edge innovation like the rPod Remote Refrigeration System, which moves the compressor noise and heat outside of the home and the patented QFlow 360 Air System which circulates the air inside the walk-in so food stays fresh longer and even makes the Cold Pantry comfortable."
Developed in response to grocery and meal delivery services, Fresh Portal is a temperature-controlled cabinet that is installed on the outside wall of a building. Behind the unit's exterior door are two compartments, one chilled, one heated, that store food at appropriate temperatures. The lockable interior and exterior doors of the pass-through design are secured with unique, one-time access codes. Ultraviolet light automatically floods the portal after every delivery, disinfecting the interior of the box.
—By Leslie Clagett, KBB Managing Editor